Knights Walk Off with Thrilling 11-9 Win in 10 Innings on Tuesday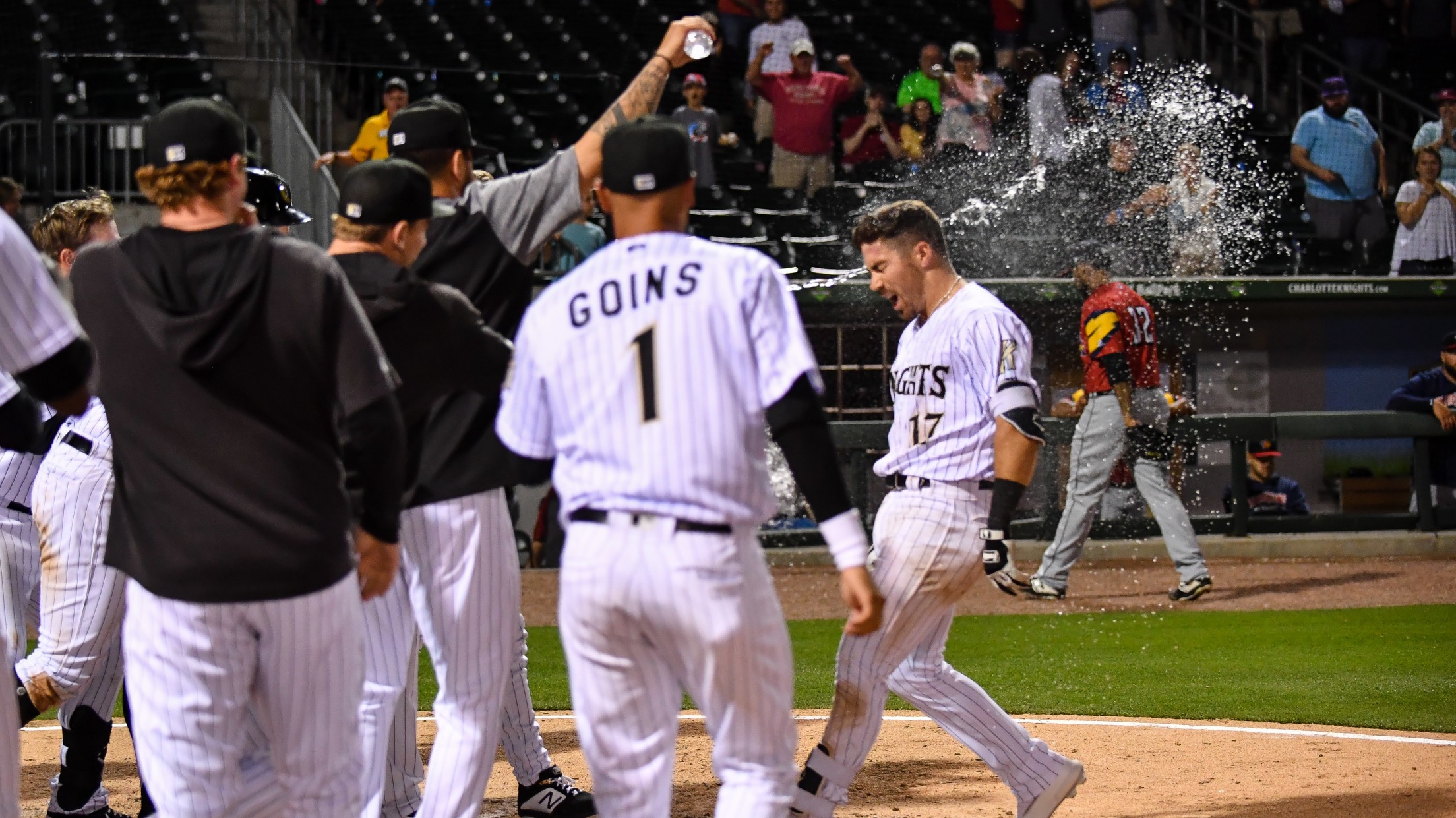 Danny Mendick launched a walk-off home run in the bottom of the 10th inning. (Laura Wolff/Charlotte Knights)
(UPTOWN CHARLOTTE, NC) -- Down by a score of 9-8 in the bottom of the 10th inning, second baseman Danny Mendick sent the entire ballpark home happy with a three-run, walk-off home run over the left-center field fence. Mendick's 424-foot blast, his third of the season, led the Charlotte Knights
(UPTOWN CHARLOTTE, NC) -- Down by a score of 9-8 in the bottom of the 10th inning, second baseman Danny Mendick sent the entire ballpark home happy with a three-run, walk-off home run over the left-center field fence. Mendick's 424-foot blast, his third of the season, led the Charlotte Knights to a remarkable 11-9 win on Tuesday over the Toledo Mud Hens from BB&T Ballpark in Uptown Charlotte.
Fresh off an 11-game road trip, the first place Charlotte Knights returned home to BB&T Ballpark on Tuesday with one of the the International League's top offenses. Entering play on Tuesday, the Knights were second in the International League in batting average, second in runs scored, first in hits, first in doubles, second in home runs, and first in RBIs. Their high-powered offense picked up right where they left off after Sunday's 14-run output in Norfolk.

For the seventh time in 19 games this season, the Knights put up a double-digit effort in the runs department, scoring 11 runs on 11 hits in Tuesday's opener. The Knights used three big innings to win for the 13th time on the season. Charlotte scored four runs in the bottom of the fifth inning, four runs in the bottom of the seventh inning, and three runs in the bottom of the 10th inning.

Mendick, who played the hero, finished the game 2-for-5 with three runs scored, one double, one home run, one stolen base, and four RBIs to lead the way. First baseman Matt Skole went 2-for-4 on the night. He launched his fifth home run of the 2019 campaign in the fifth inning. Center fielder Charlie Tilson had a team-high three hits on the night, while shortstop Alcides Escobar chipped in with two hits.

RHP Thyago Vieira (2-0, 3.38), Charlotte's fifth and final pitcher of the game, earned the win despite allowing an unearned run in the 10th frame. RHP Dylan Covey started for the Knights and allowed two runs on four hits over 4.1 innings pitched.

Pre-game radio coverage of Wednesday's 7:04 p.m. finale is set for 6:50 p.m. on 730 The Game ESPN Charlotte. The "Voice of the Charlotte Knights" Matt Swierad and long-time Knights broadcaster Mike Pacheco will have the call for all of the action. Hall of Fame slugger Andre Dawson will meet fans and sign autographs at BB&T Ballpark on Wednesday.