"Salute to Syracuse" at Truist Field in Charlotte on August 17
Theme Night Highlighting Some of the Best of Central New York Coming Soon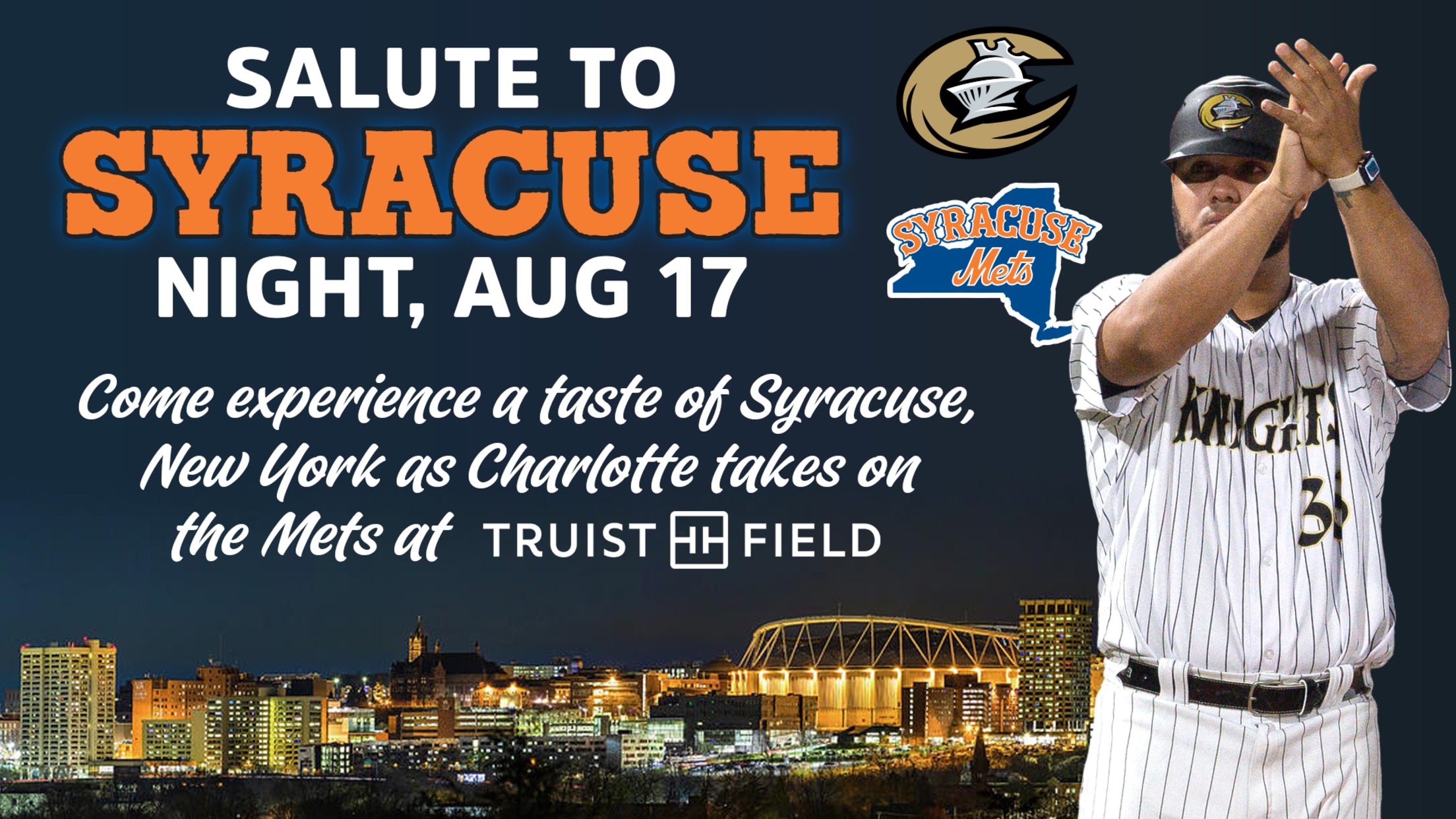 When the Syracuse Mets, Triple-A affiliate of the New York Mets, pay their first visit to Charlotte since 2019, there will be tribute to the Central New York city with a "Salute to Syracuse Night" on Wednesday, August 17. The theme night, planned for the second game of the series
When the Syracuse Mets, Triple-A affiliate of the New York Mets, pay their first visit to Charlotte since 2019, there will be tribute to the Central New York city with a "Salute to Syracuse Night" on Wednesday, August 17. The theme night, planned for the second game of the series between the Charlotte Knights and Syracuse Mets, will include food, beverage, cultural references, and in-game activities that will remind Syracuse transplants now living in the Charlotte area of their previous home. The August 17 game is set for a 6:35 pm first pitch with the Truist Field gates set to open at 6:00 pm.
Among the menu items available to fans on August 17 will be such Syracuse and Central New York favorites as barbecue with Dino BBQ sauce, salt potatoes, chicken spiedies, and pizza fritte such as one might find at the Great New York State Fair. The Knights and their food and beverage partners, Professional Sports Catering, will also be working to bring beverages familiar to Syracuse natives to Truist Field for the evening. The tasty CNY concession choices will be available in various areas of the ballpark in addition to the favorite food items that Knights fans have come to expect.
Promotionally, the Syracuse club will take the field that night as their food alter ego the "Salt Potatoes". The Mets' affiliate has worn the Salt Potatoes-themed uniform annually in select games against their in-state rival, the Rochester Red Wings (who play as the Rochester Plates – short for "Garbage Plates" – a specialty food concoction of that city). Additionally, the Knights will utilize video clips, trivia contests, and other in-game activities that will pay tribute to the Syracuse area and those that have made it famous.
For tickets to the "Salute to Syracuse Night" and for all other remaining Knights home games this season, fans can go to CharlotteKnights.com, call (704) 274-8282, or stop by the ticket office at Truist Field on the corner of S. Mint St. and Martin Luther King, Jr. Blvd. in Uptown Charlotte.