Steady improvement leads Stone Crabs to winningest second half
Charlotte ties franchise record with 38 second-half wins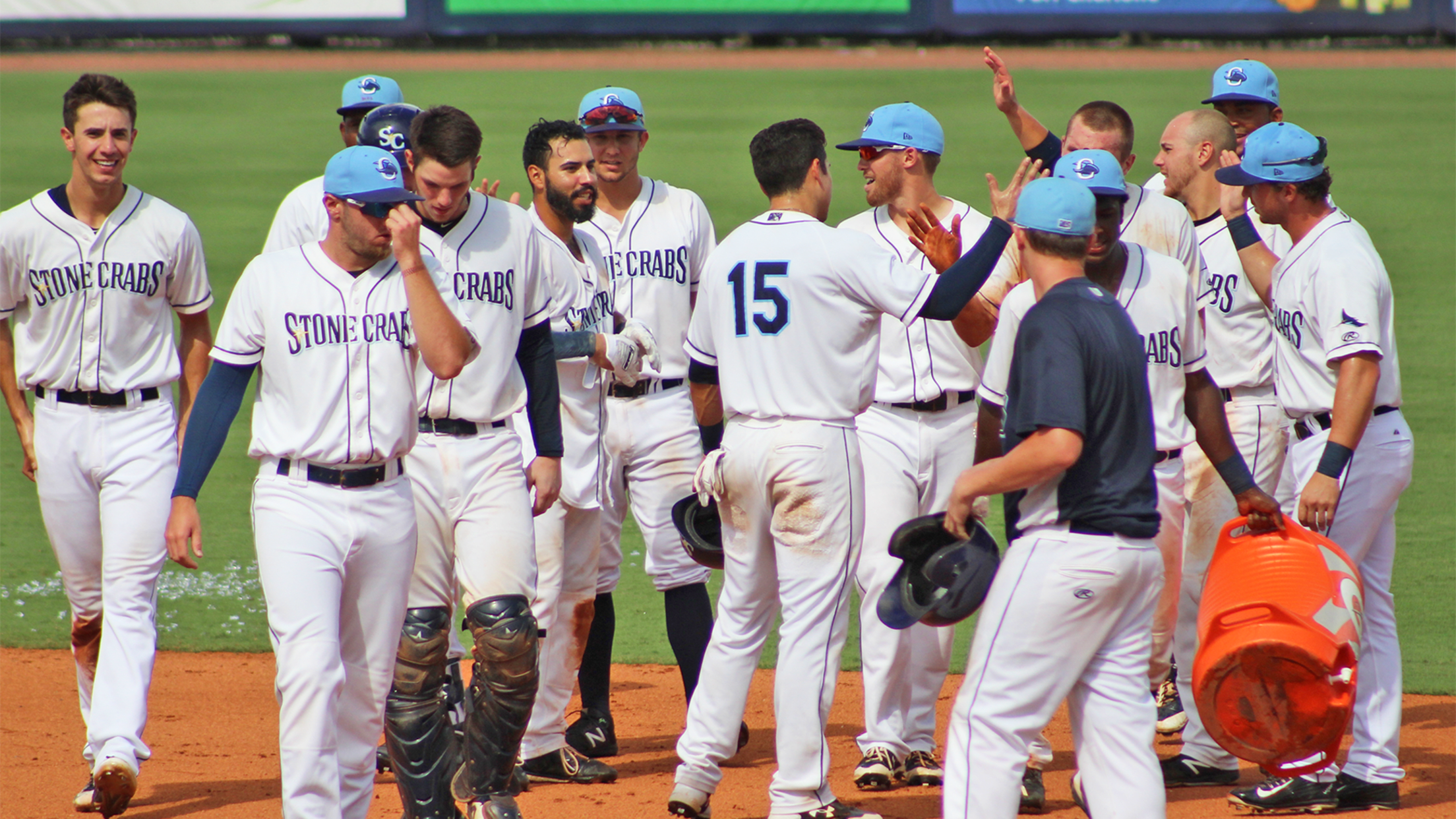 The Stone Crabs enjoyed a 69-66 season in 2017.
No word better characterizes the 2017 Charlotte Stone Crabs better than "improvement."After a last place finish in first half, the Stone Crabs peaked at the right time, tying the franchise record for most wins in the second half (38). "In the first half, I said that this team gets along
No word better characterizes the 2017 Charlotte Stone Crabs better than "improvement."
After a last place finish in first half, the Stone Crabs peaked at the right time, tying the franchise record for most wins in the second half (38).
"In the first half, I said that this team gets along with each other better than any team I've ever seen," manager Michael Johns said. "We hoped that at some point the team chemistry would carry over on to the field and it certainly did. We were able to keep our heads above water and then we just caught fire. It got to the point where we felt like we were going to win every game."
The turnaround can be almost entirely credited to the strides made by the team's pitching staff. On July 12, the Stone Crabs ranked dead last in the Florida State League in nearly every pitching category, owning a league-worst 4.66 ERA and 1.44 WHIP.
But thanks to the tutelage of sixth-year pitching coach Doc Watson and the work put in by the team's arms, Charlotte's staff proved to be one of the best down the stretch, working to a 2.94 ERA and 1.19 WHIP over the final 54 games of the season.
"Pitching is contagious. Throwing strikes is contagious and walking guys is contagious," pitching coach Doc Watson said. "In April and May, our pitching staff was quite young and inexperienced and I don't know if they quite trusted their abilities. Once we got into the second half, we added a couple of fresh arms and some guys who we expected to do well stepped up."
Behind a more balanced attack, the Stone Crabs ripped off an 18-9 record in August, the best mark in franchise history. The strong finish allowed manager Michael Johns to notch his second winning season in his three years at the helm in Port Charlotte.
"We just started winning games and it became contagious," Johns said. "It got to the point where we felt like we were going to win every game. And once you get that feeling in the dugout, there's nothing you can do to stop it."
Even after several key departures, Charlotte's offense proved to be a force all season, placing second in the Florida State League in batting average (.257), doubles (229) and third in runs scored (572) and stolen bases (137).
"What they did really well was hit foul line to foul line," John said. "And the second thing was that we didn't strike out. I thought this team knew when to be aggressive and knew what type of pitchers they were facing."
Charlotte was led offensively by Florida State League Player of the Year Brandon Lowe. The first Stone Crab to ever win the award, Lowe led the league in five categories (AVG, 2B, XBH, R, SLG) up on his promotion on August 2, batting .311 with nine home runs and 46 RBI in 90 games. The Suffolk, Va. native finished 2017 as the Stone Crabs' single-season leader in slugging percentage (.524) and OPS (.927).
Perhaps no one personified the Stone Crabs' 2017 season more than its two most used players - outfielder Ryan Boldt and starting pitcher Eduar Lopez.
Boldt placed third in the FSL in hitting (.295) and fourth in hits (130), leading the Stone Crabs in eight categories. He stole a team-high 23 bases, good for third in the Rays organization.
"He's an off-the-charts human being," Johns said. "He loves playing baseball. He's got the hit tool. He can hit velo. He can hit righties and he can hit lefties. He's level-headed and I can't say enough that he's cut out for this. He's going to be a Big Leaguer."
The former Nebraska Cornhusker enjoyed a solid first half, hitting .266 in his first full season of professional baseball. However, Boldt exploded in the second half, hitting .326 with 15 extra-base hits, 35 RBI and 13 stolen bases in 59 games.
Lopez, meanwhile, was the only Stone Crabs pitcher to eclipse 100 innings, racking up 143.2 frames to place fourth in the league. The Neiba, Dom. Rep. native finished the year ranked fifth in the FSL in ERA (3.63) and tied for second in wins (9).
"I couldn't be prouder for the young man. He's worked extremely hard this year," said Watson. "He stopped trying to throw the ball one-hundred miles an hour. He learned that his success is all location and he found the curveball."
Boldt earned a Postseason All-Star nod, as did catcher Brett Sullivan.
Sullivan was promoted with Lowe on August 2 after hitting .301 in 83 games with Charlotte. Despite missing the final month of the season, the Stockton, Calif. native finished in tie for second in the league in RBI (67).
Shortstop Jake Cronenworth was named to the Midseason All-Star team after starting the season on a 25-game hitting streak. The former Michigan Wolverine hit a staggering .388 in the month of April. He carried a .413 on-base percentage into June before getting promoted to Montgomery on July 18.
Dalton Kelly, David Olmedo-Barrera and Peter Maris were also key parts of the Charlotte order. Kelly hit .305 over 69 games before earning a promotion on June 27. Olmedo-Barrera joined Boldt in the outfield for the entire season, hitting .248 in 119 contests. Maris served a super-utility role, batting .290 with 22 extra-base hits while playing six different positions over 104 games.
"He's just a little grinder," Johns said about Maris. "He's got surprising pop and he can really hit. He's had to earn everything at every level of his career."
On the pitching side, Lopez wasn't the only one to show vast improvement in 2017. Michael Velasquez, Brandon Lawson and Reece Karalus each turned a significant corner in the season's final weeks.
Velasquez allowed three runs on 19 hits over his final 24 innings (1.13 ERA), striking out 21 while walking six (1.04 WHIP). Lawson moved into the rotation on July 17, working to 3.50 ERA while holding opponents to a .248 average over his eight starts. After missing the majority of the first half with an injury, Karalus returned to earn a 2.53 ERA in 32 innings of relief in July and August.
However, no one was more important to the Stone Crabs' second half run than left-hander Travis Ott. The organization's ERA champion in 2017, Ott went 6-1 with a 2.04 ERA over 79.1 innings with the Stone Crabs. Despite not joining the team until May 23, Ott led the Stone Crabs in strikeouts (94), holding Florida State League hitters to a .191 average.
"He has really been effective keeping hitters off-balance and the guy just competes. He hates to lose," Watson said. "I can foresee this kid being a force at the Big League level coming in to face a left-hand heavy lineup."
The 2017 relief effort was led by lefty Dalton Moats and right-hander Spencer Jones. Moats finished with a 2.21 ERA over 25 outings, allowing just 25 hits in 40.2 innings while leading the team in saves (11). Jones posted a 1.71 ERA over 31.2 innings, limiting opponents to a .173 average (0.85 WHIP).
"Both of those guys were relentless in studying hitters, wanting to know what they had to do better," Watson said. "With Dalton Moats in particular, much of his success came against left-handed hitters. The slider is a big pitch for him. Spencer has been an extremely pleasant young man to work with. He gives you everything he's got every day when he shows up. He's got a tremendous aptitude and he's relentless in his work."
The Stone Crabs' turnaround in 2017 proved to be a team-wide effort. The 7.5 improvement from the first half to second can be attributed to the hard work of the players and the dedication of the coaching staff. The Rays' organization in general enjoyed an extremely successful 2017. Four of the system's top five affiliates reached the postseason, with the Stone Crabs being the lone exception.
"From top to bottom, it's good to be Ray. It's good to be a Stone Crab," Johns said. "We're really proud of the effort of the guys."