Seabold Spins Complete Game in 4-1 Victory
Starter holds Tarpons to three hits in series-opening win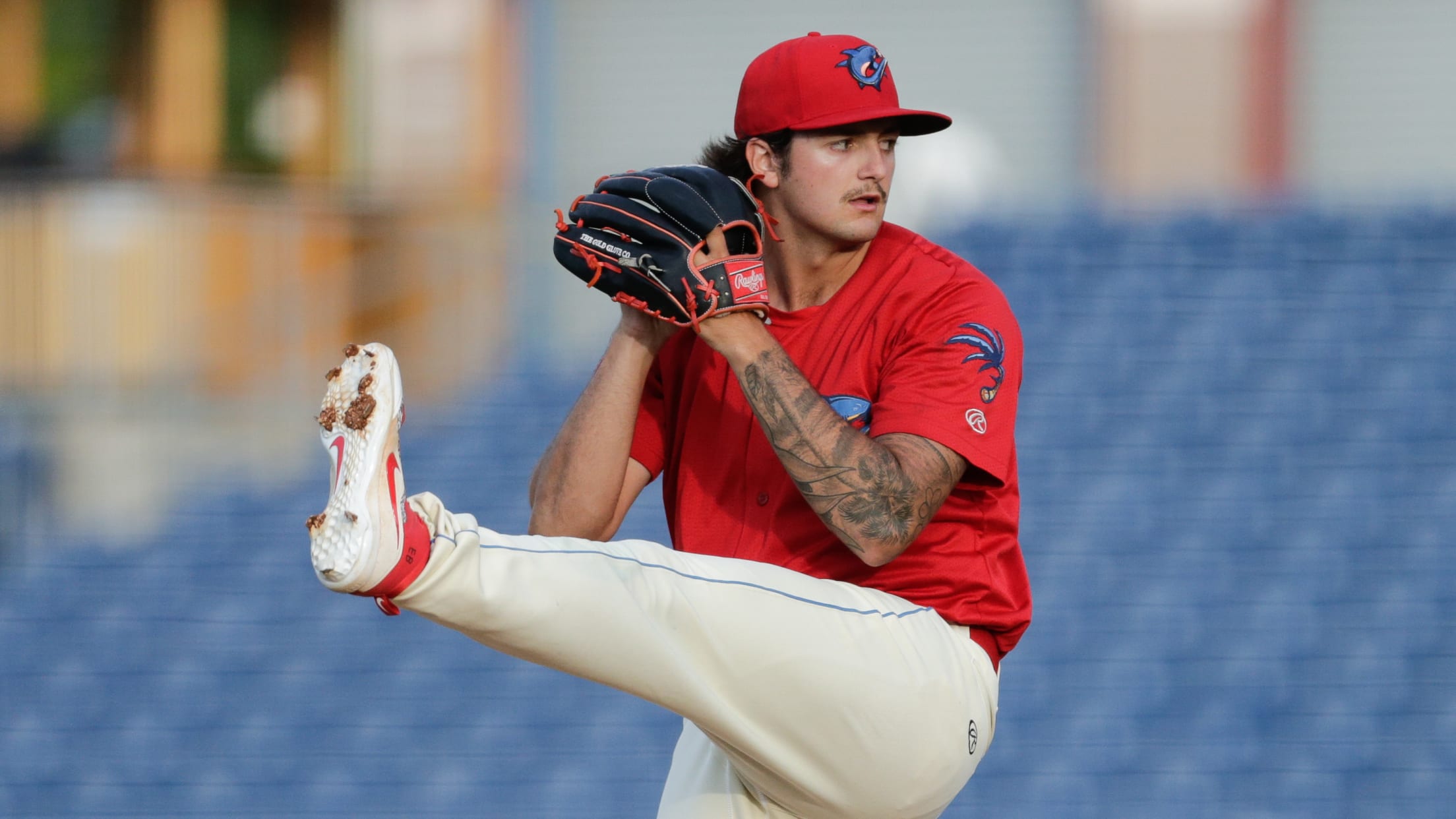 in a game between the Clearwater Threshers and Lakeland Flying Tigers at Spectrum Field in Clearwater Florida. (Nathan Ray)
CLEARWATER, Fla. - Connor Seabold hurled the first complete game of the season for the Threshers, and Clearwater topped the Tampa Tarpons, 4-1 in the series opener on Monday night at Spectrum Field.Seabold (3-4) held Tampa hitless until the fifth, and yielded only one run on three hits and a
CLEARWATER, Fla. - Connor Seabold hurled the first complete game of the season for the Threshers, and Clearwater topped the Tampa Tarpons, 4-1 in the series opener on Monday night at Spectrum Field.
Seabold (3-4) held Tampa hitless until the fifth, and yielded only one run on three hits and a walk while matching a career-high with nine strikeouts.
The nine-inning complete game effort was the first for a Threshers pitcher since José Taveras accomplished the feat at home against the Charlotte Stone Crabs on June 3 last season.
Seabold faced only two over the minimum, consistently getting ahead in the count throughout the night.
Of the 29 batters he faced, Seabold threw 22 first-pitch strikes. A 2017 third-round pick out of Cal State Fullerton, Seabold threw 105 pitches total, 76 for strikes (72.4%).
Clearwater (28-34) gave him a lead to work with early, after the Threshers loaded the bases to start the bottom of the first against rehabbing righty Luis Cessa (0-1). Arquimedes Gamboa walked, Adam Haseley lined a single to left, and Henri Lartigue worked a base on balls.
Edgar Cabral grounded into a forceout at second, scoring Gamboa with the night's first run. With two down, Raul Rivas chopped a single over the third baseman David Metzgar to bring home Haseley and make it 2-0.
The Threshers tacked on a run in the third, after Jose Pujols led off with a single to extend his hit streak to 15 games.
With two down, Luke Williams was hit by a pitch, and Grenny Cumana followed with a single to right to score Pujols and put Clearwater up 3-0.
Seabold retired 13 straight to start the night. With one down in the fifth, Isiah Gilliam pulled a single through the right side to give Tampa its first baserunner.
Clearwater expanded the advantage to 4-0 in the fifth when, with a runner on and two outs, Cumana and Gamboa connected for back-to-back singles to bring home Pujols.
The only run for the Tarpons (34-30) crossed in the sixth, when Ryan Lidge turned on a 2-0 pitch and homered to right. Diego Castillo singled with two outs in the inning, but Cumana came up firing in left and nabbed Castillo trying to stretch a single to a double.
Seabold faced the minimum the rest of the way, issuing just a one-out walk in the eighth but getting Lidge to ground into a double play to end the inning. He reached as high as 95 mph on the gun in the ninth, inducing a fly out and ground out before getting Castillo to pop to first to end the ballgame.
Clearwater will host Tampa for game two of the series on Tuesday, when Adonis Medina takes the hill opposite Adonis Rosa. First pitch is at 7 p.m. and the game will be broadcast live on threshersbaseball.com starting at 6:45 p.m.