Fireflies and BUSH'S Beans Are Teaming Up Against Hunger
Both organizations are coming together with Harvest Hope Food Bank to fight hunger in the Midlands Community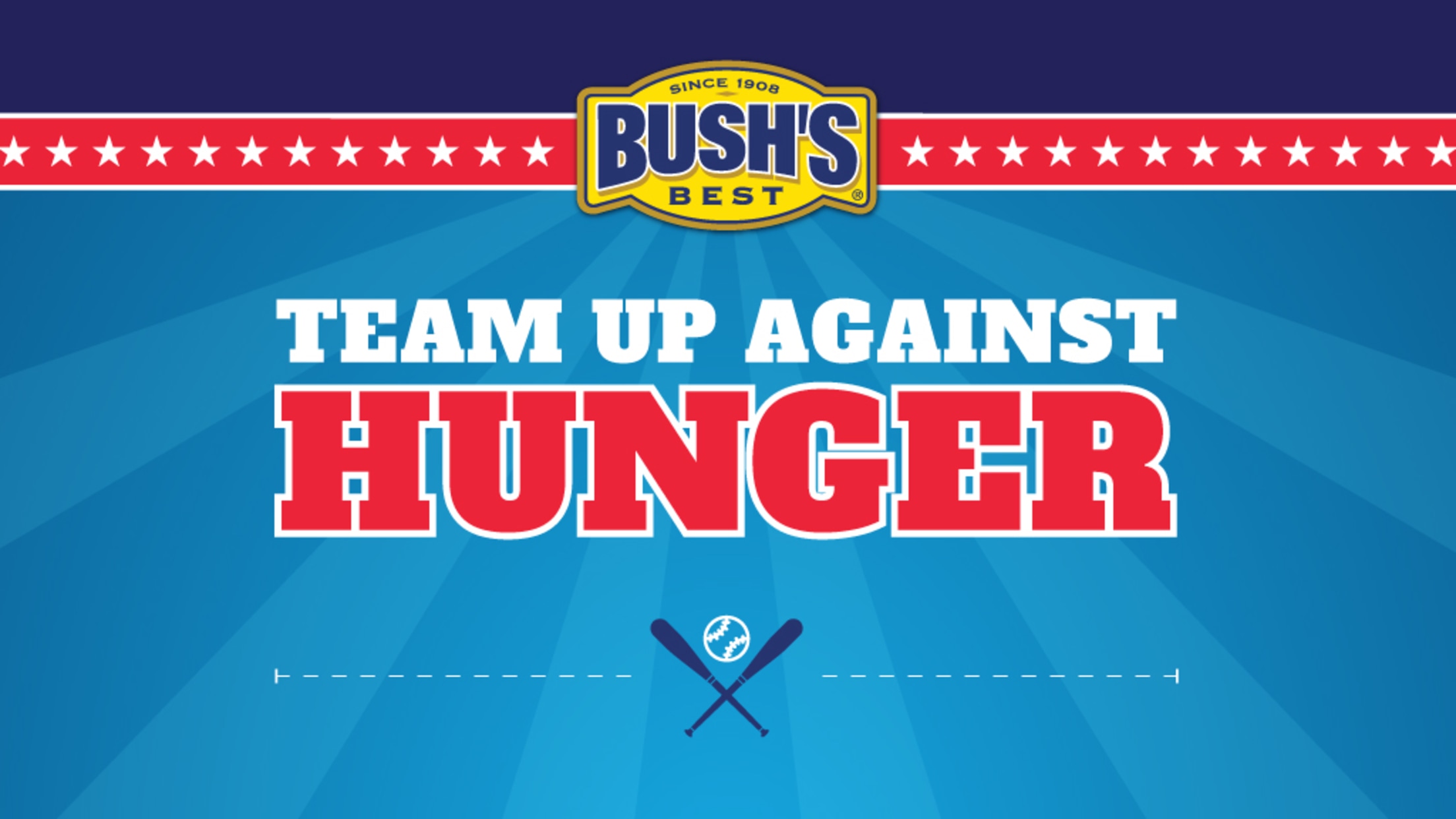 COLUMBIA, S.C. & KNOXVILLE, TENN. - The Columbia Fireflies today announced they are partnering with BUSH'S® Beans and Harvest Hope Food Bank to "Team Up Against Hunger." In its second year, this program encourages fans to bring non-perishable food donations to Spirit Communications Park for the game on Tuesday, July
COLUMBIA, S.C. & KNOXVILLE, TENN. - The Columbia Fireflies today announced they are partnering with BUSH'S® Beans and Harvest Hope Food Bank to "Team Up Against Hunger." In its second year, this program encourages fans to bring non-perishable food donations to Spirit Communications Park for the game on Tuesday, July 31 at 7:05pm vs. the West Virginia Power (Pittsburgh Pirates). In turn, fans who donate two cans will receive buy one, get one free Palmetto Citizens FCU All-Star seats for that game in recognition of helping to feed the local community through Harvest Hope Food Bank. Ninety Minor League Baseball™(MiLB) clubs across the country will "Team Up Against Hunger" throughout the month of July. The month is significant as it marks the middle of summer break and a crucial time when millions of children are not receiving free or reduced-price meals at their schools as they do when school is in session.
"We are honored to partner with BUSH'S Beans and Harvest Hope Food Bank to bring the issue of hunger to light using our MiLB platform," said John Katz, Fireflies team president. "This is one great way to bring the community together to show that we are united in the fight against hunger in our hometown."
"As a family-owned food company, it is important to everyone at BUSH'S to help hungry families," said Mike Morris, consumer experience manager at Bush Brothers & Co. "Working with Minor League Baseball and communities nationwide helps bring attention and action to a very important topic - beating hunger."
Individual game tickets for the 2018 season can be purchased at the Fireflies box office, over the phone at 803-726-HITS, or online at FirefliesTickets.com.
****
About the Columbia Fireflies
The Columbia Fireflies are the South Atlantic League affiliate of the New York Mets. Winners of Ballpark Digest's Best New Branding and Logo Award in 2016, the Fireflies play games across the southeast and mid-Atlantic regions, including against in-state rivals in Charleston and Greenville. The team partnered with the city of Columbia and Hughes Development to construct Spirit Communications Park, a multi-use outdoor sports and entertainment venue at the center of the BullStreet District. The Columbia Fireflies are owned by Hardball Capital, owners of the Fort Wayne TinCaps of the Midwest League and the Chattanooga Lookouts of the Southern League. For more information, visit www.ColumbiaFireflies.com, or follow the Fireflies on Twitter (@ColaFireflies), Facebook (facebook.com/columbiafireflies) and all popular social media platforms.
About Spirit Communications Park
Spirit Communications Park, the 2016 Ballpark Digest Ballpark of the Year, is a 365-day per year multi-use sports and entertainment venue located in the heart of downtown Columbia, South Carolina. Spirit Communications Park is the home ballpark for the Columbia Fireflies, the South Atlantic League affiliate of the New York Mets. Designed for baseball, concerts, football, soccer and a host of other activities, the venue seats approximately 9,000 for sporting events and up to 15,000 for major outdoor concerts. With 16 luxury suites and a 7,000 square-foot Club Level Lounge, Spirit Communications Park also hosts everything from business meetings to wedding receptions, and everything in between. The venue is open 365 days a year and serves as a public park, with a wrap-around concourse representing 1/3 of a mile for walkers and joggers. For more information, visit www.SpiritCommunicationsPark.com.
About Minor League Baseball
Minor League Baseball, headquartered in St. Petersburg, Florida, is the governing body for all professional baseball teams in the United States, Canada and the Dominican Republic that are affiliated with Major League Baseball® clubs through their farm systems. Fans are coming out in unprecedented numbers to this one-of-a-kind experience that can only be found at Minor League Baseball ballparks. In 2017, Minor League Baseball attracted 41.8 million fans to its ballparks to see the future stars of the sport hone their skills. From the electricity in the stands to the excitement on the field, Minor League Baseball has provided affordable family-friendly entertainment to people of all ages since its founding in 1901. For more information visit MiLB.com. Follow Minor League Baseball on Facebook, Instagram and Twitter.
About BUSH'S Beans
BUSH'S® Beans are "The Official Beans of Minor League Baseball™." BUSH'S® is all about family, friends that feel like family, and a certain Secret Family Recipe. When you enjoy our beans (doesn't matter if they're Baked Beans, black beans, pinto beans, great northern beans...you get the picture), you can trust that they're the very best. Because we wouldn't serve your family anything less. Since we got our start more than 100 years ago in Chestnut Hill, Tenn., BUSH'S® has always maintained that quality is the best policy. We pursue excellence and exceptional taste in our beans, sauces and everything we do. That's why, from mouthwatering Baked Beans to satisfying bean recipes, you're cooking up the best with BUSH'S BEST®. For more information, visit www.bushsbeans.com, like them on Facebook or follow BUSH'S® Beans on Instagram and Twitter.