Homestand Preview: September 14-19
Fireflies host booming season finale with Cannon Ballers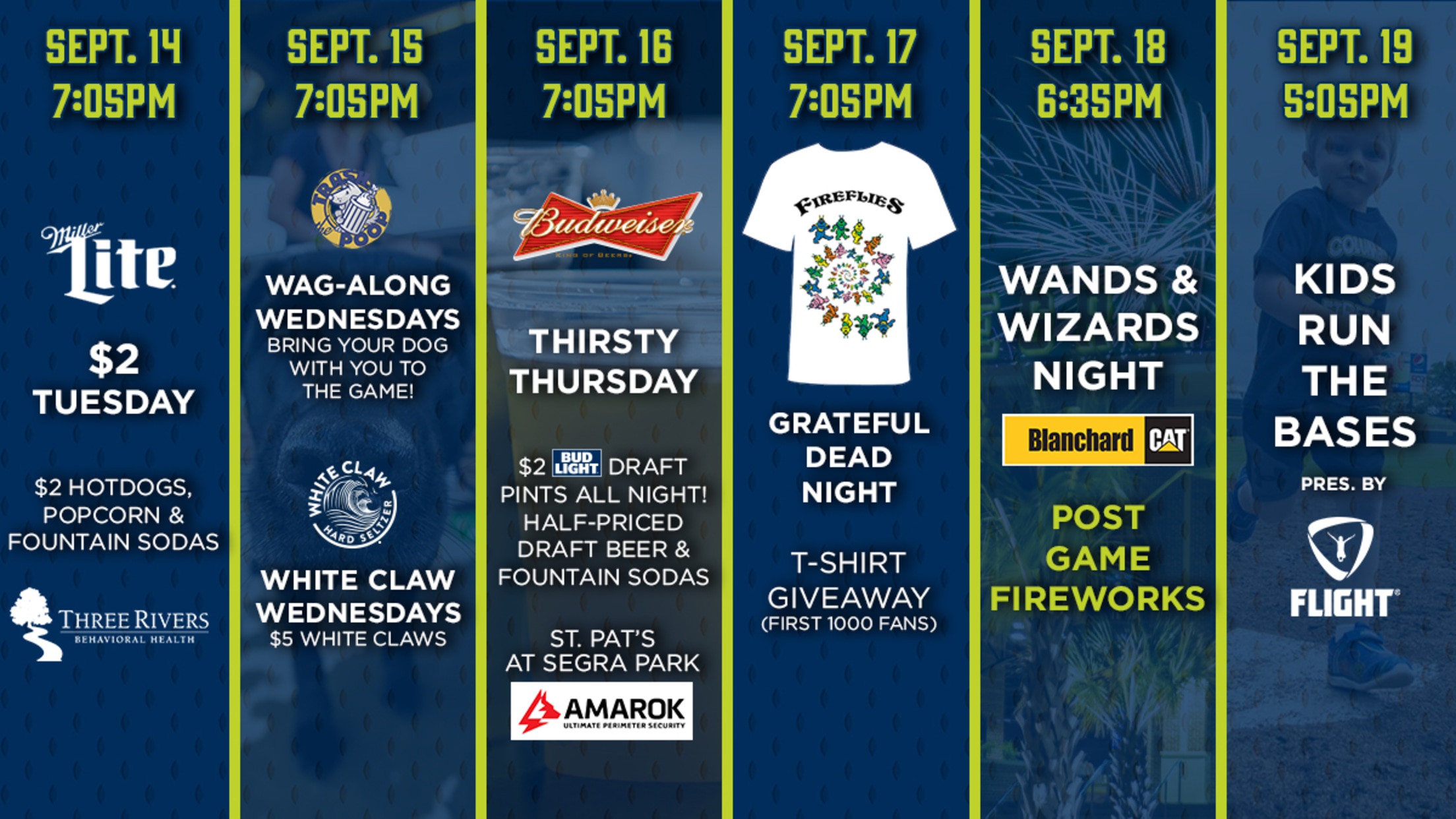 COLUMBIA, S.C. – The Fireflies will pull out all the plugs for their final series of the season September 14-19 at Segra Park against the Kannapolis Cannon Ballers. The Fireflies have claimed five of the six games they've played against the White Sox affiliate in 2021. Tuesday, September 14: Fireflies
COLUMBIA, S.C. – The Fireflies will pull out all the plugs for their final series of the season September 14-19 at Segra Park against the Kannapolis Cannon Ballers. The Fireflies have claimed five of the six games they've played against the White Sox affiliate in 2021.
Tuesday, September 14: Fireflies vs Cannon Ballers: 7:05 pm**Wednesday, September 15: Fireflies vs Cannon Ballers: 7:05 pmThursday, September 16: Fireflies vs Cannon Ballers: 7:05 pmFriday, September 17: Fireflies vs Cannon Ballers: 7:05 pmSaturday, September 18: Fireflies vs Cannon Ballers: 6:35 pmSunday, September 19: Fireflies vs Cannon Ballers: 5:05 pm**
In their first year adjusting to the Cannon Ballers moniker rather than the Intimidators nickname, Kannapolis has struggled both on the bump and at the dish. As a team, the Cannon Ballers have the league's highest ERA at 5.82 and are tied with the Low-A East's lowest batting average at .226. They match both Columbia and Fredericksburg. Despite the low numbers, Kannapolis is still an exciting team to watch because of their youth. They claim four of the White Sox top-10 prospects on their roster according to MLB.com. Jarred Kelly, Andrew Dalquist and Matthew Thompson all take turns on the bump and are the 5th-7th ranked prospects, respectively, according to MLB.com, while Bryan Ramos has represented the team at second and third base this season.
MILLER LITE $2 TUESDAY: Start off the week right at Segra Park, you can buy tickets starting at $5 and then once you're in the park, hot dogs, popcorn, fountain sodas and 12 oz cans of Miller Lite are all just $2 thanks to Three Rivers Behavioral Health. Talk about a bargain!
TRASH THE POOP WAG-ALONG WEDNESDAY: Trash the Poop Wag-Along Wednesday is back! Fans with Bojangles Berm tickets can bring their dogs to the park for free. Fans must fill out waivers for their dogs at the gate and dogs must have valid rabies vaccination tags on their collars and remain on a leash at all times. Poop bags will be provided at guest services. K9 Club members will receive a Mason dog tag for their dog that will gain them entry with a waiver on file for the entire season and their dog will receive treats at the game.
WHITE CLAW WEDNESDAY: Wednesday just got more exciting at Segra Park. If you can't wait until Thirsty Thursday to take advantage of drink specials at the ballpark, then White Claw Wednesday is the night for you. Every Wednesday game at Segra Park will feature $5 16 oz cans of White Claw available at concession stands.
BUDWEISER THIRSTY THURSDAY: You'll want to get to Segra Park right when the gates open at 6 pm each Thursday so you can start celebrating with the Fireflies. All evening long fans will be able to purchase $2 Bud Light pints at the Budweiser Bowtie Bar and throughout the park, fans can gran half-priced draft beer and fountain sodas.
ST. PAT'S AT SEGRA PARK: Thirsty Thursday is special for the Midland's final favorite weekly happy hour of the year. AMAROK is helping to celebrate the half-way point to next year's corned beef and green beer day by bringing out special priced green beers and supporting local charities with Thursday's beer sales at Segra Park.
GRATEFUL DEAD NIGHT: It's a special time for Deadheads! Bring out your tie-die and get ready to rock out to your favorite psychedelic songs while our team wears special Grateful Dead inspired jerseys that will be auctioned off during the game. If that isn't enough, the first 1,000 fans through the gates after they open at 6 pm will receive a free Fireflies Grateful Dead t-shirt.
WANDS AND WIZARDS NIGHT: The Fireflies are partnering with Blanchard Machinery to create a magical night at the Fireflies' castle. Head through the gates of Hogwarts and to a concession stand to grab our special alcoholic or non-alcoholic butter beers during the game and stick around afterwards for a special fireworks show presented by Munnerlyn Pyrtotechnics that would make Weasley Wizards Wheezes jealous!
SUNDAY FUNDAY: Come early to Sunday's game and the first 1,000 fans will receive an antique Fireflies Tin Sign! The party doesn't end when the game does though, after Sunday's game between the Fireflies and the Canon Ballers, kids have a chance to run around the bases at Segra Park thanks to Flight Adventure Park! There are only two Sunday games left where kids will have a chance to go on the field. Don't miss out on this opportunity and get your tickets now!
FAMILY FOUR PACKS: The Fireflies will be offering four family four packs to fans for this final homestand! You can purchase The Grateful Dead Friday Family Four Pack for $40. It comes with four Bojangles Berm seats, four grilled cheese sandwiches and four hats. That's $90 of value for just $40. Saturday, we'll have a Fireworks Family Four Pack for $65. It comes with four Reserved Section seats, four hot dogs and 24 oz soda vouchers and four hats, a value of $120 for only $65. Next, we have a special Kids Family Four Pack that's a $125 value for only $35. You'll receive four Bojangles Berm seats, four free Bojangles Chicken Sandwiches, two Flight Adventure Jump Passes, Four hats and 10 SCU Kids Zone Tickets—and it is all still $35. Finally, we'll have the Palmetto FCU Four Pack. Fans will receive four Palmetto FCU All-Star seats, Four Bojangles chicken sandwiches, two Flight Adventure Jump Passes, four hats and 10 SCU Kids Zone Tickets all for $50, over 60% off of the original price of the package!