Sharp Sinks Rome, Leads Columbia to Doubleheader Sweep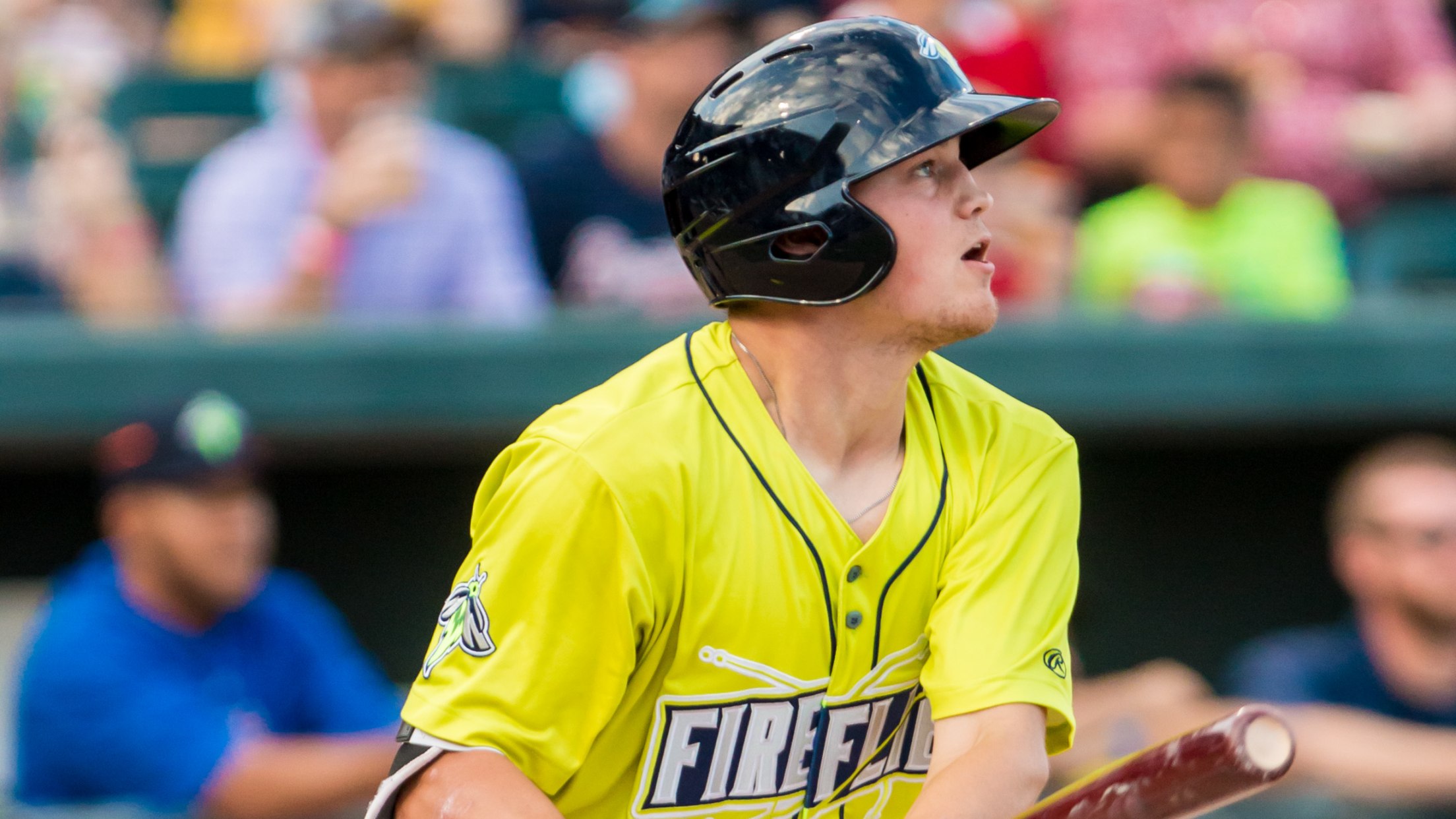 Brian Sharp (JEFF BLAKE)
COLUMBIA, SC - Brian Sharp could not be stopped at Segra Park on Monday. Columbia's outfielder drilled the walk-off base hit in game one of the doubleheader against Rome and then followed that up with a three-run homer in game two that gave his team a late lead en route
COLUMBIA, SC - Brian Sharp could not be stopped at Segra Park on Monday. Columbia's outfielder drilled the walk-off base hit in game one of the doubleheader against Rome and then followed that up with a three-run homer in game two that gave his team a late lead en route to a victory. The Fireflies swept the doubleheader and won the series over the Braves, three-games-to-four.
The score was knotted up at 1-1 at the start of the bottom of the seventh of game one. Chandler Avant led off the frame with a double and later moved to third when the bases loaded. Sharp stepped to the dish and mashed a pitch from Alan Rangel to the base of the left-field wall. Sharp clinched Columbia's second walk-off win of the year. The final score was 2-1.
Sharp wasn't done. With the same tie score in the bottom of the fifth of game two, Sharp broke up that tie with one mighty swing. His three-run homer gave the Fireflies a lead they wouldn't relinquish. Gerson Molina would make sure of it with a two-run homer in the sixth, his second this week. The home team won, 6-1.
It was the first doubleheader sweep for Columbia in 23 months. The last time the Fireflies won both games of a twin bill was June 10, 2017 against Charleston.
Sharp and the Fireflies tallied their highest single-game total of extra-base hits this season in game two. Pedro Lopez's club smoked six extra-base hits. Chase Chambers doubled twice in the second game, knocking in a run his second time around in the fourth.
Ronny Mauricio had a solid first game of the doubleheader. He plated the only other run in the 2-1 victory in the fifth with an RBI triple. Mauricio finished with two hits and a walk in game one.
Columbia's pitchers were splendid on the mound:
Game One:
Jose Butto - 5.1 IP, 1 ER, 1 BB, 8 K
Andrew Mitchell - Win, 1.2 IP, 0 H, 0 ER, 0 BB, 4 K
Game Two:
Alec Kisena - 3.2 IP, 0 ER, 0 BB, 6 K
Jose Moreno - Win, 1.1 IP, 1 ER, 2 K
Tylor Megill - Save, 2.0 IP, 0 ER, 0 BB, 3 K

The Fireflies start a three-game series against the Augusta GreenJackets on Tuesday evening at SRP Park in North Augusta, South Carolina. First pitch is scheduled for 7:05 ET. You can tune into the action at FirefliesLiveStream.com.