Abraham Toro Named Texas League Postseason All-Star
Astros third baseman was also a TL Midseason All-Star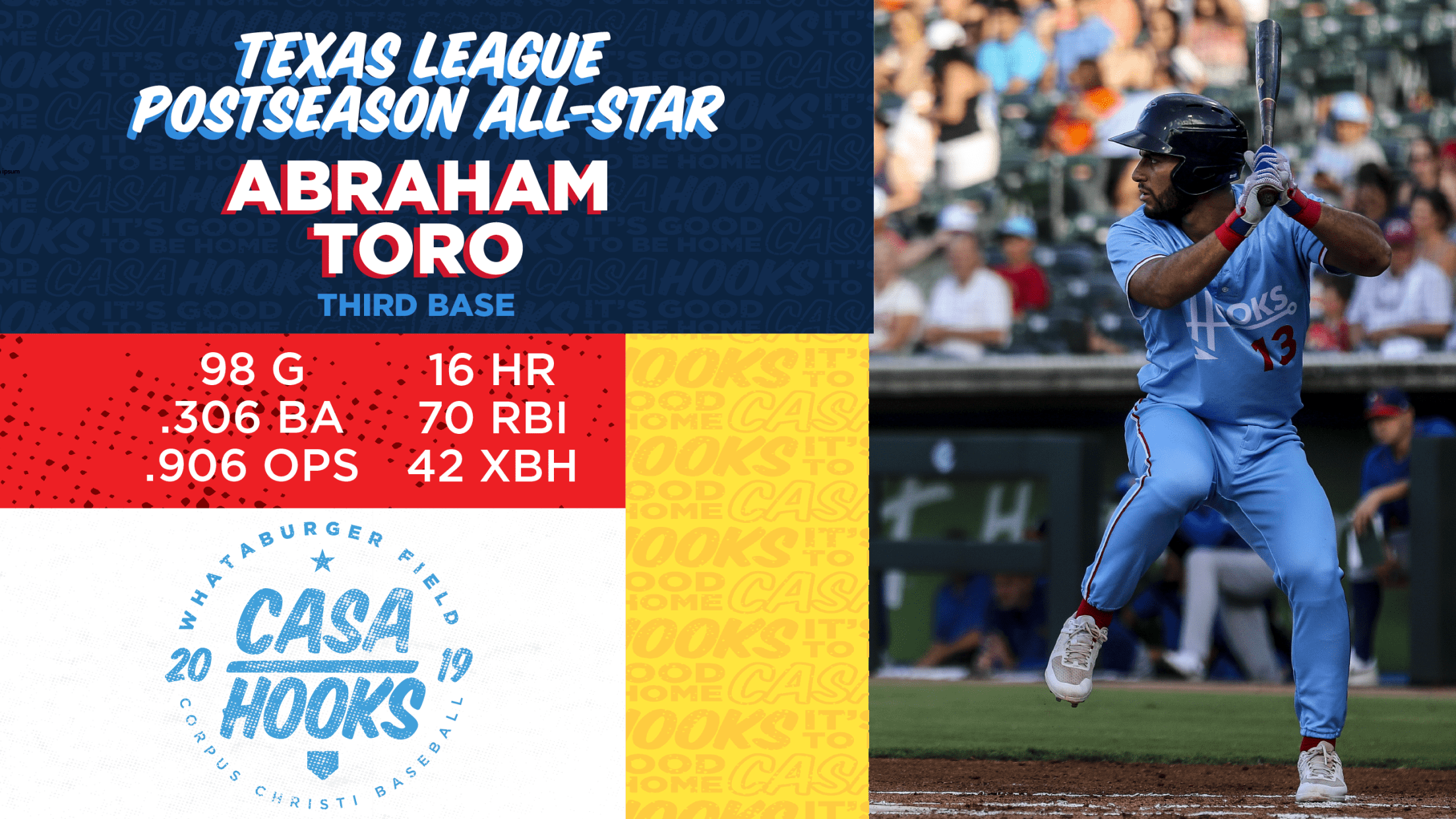 CORPUS CHRISTI - Houston Astros and former Hooks third baseman Abraham Toro has been named to the Texas League Postseason All-Star Team, the league office announced Wednesday, as voted on by league field staffs and local media.In 98 games with the Hooks this season, Toro batted .306 (115-for-376) with 22
CORPUS CHRISTI - Houston Astros and former Hooks third baseman Abraham Toro has been named to the Texas League Postseason All-Star Team, the league office announced Wednesday, as voted on by league field staffs and local media.
In 98 games with the Hooks this season, Toro batted .306 (115-for-376) with 22 doubles, four triples, 16 home runs, 70 RBIs, 65 runs scored and four steals with a .393 on-base percentage and .906 OPS.
Despite his promotion to Triple-A Round Rock nearly one month ago, on August 1, Toro still ranks among Texas League leaders in OPS (1st), batting average (2nd), on-base percentage (2nd), slugging percentage (2nd, .513), extra-base hits (5th, 42), RBIs (5th), homers (6th), total bases (7th, 193) and walks (T-8th, 48) as of August 28.
The Greenfield Park, Quebec native was also tabbed a 2019 Texas League Midseason All-Star, starting at third base in the clean-up spot for the South Division, going 0-for-4 with a walk with 2 runs scored in the contest in Tulsa.
He earned Texas League Player of the Week for May 6-12, batting .381 (8-for-21) with a double, two homers, three runs, eight RBIs and six walks with a 1.233 OPS in six games that week.
The 22-year-old, who began the season rated Houston's No. 23 prospect by MLB.com but has since jumped to No. 6 in the system, tore up Triple-A pitching at a .424 clip (28-for-66) with nine doubles, a homer, 10 RBIs, 10 walks and a .506 on-base percentage in 16 games.
A fifth-round pick by Houston in the 2016 draft out of Seminole State College in Oklahoma, he received his first major-league call-up to the Astros on August 22, making the start at third base that night at Minute Maid Park against Detroit. Through five games, he's batting .211 (4-for-19) with an RBI.