Paredes Fans 12 as Hooks Fall to Midland
Hounds can't hit Paredes but win, 3-1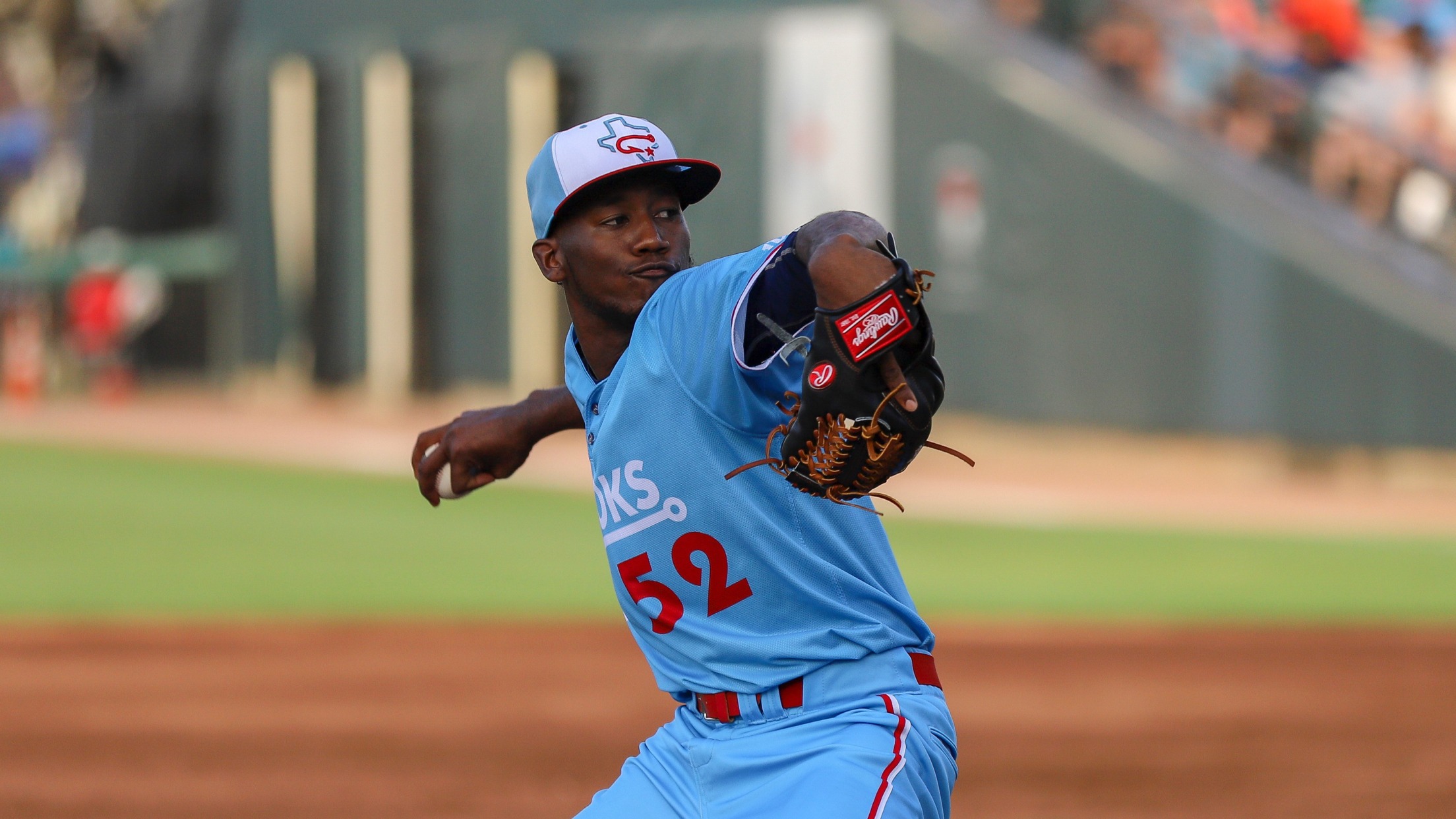 Enoli Paredes fired a career-high 12 strikeouts over 6.0 no-hit innings, but the RockHounds scratch three late runs across to win. (Olivia Rook/Corpus Christi Hooks)
CORPUS CHRISTI - Hooks right-hander Enoli Paredes fired a career-high 12 strikeouts over 6.0 no-hit innings Friday, but the Midland RockHounds scratched out a 3-1 win at Whataburger Field to level the series.Each of Midland's first six outs came via strikeout as Paredes fanned eight through three innings. He worked
CORPUS CHRISTI - Hooks right-hander Enoli Paredes fired a career-high 12 strikeouts over 6.0 no-hit innings Friday, but the Midland RockHounds scratched out a 3-1 win at Whataburger Field to level the series.
Each of Midland's first six outs came via strikeout as Paredes fanned eight through three innings. He worked around a walk and hit batsman in the third and offered a walk in the fourth.
The 23-year-old Dominican has allowed just three hits with 26 strikeouts in 16.0 scoreless innings at Whataburger Field this season.
Paredes was matched stride-for-stride by the combination of Jesus Zambrano and Trey Cochran-Gill, who surrendered only a first-inning single to Abraham Toro but no other baserunners in 5.0 innings.
6 outs, 6 strikeouts. 🔥🔥🔥🔥🔥🔥@enoliparedes is locked in early. pic.twitter.com/Sq4aiby5yS

— Corpus Christi Hooks (@cchooks) July 6, 2019
Midland immediately took the lead against Paredes' replacement, Willy Collado (L, 0-1), who gave up the game's first hit to Taylor Motter to open the seventh. After an Edwin Diaz double, Nate Mondou broke the scoreless draw with a single. The game-winning run scored on an error by Osvaldo Duarte.
The Hooks got a run back in the bottom of the seventh after Abraham Toro tripled to lead off the inning and scored on a Granden Goetzman sacrifice fly against Seth Martinez (W, 1-0).
The Hounds added an insurance run in the ninth on a Mikey White RBI single. Zack Erwin shut the door for his third save.
Toro accounted for two of the Hooks' three hits. Motter and Diaz each were 1-for-3 with a walk and a run scored.
Righty Chad Donato is slated to make his Double-A debut Saturday for Corpus Christi opposite Midland's Kyle Freidrichs (3-3, 3.38). Gates open at 5:45 p.m. before the 7:15 p.m. first pitch as the first 2,000 fans receive a Hooks Legends Carlos Correa jersey.