Bryce Ball, Mitch Stallings Earn League Awards
Players earn All-Star status, sweep Player and Pitcher of the Year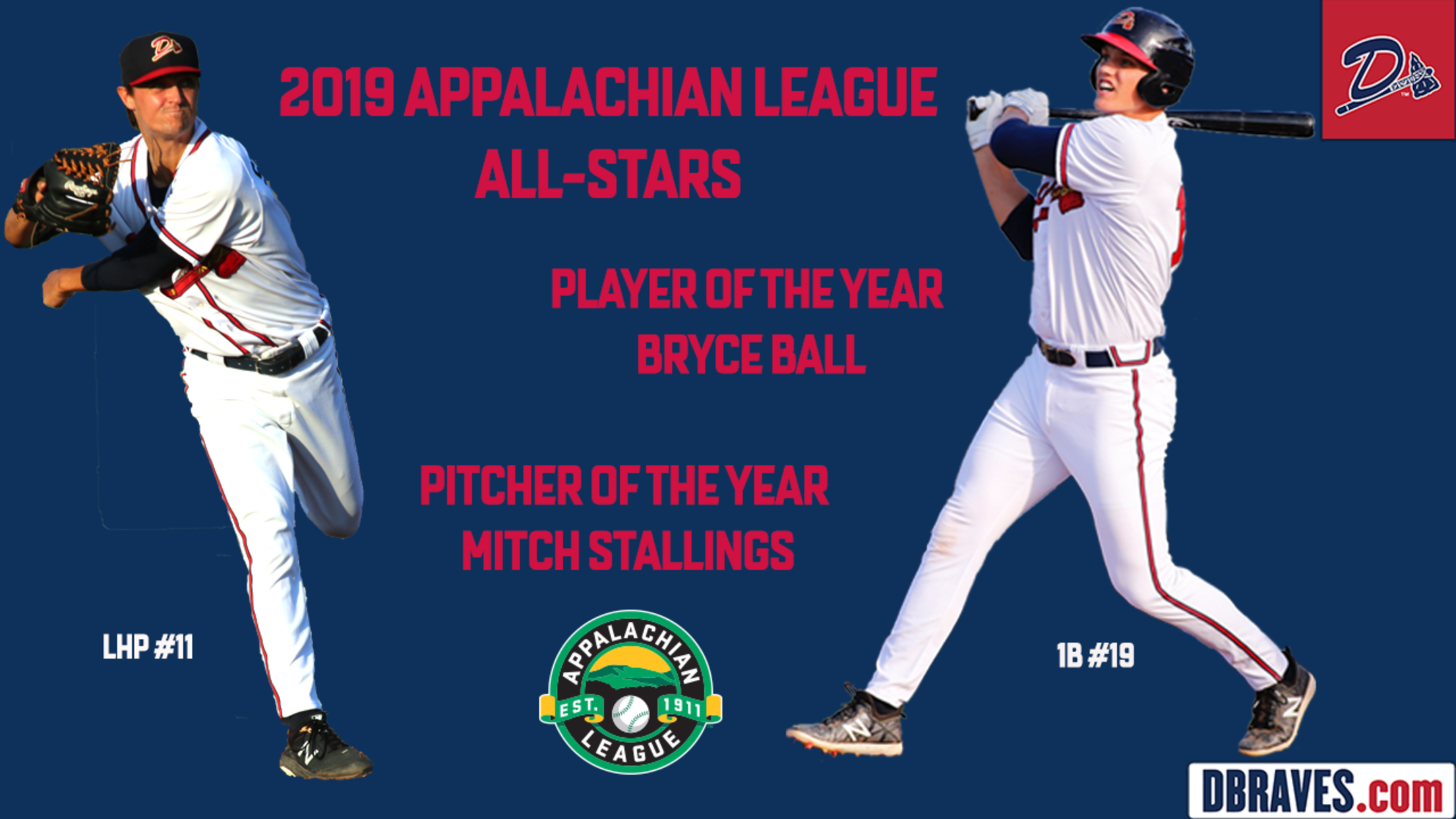 DANVILLE, Va. - The Appalachian League announced their All-Star Selections for 2019 on Friday afternoon. The Danville Braves were well-represented, with Bryce Ball and Mitch Stallings earning All-Star distinction. Ball was also named Player of the Year and Stallings was selected as the Pitcher of the Year, marking the third time
DANVILLE, Va. - The Appalachian League announced their All-Star Selections for 2019 on Friday afternoon. The Danville Braves were well-represented, with Bryce Ball and Mitch Stallings earning All-Star distinction. Ball was also named Player of the Year and Stallings was selected as the Pitcher of the Year, marking the third time in club history the D-Braves swept both awards in a single season.
Ball was named the league's All-Star at first base. The big left-handed hitter feasted on Appalachian League pitching, putting up a .324 batting average with 13 home runs and 38 RBI in 41 games. Ball's home run total is tied for the fourth-most all-time for a D-Brave, matching Gerardo Rodgriguez's 2008 season. Despite being called up to Single-A Rome on August 12, Ball is currently at or near the top of the league leaderboard in several categories. Ball is currently fourth in batting average, first in home runs, seventh in RBI, third in on-base percentage (.410), first in slugging percentage (.676), second in OPS (1.086), tied for third in extra-base hits (25), fourth in total bases (98) and tied for seventh in runs scored (37). Ball was named Appalachian League Player of the Week in the season's opening week, covering games from June 18-23.
Stallings was called up to Rome on August 15 after a stellar season in Danville. He was selected as the league's All-Star left-handed pitcher. He posted a 3-5 record in 11 games, making nine starts. His ERA of 2.25 is still the best in the Appalachian League, and his 69 strikeouts also lead the league. Stallings is ranked second in both innings pitched (56.0) and WHIP (1.14) and third in opponent batting average (.243) among qualified pitchers. He set a career high in strikeouts with an 11-strikeout game on June 26 at Bluefield and matched that on August 2 against Princeton. Those marked the most strikeouts a Danville pitcher has had since Ronan Pacheco struck out 13 on July 28, 2010. Stallings was selected as the Appalachian League Pitcher of the Week for the week of June 24-30.
Danville has twice previously had the Pitcher and Player of the Year. In 2005, Eric Campbell and Max Ramirez were Co-Players of the Year and Jairo Cuevas was named Pitcher of the Year. In the team's last championship season in 2009, Riaan Spanjer-Furstenburg was named Player of the Year alongside teammate Matt Crim as Pitcher of the Year. The team's two All-Star selections this season are the most the team has had since two selections in 2010.