Dragons 2020 Team Preview, Part 6: Outfielders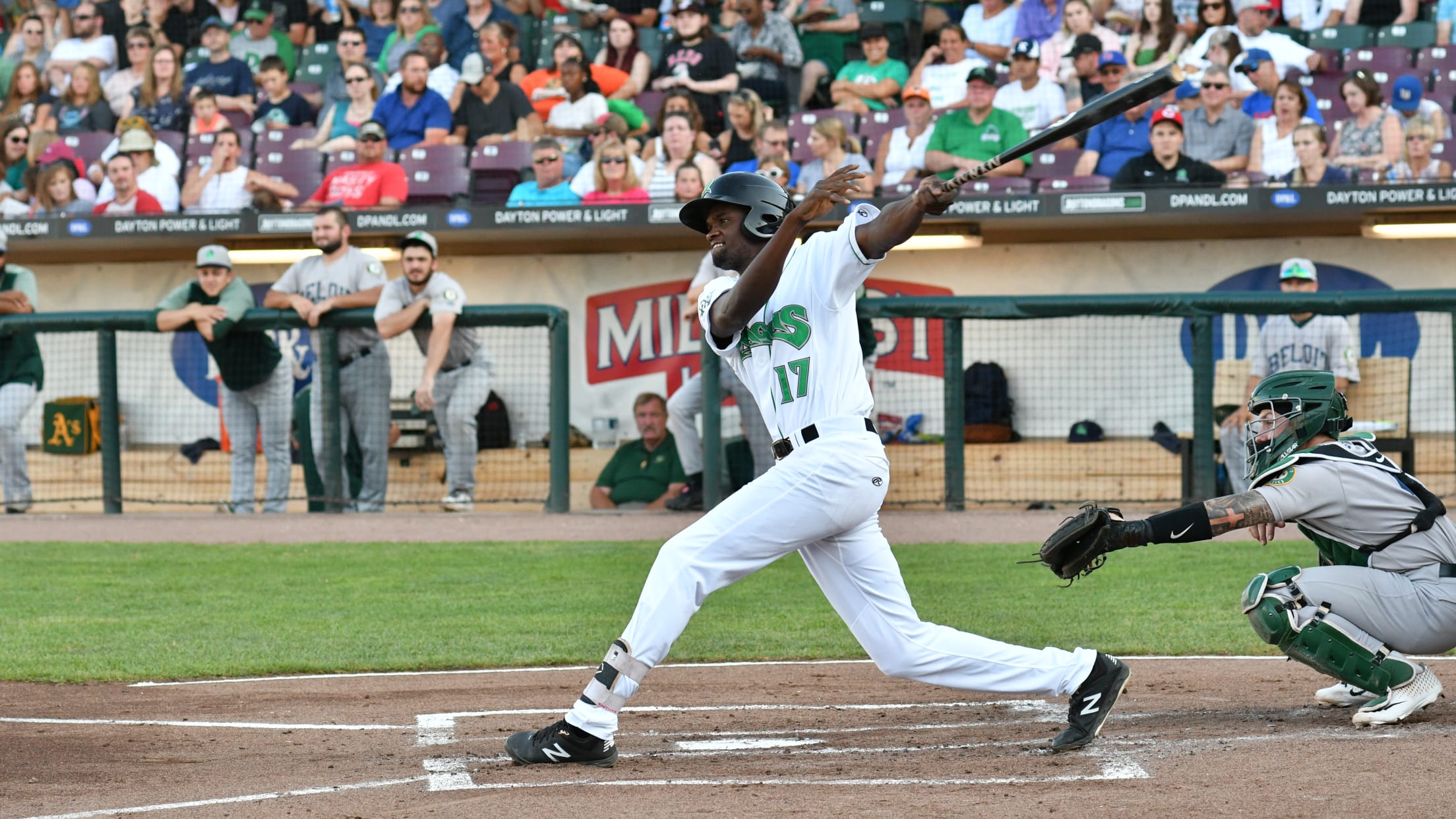 Mariel Bautista
As we move through these difficult times, the Dragons will continue to offer articles, videos, and photos on our team website and our social media platforms in an effort to provide fans with interesting content. Of course, the timeline of our season is unknown at this point, but when play
As we move through these difficult times, the Dragons will continue to offer articles, videos, and photos on our team website and our social media platforms in an effort to provide fans with interesting content. Of course, the timeline of our season is unknown at this point, but when play resumes, the players in these previews will compete for roster positions with the Dayton Dragons. Stay safe, everyone.
The Outfielders
This is part six of a nine-part series previewing the 2020 Dragons. Players listed here are candidates for positions on the 25-man Dragons season-opening roster.
This preview is an unofficial projection of possible roster candidates. Minor League rosters have not been assigned.
There is a complete listing of all Reds Minor League players here at this link at RedsMinorLeagues.com: https://redsminorleagues.com/2020/02/17/cincinnati-reds-minor-league-spring-training-roster-2020/
Click links on each name for career stats and player information.
Candidates: Mariel Bautista, Quin Cotton, TJ Hopkins, AJ Bumpass, Reniel Ozuna
*Player, Age, B/T, Ht., Wt. *
Mariel Bautista, 22, R/R, 6'3", 194
Quin Cotton, 22, R/R, 5'11", 200
TJ Hopkins, 23, R/R, 6'0", 195
A.J. Bumpass, 23, L/R, 6'3", 195
Reniel Ozuna, 21, R/R, 6'2", 202
Mariel Bautista spent most of the 2019 season with the Dragons, missing four weeks at the end of the first half due to injury. He played in 103 games for the Dragons, batting .233 with eight home runs and 19 stolen bases. That season came on the heels of a monster year with Billings in 2018 when Bautista batted .330 with eight homers in just 56 games. Bautista entered the 2019 season ranked as the Reds #16 prospect by Baseball America and slipped to #25 entering 2020. Those are still strong rankings, considering there are more than 200 prospects in the Reds system.
The hope would be that if the super-talented Bautista returns to Dayton for a second year, he could make a big jump in performance. The gold standard for second-year improvement in Dayton from outfielders with great tools was established by Jose Siri in 2016-17. Siri hit just .145 in 27 games with the Dragons in 2016 and was shipped off to Billings before the end of May. He returned in 2017 and had arguably the greatest all-around season in Dragons history. It would not be realistic to expect any player to make the improvements that Siri made over those two seasons, but Bautista is certainly capable of playing like an all-star if he returns in 2020.
Bautista had hit at least .320 in three previous seasons in the Reds organization before 2019. His game features a combination of power and speed. Baseball America says that Bautista "still has plenty of high-impact tools. Evaluators are enamored with his athleticism and projectable, wiry frame. He has plus bat speed and plus raw power…he is a plus runner." Much of that scouting report sounds like Siri.
Quin Cotton was drafted by the Reds in the eighth round in 2019 after his junior year at Grand Canyon University of the Western Athletic Conference (WAC). GCU has been an NCAA Division I program since 2014 and has produced some strong players, though Cotton is the first to be drafted by the Reds since the school moved up to D1. Cotton had back-to-back big seasons at Grand Canyon in 2018-19. In his sophomore year of 2018, he batted a conference-leading .390 and won the WAC Player of the Year award. In 2019, he hit .331 and was 2nd Team All-Conference. His 21 doubles ranked second in the WAC. He combined to hit nine home runs over the 2018-19 seasons in 116 games at GCU.
After being drafted by the Reds, Cotton was assigned to Billings and became one of the Mustangs best hitters as their starting center fielder. In 61 games, he hit .283 with four home runs and eight stolen bases as the Billings lead-off hitter. He was selected as a Pioneer League all-star. Cotton reportedly has good instincts, does the little things well, runs well, and has a strong all-around game. He might be the Dayton lead-off hitter on opening night.
TJ Hopkins was drafted by the Reds one round later than Cotton—in the same draft. He was taken in the ninth round in 2019, and then played beside Cotton in the Billings outfield. Hopkins played college baseball in the nation's top conference, the SEC, as a star at the University of South Carolina. He spent four years with the Gamecocks and was a teammate there in 2019 with potential Dragons catcher Luke Berryhill. In fact, Hopkins and Berryhill often hit back-to-back in the SC batting order. In 2019, Hopkins played in all 56 South Carolina games and led the team in numerous categories. He hit .285 with 11 home runs, 18 stolen bases, a .519 slugging percentage, and an OPS of .882.
At Billings, Hopkins played in 54 games and batted .267 with five home runs and 12 stolen bases. His 19 extra base hits were second on the team to Cotton's 20.
AJ Bumpass was the best hitter on the University of Cincinnati team that won the American Athletic Conference championship in 2019, Bumpass' senior year. He led UC to their first NCAA tournament berth since 1974. He was picked as the Most Outstanding Player of the AAC tournament and then had a game for the ages at the NCAA Regional when he went 5 for 5 against defending national champion Oregon State, including a home run and a ninth inning RBI triple that brought in the eventual winning run as UC completed a stunning upset on OSU's home field. Bumpass finished the year with a .290 batting average while leading the team in home runs (8), slugging percentage (.512), and OPS (.881). Bumpass broke the conference record for career triples over his four seasons at UC.
The Reds drafted Bumpass in the 39th round (the next-to-last round of the draft) and assigned him to Greeneville, where he played for 2020 Dragons manager Gookie Dawkins. He played in 41 games last summer for the G-Reds and batted .250 with five home runs. His .805 OPS was second best on the team. Bumpass played both left field and right field at Greeneville.
Reniel Ozuna was a member of the Dragons opening day roster in 2019 and remained with the club through the end of May, starting 35 games in right field. He was never able to get on track as a hitter and was batting just .157 with two home runs when he was reassigned to extended spring training. When Billings opened their season on June 14, Ozuna was in the #3 spot in the batting order playing right field. He played in 62 games for the Mustangs and batted .235 with five home runs. The Billings outfield for all three of their playoff games featured Hopkins in left, Cotton in center, and Ozuna in right.
Ozuna was signed as an international free agent from the Dominican Republic by the Reds in 2015. He has some talent but endured some struggles in 2019. Ozuna will be a candidate to return to Dayton in 2020.
###