Dragons Host Start of Warrior Weekend Thursday
Event Honors Gold Star Families and Purple Heart Recipients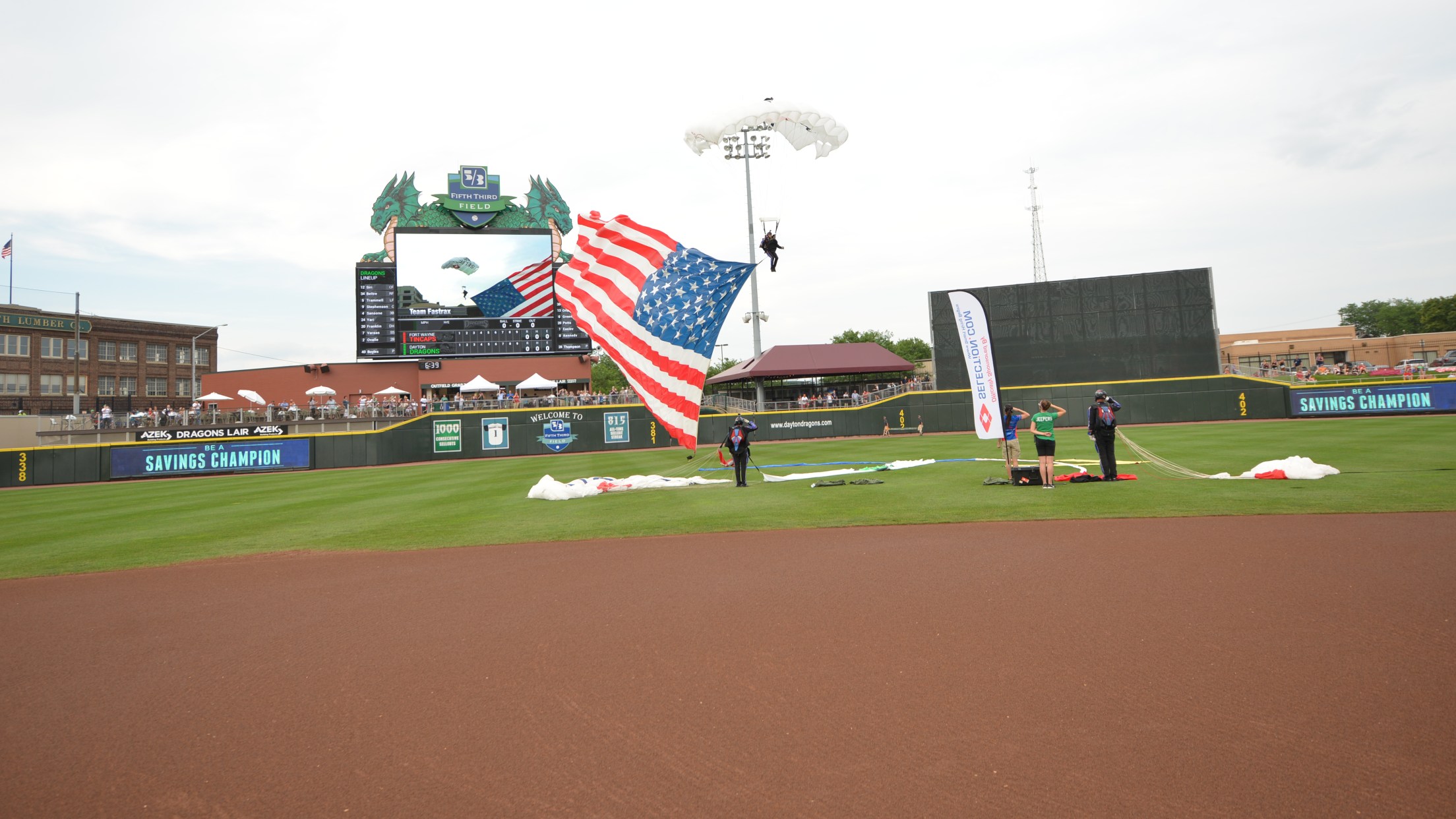 (NICK FALZERANO)
The Dayton Dragons are hosting the opening event of the 2017 Team Fastrax Warrior Weekend to Remember at Fifth Third Field on Thursday, July 20 during their game with the Peoria Chiefs. First pitch is scheduled for 7:00 p.m. Dragons fans are already familiar with Team Fastrax, the professional skydiving team
The Dayton Dragons are hosting the opening event of the 2017 Team Fastrax Warrior Weekend to Remember at Fifth Third Field on Thursday, July 20 during their game with the Peoria Chiefs. First pitch is scheduled for 7:00 p.m.
Dragons fans are already familiar with Team Fastrax, the professional skydiving team that has landed in the outfield carrying the American flag prior to games on multiple occasions. The team is composed primarily of military veterans and four years ago, co-founders John and David Hart decided that they wanted to do more to honor our nation's heroes. That is when Warrior Weekend came to fruition.
"It is important that we honor and remember our nation's veterans and the families that have lost their loved ones," explained co-founder David Hart. "Especially those who have been injured physically and emotionally."
The mission of the weekend is to honor veterans, combat injured/Purple Heart recipients, and the families of fallen military members by providing life-changing experiences that facilitate new friendships and emotional healing. Each year, over 50 individuals are honored as part of the event.
The Dragons game on Thursday is just the first of several Warrior Weekend events in the Dayton area that are open to the public. Others include a car show, silent auction, balloon festival, and 5k run/walk.
"We invite everyone to come out and join us," said John Hart, co-founder of the event. "There are many events that the general public can get involved in. Visit our website, attend, and celebrate these amazing men and women."
Prior to the game, there will be army vehicles, motorcycles from the US Veterans Motorcycle Club, and Muddy Buddys jeeps on the plaza. On the field before the game, the jeeps will take part in a parade around the warning track, skydivers from Team Fastrax will land in center field with the American Flag, and Medal of Honor/Purple Heart Recipient Command Sgt. Maj. Bennie Adkins will throw out the first pitch. More information on Adkins' story can be found here. Festivities will continue throughout the length of the game as well.
For more information on the schedule of events and to find out how you can get involved, visit warriorwtr.com.
More Information: The Dayton Dragons are the Midwest League affiliate of the Cincinnati Reds and play a 70-game home schedule at beautiful Fifth Third Field in downtown Dayton, easily accessible from Interstate 75. Individuals and groups seeking information about Dayton Dragons group tickets, lawn tickets, the season ticket wait list, sponsorship opportunities or booking a Dragons speaker are encouraged to contact the Dragons by calling (937) 228-2287, by email at [email protected], or on the web at daytondragons.com