Welcome back to The Jack, Tuga Nation!
The Daytona Tortugas are excited to welcome fans back to Jackie Robinson Ballpark for the 2021 season and want to let fans know what to expect.
As always, the Tortugas have made health and safety the highest priority in developing a plan for the return of fans to the Jack. These plans meet the requirements and regulations of the Volusia County Health Department and Major League Baseball.
The following safety guidelines will be in place when the Tortugas begin Daytona Beach's second century of professional baseball on Tuesday, May 11 at 7:05 p.m. against the St. Lucie Mets (NY Mets). Please help us adhere to these so we can continue to invite fans to our games throughout the 2021 season.
---
Know Before You Go!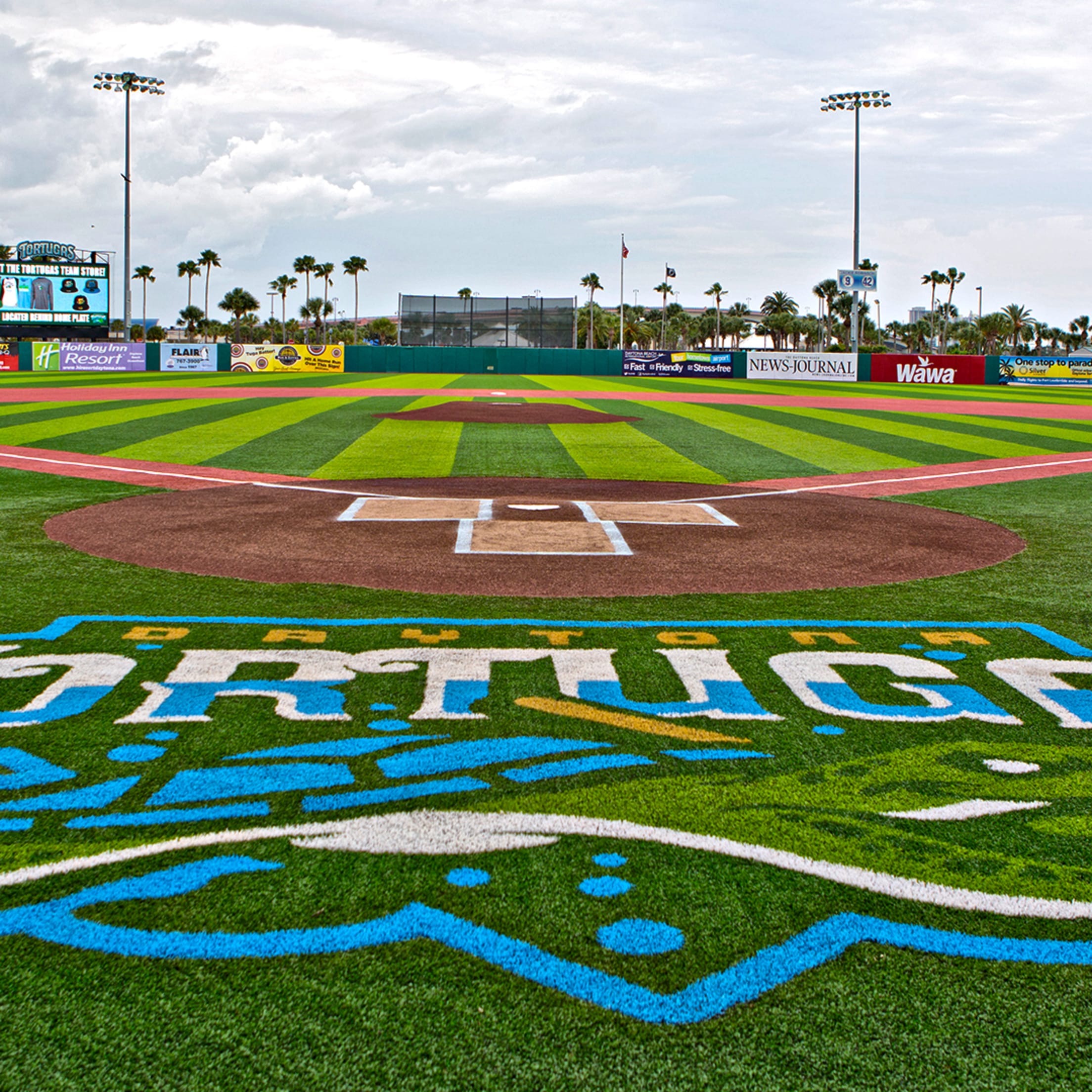 · Face Masks: Face masks must be worn at all times by all fans over the age of two. Masks may be removed briefly when fans are actively eating or drinking while seated in their assigned seat. Major League Baseball's mask mandate includes all Minor League stadiums, regardless of local, state, or federal guidelines.
· Bags: To reduce in-person contact and maximize safety for fans and staff, backpacks will not be permitted to be brought into Jackie Robinson Ballpark. The only exceptions to this are for clear bags as well as medical or diaper bags.
· Social Distancing: Physical distancing will be enforced in seating areas, on the concourse, in concession lines, the Shell Shack, and at all entrances and exits.
· Multiple Entrances & Exits: All three entry gates will be open to expedite the process and limit crowding at any one entrance. In weather delay situations, fans will be permitted to return to their cars during the delay and allowed to re-enter the stadium when the game resumes preventing crowding on the stadium's concourse.
· No Player Contact: No contact will be permitted between players and fans, including for autograph requests. Fans will not be allowed to gather near the dugouts, bullpens, or other areas near the players.
· Enhanced Sanitation: Daytona Tortugas staff will frequently clean, disinfect, sanitize, and monitor common-touch surfaces and high-use guest areas frequently and consistently throughout games. Hand sanitizer will be available to fans in multiple locations throughout the stadium.
All safety guidelines are subject to change. Please stay tuned to www.daytonatortugas.com for updates regarding this information.
Stay Home If You Feel Ill
Be a team player and listen to the game from home if you are feeling unwell or experiencing any symptoms of illness!
Assumption of Risk
Fans must follow all posted and announced instructions at Jackie Robinson Ballpark and agree to follow all applicable federal, state, county, city, and Tortugas directives in connection with, and in order to reduce the risk or spread of, disease or sickness (including, without limitation to, COVID-19). An inherent risk of exposure to disease (including, without limitation to, COVID-19) exists in any place where people are present. Some diseases (including, without limitation to, COVID-19) are extremely contagious and can lead to severe illness and death. According to current advice from the Centers for Disease Control and Prevention (available at cdc.gov), senior citizens and persons with underlying medical conditions are especially vulnerable. By visiting Jackie Robinson Ballpark, you acknowledge and voluntarily agree to assume all risks related to exposure to disease (including, without limitation to, COVID-19) and all other terms and conditions referred to on your tickets. Please help keep each other healthy and safe.
Upon purchase, ticket holders agree to the terms and conditions set forth by Major League Baseball, Minor League Baseball, and the Daytona Tortugas that neither ticket holders, accompanying minor(s) nor other accompanying parties may attend the game if within fourteen (14) days preceding the game, they have:
(1) Tested positive or presumptively positive for COVID-19 or other Communicable Disease or been identified as a potential carrier of COVID-19 or other Communicable Disease; OR
(2) Experienced any symptoms commonly associated with COVID-19 or other Communicable Disease (e.g., a fever of 100.4⁰F or higher, cough, shortness of breath or difficulty breathing, chills, repeated shaking, muscle pain/achiness, headache, sore throat, loss of taste or smell, nasal congestion, runny nose, vomiting, diarrhea, fatigue, or any other symptoms associated with COVID-19 identified by the CDC); OR
(3) Been in close contact as defined by the CDC (15 or more minutes in a 24-hour period regardless of mask-wearing by either person) with any person who is confirmed or suspected of being infected with COVID-19 or other Communicable Disease.
Please Note
According to the CDC, older adults and people of any age with serious underlying medical conditions may be at higher risk of death or severe illness from COVID-19. All guests should evaluate their risk in determining whether to attend a game.
To help maintain physical distancing guidelines, ticket holders also agree that they will not sell, transfer, or otherwise provide any of their game tickets to anyone other than a family with whom they have been sheltering (or other trusted acquaintances), unless selling, transferring, or otherwise providing all such tickets (i.e., the full pod of tickets) to one party.
Contact Information
Contact the Tortugas Front Office by phone or email using the contact information below. The voicemail system is routinely monitored so please leave a message and a member of our team will be with you shortly. You can also complete the form below to have a member of our staff contact you.
Phone: (386) 257-3172
Email: [email protected]
To speak with our General Manager please contact him using the information below:
General Manager, Jim Jaworksi
[email protected]