Seven-run second leads 'Tugas over Tigers, 9-4
Daytona sends 11 men to the plate, collect seven hits in frame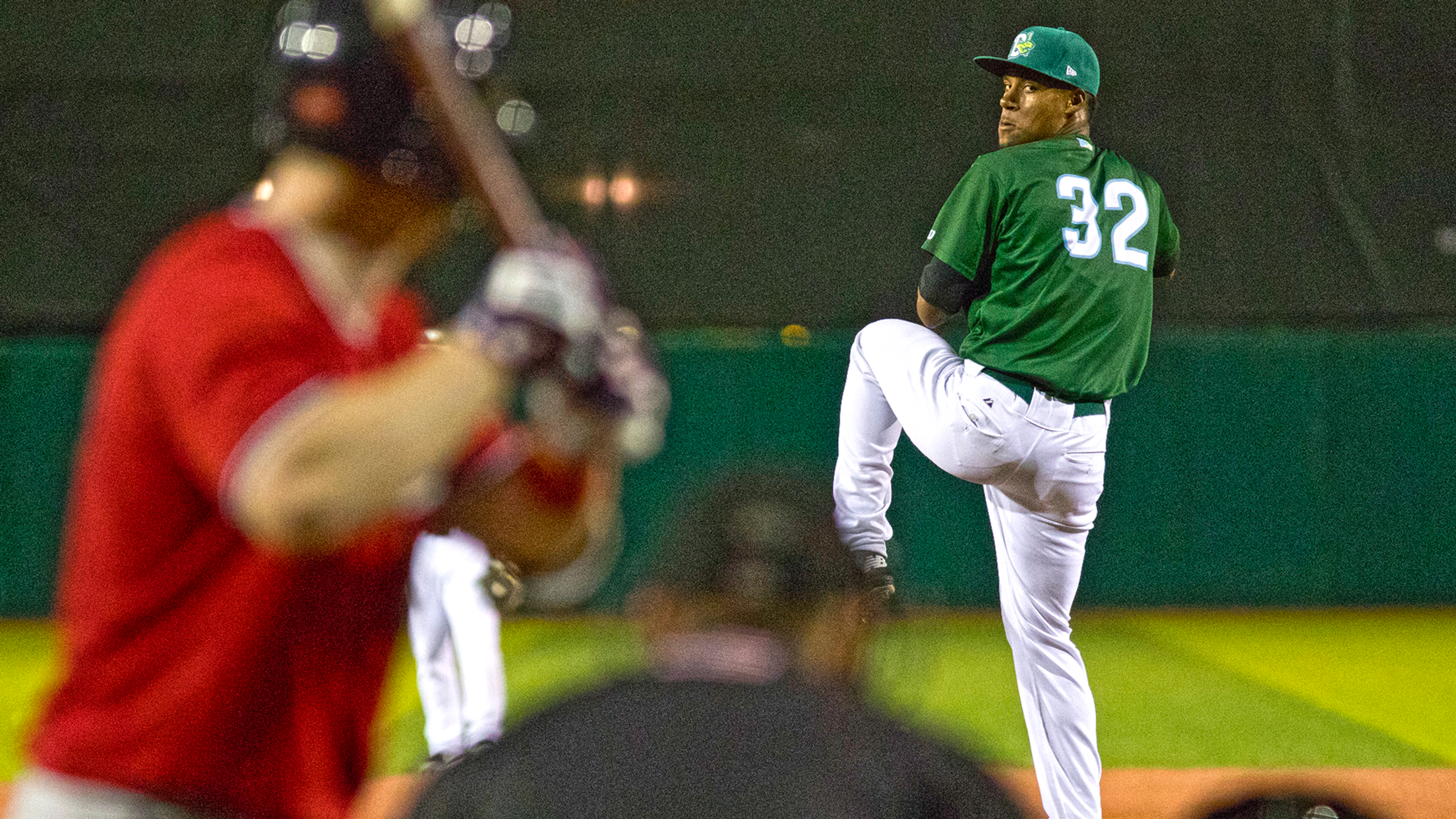 RHP Dauri Moreta retired all eight batters he faced - striking out four - to earn his first win of the season, as the Daytona Tortugas throttled the Lakeland Flying Tigers, 9-4, on Tuesday night at Publix Field at Joker Marchant Stadium. (Aldrin Capulong)
LAKELAND, Fla. - Thanks to a seven-run, seven-hit top half of the second inning, the Daytona Tortugas steamrolled the Lakeland Flying Tigers, 9-4, on Tuesday night at Publix Field at Joker Marchant Stadium.
LAKELAND, Fla. - Thanks to a seven-run, seven-hit top half of the second inning, the Daytona Tortugas steamrolled the Lakeland Flying Tigers, 9-4, on Tuesday night at Publix Field at Joker Marchant Stadium.
Tied at two going into the frame, C Mark Kolozsvary (2-4, R, 2 2B, SO) started the attack with a double into right-center. After LF Lorenzo Cedrola (2-3, R) was drilled with a pitch, RF Andy Sugilio (2-5, 2 R, 2B, RBI, 3 SO) doubled to right to bring home a run and put Daytona (34-30) back on top, 3-2. 2B Alejo López (1-4, R, RBI, BB) and 3B Jonathan India (3-5, 2 R, RBI, SO) then proceeded to collect consecutive RBI singles to stretch the Tortugas advantage to three, 5-2.
CF Stuart Fairchild (3-5, R, 2B, 2 RBI, 2 SO) kept the onslaught alive, as his single to left loaded the bases. 1B Bruce Yari (1-5, R, 3B, 3 RBI) would deliver a crushing blow, as he pulled a base-hit over the first base bag and down the right-field line. All three runners raced home, as Yari ended up at third with a triple. The three-tally, three-base hit made it an 8-2 affair. SS Yonathan Mendoza (1-5, RBI, 2 SO) concluded the scoring with an RBI single to right.
When all was said and done, Daytona sent 11 men to the dish in the second inning. The Tortugas also scored seven runs on seven hits, both season-highs for a single trip to the plate.
In the opening frame, the Tortugas erupted, too. Sugilio and India each collected singles, as Fairchild sent them both home with a two-run double into left field.
Ahead 2-0, Lakeland (29-35) tied it at two in the bottom of the first on an RBI double to left by DH Kody Clemens (1-4, R, 2B, RBI, SO) and a run-scoring single to right from 1B Nick Ames (3-5, R, RBI, SO).
The Flying Tigers scratched across the game's final two runs in the fifth on back-to-back RBI singles by C Jon Rosoff (2-4, RBI) and SS Luke Sherley (1-3, RBI, BB, SO).
Daytona's bullpen finished the game with a flourish. RHP Dauri Moreta (2.2 IP, 4 SO) - who earned his first win of the year - RHP Clate Schmidt (1.0 IP, 2 SO), and LHP Andy Cox (1.0 IP, 3 SO) combined to retire the final 14 Flying Tigers' hitters that strode to the plate.
RHP Jesús Rodríguez (1.1 IP, 10 H, 9 R, 9 ER, SO) failed to make it out of the second inning for Lakeland. The 21-year-old ended up suffering his eighth defeat of 2019.
Daytona's LHP Wennington Romero (2.2 IP, 7 H, 2 R, 2 ER, 2 BB, 2 SO) could not escape the third, as he was saddled with a no-decision.
RHP Austin Orewiler (2-6, 3.90 ERA) is expected to get the ball on Wednesday, as the Tortugas look to snag the final series before the All-Star break. Lakeland is scheduled to counter with RHP Garrett Hill (1-0, 1.98 ERA).
The Tortugas Pre-Game Show will kick off the broadcast at 6:15 p.m. ET, leading up to the 6:30 p.m. ET start at Publix Field at Joker Marchant Stadium. Wednesday evening's game can be heard on www.daytonatortugas.com or via the TuneIn Radio and MiLB First Pitch apps.

Following the All-Star break, the Daytona Tortugas will return home on Monday, June 17, to open up a three-game series against the Florida Fire Frogs, the High-A affiliate of the Atlanta Braves. We kick off the season's second half in style with Opening Night 2.0 featuring live music and other fun activities throughout the night. It will also be another Belly Buster Monday presented by Marco's Pizza. Starting at just $13, fans can enjoy all-you-can-eat hot dogs, hamburgers, pizza, and popcorn included with their game ticket.
Multi-game plans and single-game tickets are still currently available and can be purchased online at www.daytonatortugas.com, or by calling the Tortugas' Ticket Office at (386) 257-3172.
ABOUT THE DAYTONA TORTUGAS
The Daytona Tortugas are the High-A Affiliate of the Cincinnati Reds and a member of the Florida State League. The Tortugas play at Jackie Robinson Ballpark in downtown Daytona Beach, Fla. Jackie Robinson Ballpark also plays host to Bethune-Cookman University, the Beijing Shougang Eagles of National Pro Fastpitch (NPF) and many large community events and initiatives throughout the season.