'Birds Snap Short Skid Against FredNats
Mason Janvrin finishes a double shy of a cycle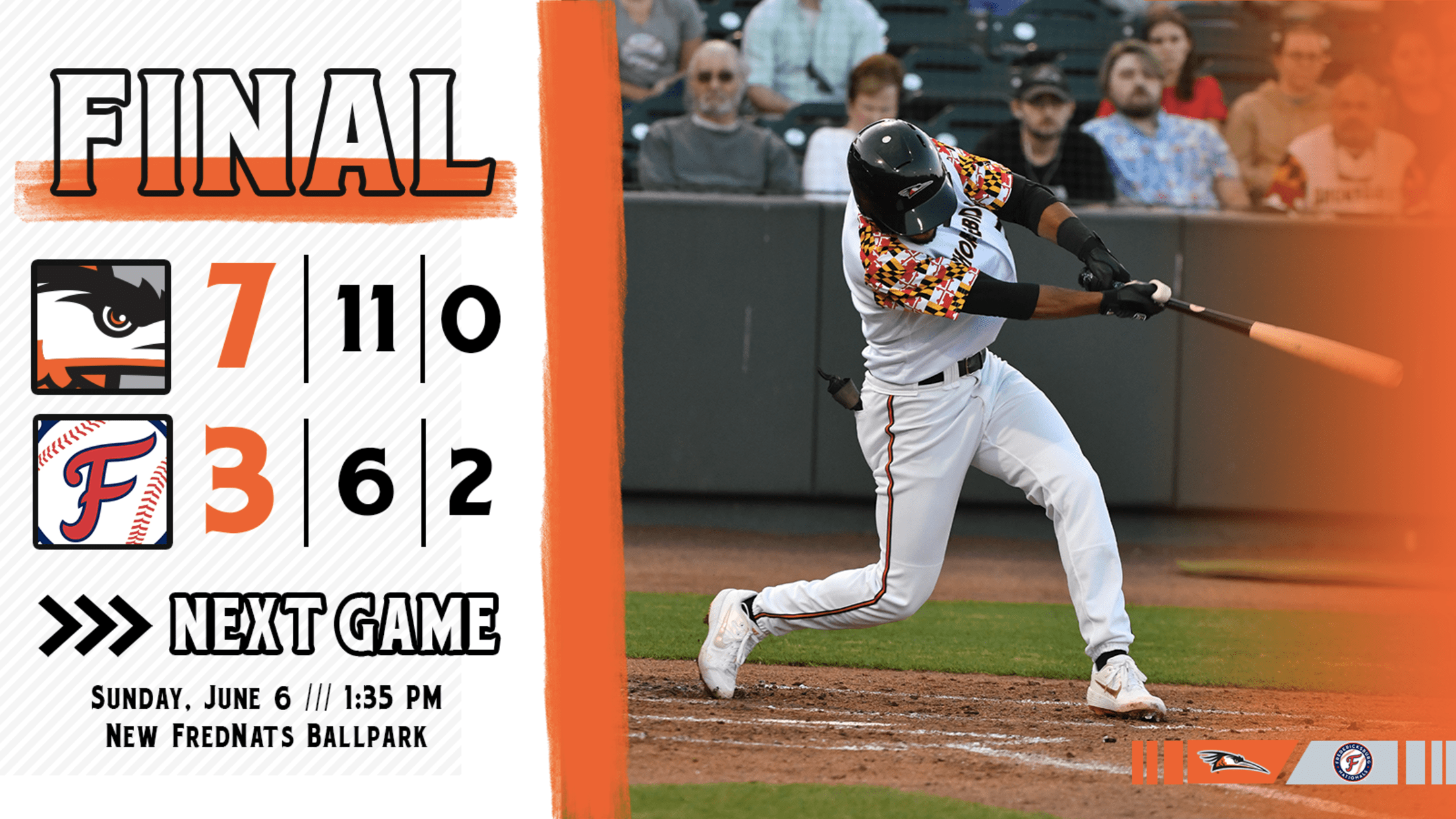 FREDERICKSBURG, VA - The Delmarva Shorebirds bounced back from consecutive losses to take down the Fredericksburg Nationals 7-3 on Saturday night at the New FredNats Ballpark. The Shorebirds (20-8) guaranteed themselves at least a series split with the Nationals (7-22). For the second consecutive game, the Shorebirds leadoff hitter, this
FREDERICKSBURG, VA - The Delmarva Shorebirds bounced back from consecutive losses to take down the Fredericksburg Nationals 7-3 on Saturday night at the New FredNats Ballpark.
The Shorebirds (20-8) guaranteed themselves at least a series split with the Nationals (7-22).
For the second consecutive game, the Shorebirds leadoff hitter, this time Mason Janvrin, homered to begin the game, Janvrin's third homer of the year.
With one out in the second, Trevor Kehe and Ramon Rodriguez drew walks for Delmarva. After a strikeout, Darell Hernaiz flipped a single to center to score Kehe and make it 2-0 Shorebirds.
The Shorebirds extended their lead in the third. Greg Cullen walked with one out, and after a strikeout, Cristopher Cespedes rolled a single to center. Kehe then walked again to load the bases. A passed ball then allowed Cullen to score, and moved Cespedes and Kehe to third and second respectively. Ramon Rodriguez then grounded a ball to short that was thrown away by shortstop J.T. Arruda, allowing Cespedes and Kehe to score to make it 5-0 Delmarva.
The FredNats responded in the bottom half of the third. Jose Sanchez was hit by a pitch with one away and then stole second. Viandel Pena bounced a single to right, advancing Sanchez to third. Jeremy De La Rosa followed with a groundout to score Sanchez with Pena moving to second. Telmito Agustin walked to put two aboard before Cole Daily ripped a single to right, scoring Pena to make it a 5-2 game.
Another run came in for Delmarva in the fifth. Ramon Rodriguez poked a single to center before Mason Janvrin sent him flying around the bases with an RBI triple to make it 6-2 Delmarva.
Fredericksburg trimmed it back to a three-run game in the seventh when Geraldi Diaz homered to right, his first of the year, making it 6-3.
Delmarva plated an insurance run in the top of the ninth. Cullen singled to start the inning and advanced to second on a groundout. After another groundout moved him to third, Kehe slapped a double to right to bring the game to its final line of 7-3.
Brandon Young (2-0) picked up the win for Delmarva with four solid innings of relief. Young allowed just one run on three hits, striking out two.
Mitchell Parker (2-3) was saddled with the loss for Fredericksburg after starting the ballgame. Parker went 2.2 innings, allowing five runs (two earned) on four hits and six walks while striking out seven.
Ignacio Feliz started for Delmarva but did not factor into the decision. Feliz went four frames, allowing two runs on three hits, walking three and striking out one.
Janvrin spearheaded the Delmarva attack, finishing a double shy of the cycle while driving in two runs. Hernaiz also collected three hits, going 3-for-5 with an RBI. Kehe reached base four times, finishing 1-for-2 with an RBI double, two runs, and three walks.
Daily and Pena each went 2-for-4 for Fredericksburg. The FredNats had just two extra base hits, a double from Ricardo Méndez and a solo homer from Diaz.
The Shorebirds go for the series win against the Nationals on Sunday, June 6 at the New FredNats Ballpark. In a rematch of the first game of the series, Shane Davis (2-0, 4.50) toes the rubber for Delmarva against Rodney Theophile (0-3, 4.50) for Fredericksburg.
ABOUT THE DELMARVA SHOREBIRDS
The Delmarva Shorebirds were founded in 1996 and have been the Class-A affiliate of the Baltimore Orioles since 1997. The Shorebirds have won two South Atlantic League championships in 1997 and 2000 and were named the MiLB.com Minor League Team of the Year in 2019 after going 90-48 in the regular season. Based in Salisbury, Maryland, the Shorebirds are proud to represent the entire Delmarva Peninsula and have hosted two SAL All-Star Games in 1999 and 2011. The Shorebirds are owned by 7th Inning Stretch, LP, based in Stockton, California headed by Chairman Tom Volpe and President Pat Filippone.