'Birds Fall In 11 Innings to Wood Ducks
Jackson Holliday goes 3-for-5 with two doubles and an RBI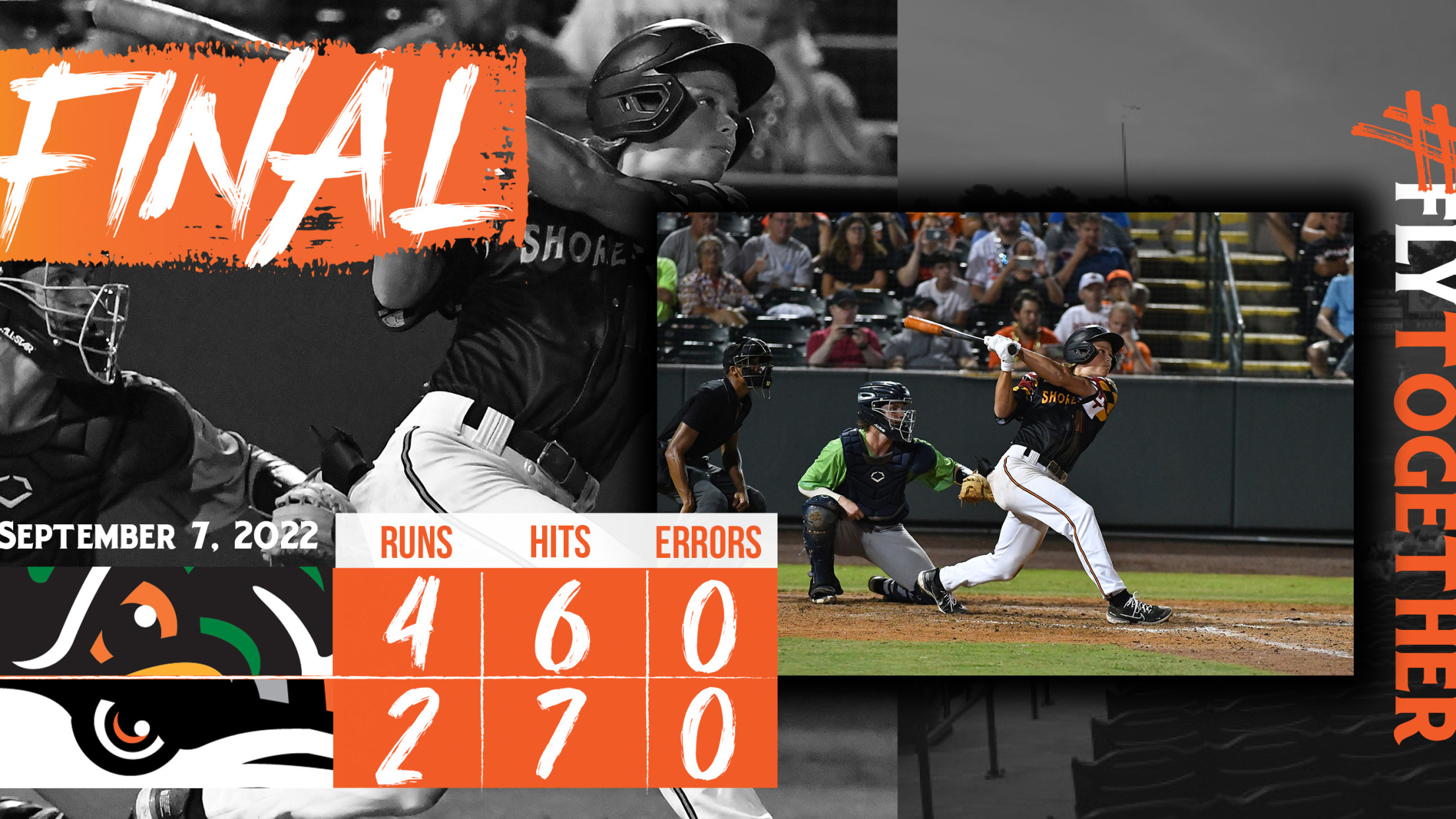 SALISBURY MD. – The Delmarva Shorebirds pitching staff held strong for 10 innings but finally flinched in the 11th, leading to a 4-2 loss to the Down East Wood Ducks on Wednesday night at Arthur W. Perdue Stadium. The Shorebirds (46-81, 25-37) and Wood Ducks each only scored once before
SALISBURY MD. – The Delmarva Shorebirds pitching staff held strong for 10 innings but finally flinched in the 11th, leading to a 4-2 loss to the Down East Wood Ducks on Wednesday night at Arthur W. Perdue Stadium.
The Shorebirds (46-81, 25-37) and Wood Ducks each only scored once before the game went to extras.
Down East plated the first run of the game in the fourth. After Miguel Villaroel singled with two outs and stole second, Abimelec Ortiz doubled him in.
The Shorebirds tied the game in the seventh. Elio Prado walked to start the inning and was balked to second. Noelberth Romero then singled him to third. Wilkin Grullon grounded into a double play that then scored Prado and tied the game at 1-1.
The game stayed tied all the way until the top of the 11th. Gleider Figuereo walked to put two on after the automatic runner before Yosy Galan smacked a three-run homer, his 19th of the season, to put Down East ahead 4-1.
Jackson Holliday singled home the automatic runner for the Shorebirds in the home half of the 11th, but the Shorebirds couldn't muster any more offense and fell 4-2.
Anthony Hoopii Tuionetoa (4-3) picked up the win for the Wood Ducks after throwing two innings of relief, allowing just an unearned run on one hit, striking out two.
Edgar Portes (0-6) suffered the loss for Delmarva, allowing three runs (two earned) on two hits and three walks, striking out one.
The Shorebirds continue their series with the Down East Wood Ducks on Thursday, September 8. First pitch is scheduled for 7:05 p.m with pregame coverage beginning at 6:50 p.m. on MiLB.TV and theshorebirds.com with Sam Jellinek on the call.
ABOUT THE DELMARVA SHOREBIRDS
The Delmarva Shorebirds were founded in 1996 and have been the Class-A affiliate of the Baltimore Orioles since 1997. The Shorebirds have won two South Atlantic League championships in 1997 and 2000 and were named the MiLB.com Minor League Team of the Year in 2019 after going 90-48 in the regular season. Based in Salisbury, Maryland, the Shorebirds are proud to represent the entire Delmarva Peninsula and have hosted two SAL All-Star Games in 1999 and 2011. The Shorebirds are owned by 7th Inning Stretch, LP, based in Stockton, California headed by Chairman Tom Volpe and President Pat Filippone.