Stellar Pitching Leads 'Birds To Bounce Back Win Over Wood Ducks
Moises Chace ties career highs with 5 shutout innings and seven punchouts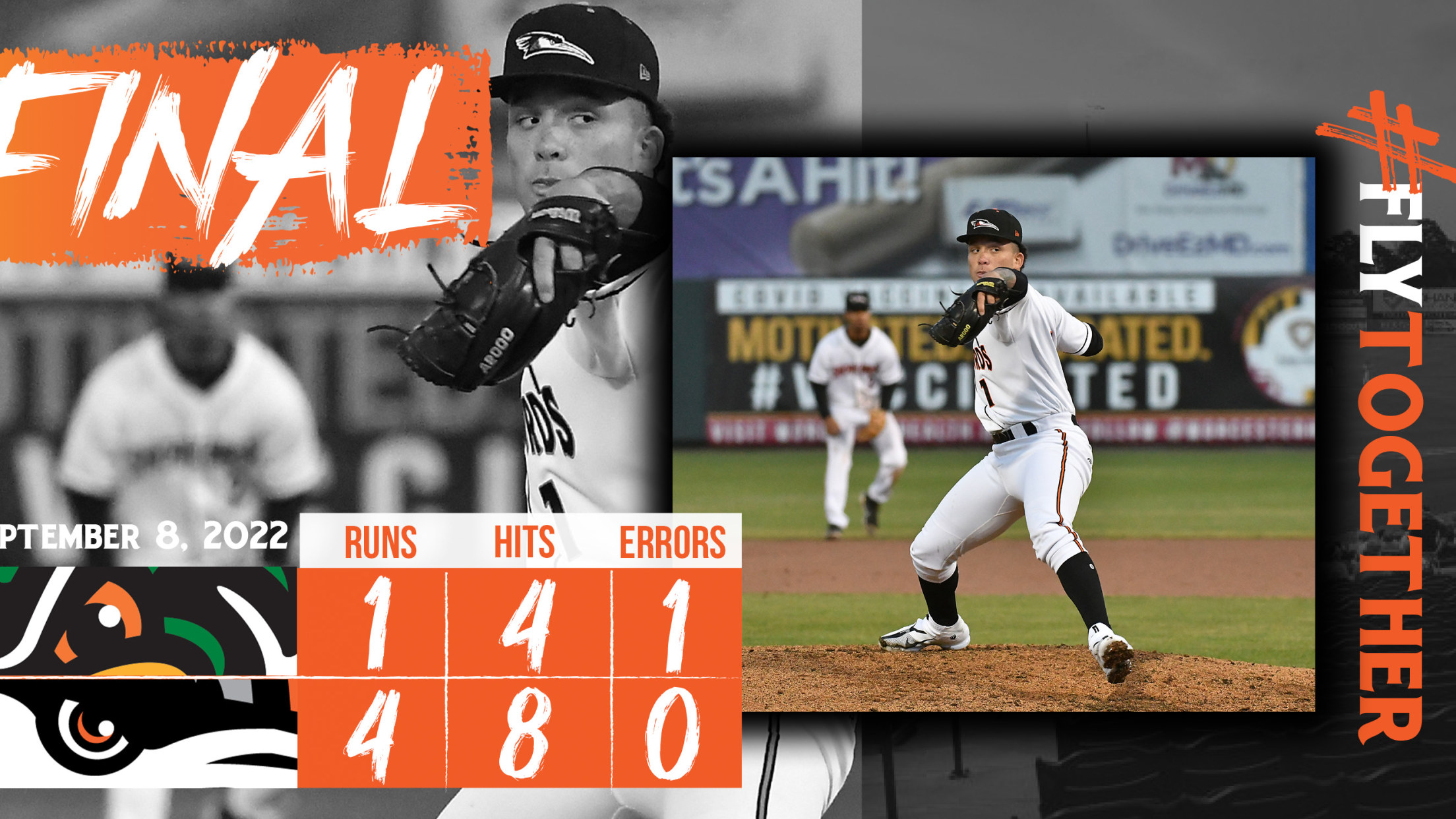 SALISBURY MD. – The Delmarva Shorebirds used a combination of dynamic pitching and timely hitting to topple the Down East Wood Ducks 4-1 on Thursday night at Arthur W. Perdue Stadium. The Shorebirds (47-81, 26-37) and Wood Ducks (65-64, 32-31) saw the game go scoreless all the way until the
SALISBURY MD. – The Delmarva Shorebirds used a combination of dynamic pitching and timely hitting to topple the Down East Wood Ducks 4-1 on Thursday night at Arthur W. Perdue Stadium.
The Shorebirds (47-81, 26-37) and Wood Ducks (65-64, 32-31) saw the game go scoreless all the way until the last of the fifth when Delmarva broke the ice.
With two outs and the bases loaded in the fifth, Silas Ardoin blooped in a base hit that scored two runs, giving the Shorebirds a 2-0 lead.
In the very next inning, Adam Crampton came through with a two-out RBI single of his own to extend the Delmarva lead to 3-0.
Elio Prado made it three straight innings with a run for the Shorebirds as he stroked an RBI single in the seventh to make it 4-0 Delmarva.
Down East rallied in the ninth, plating a run on an Abimelec Ortiz sacrifice fly. The Wood Ducks then loaded the bases with two outs, but Alejandro Mendez struck out JoJo Blackmon to strand the tying run at first and end the game.
Moises Chace (3-5) worked five shutout innings to earn the win for the Shorebirds. Chace tied a career high striking out seven hitters while allowing just two hits and a walk.
Emiliano Teodo (3-6) suffered the loss for the Wood Ducks, allowing two runs in 4.2 innings on three hits and three walks, striking out six.
The Shorebirds continue their series with the Down East Wood Ducks on Friday, September 9. First pitch is scheduled for 7:05 p.m with pregame coverage beginning at 6:50 p.m. on MiLB.TV and theshorebirds.com with Sam Jellinek on the call.
ABOUT THE DELMARVA SHOREBIRDS
The Delmarva Shorebirds were founded in 1996 and have been the Class-A affiliate of the Baltimore Orioles since 1997. The Shorebirds have won two South Atlantic League championships in 1997 and 2000 and were named the MiLB.com Minor League Team of the Year in 2019 after going 90-48 in the regular season. Based in Salisbury, Maryland, the Shorebirds are proud to represent the entire Delmarva Peninsula and have hosted two SAL All-Star Games in 1999 and 2011. The Shorebirds are owned by 7th Inning Stretch, LP, based in Stockton, California headed by Chairman Tom Volpe and President Pat Filippone.