'Birds Bash Tourists Again for Sweep
Delmarva bats plate 32 in past 24 hours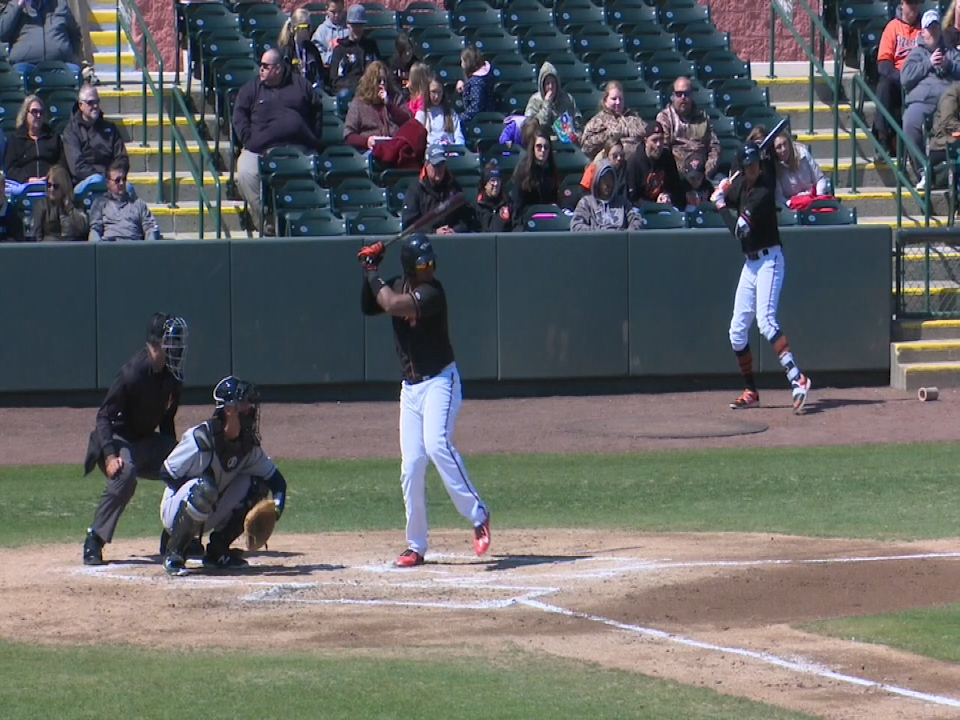 By Will DeBoer / Delmarva Shorebirds | April 8, 2018 6:48 PM
SALISBURY, MD - One night after an offensive barrage, the Delmarva Shorebirds kept the hit parade going, thumping the Asheville Tourists 14-9 on Sunday afternoon at Arthur W. Perdue Stadium to sweep the season-opening four-game series.
Brenan Hanifee (1-0) won his Shorebirds (4-0) debut with a quality start, allowing three runs (two earned) on four hits in six innings. The Orioles' 10th-ranked prospect walked one and struck out two, beginning the day by facing the minimum the first time through the order.
Riley Pint (0-1) was saddled with the loss for the Tourists (0-4). He got just one out in the first inning before leaving the game with a forearm injury; he allowed five runs (three earned) on two hits and two walks in just a third of an inning.
Reed Hayes earned his second save by entering in a three-run game and getting the final four outs.
Delmarva wasted no time lighting up the scoreboard, bringing 10 to the plate in the first inning. T.J. Nichting led off with a single and advanced to second on an error. Mason McCoy then walked, and after a flyout Will Robertson worked out his own free pass to load the bases. Seamus Curran followed with a grounder to short, but Ryan Vilade threw it over the bag and into right field, allowing Nichting and McCoy to score.
Trevor Craport came up next and slashed an RBI triple into the right center gap and eventually scored when the entry throw sailed into the Shorebird dugout. Jean Carrillo put a bow on it two batters later with a solo home run down the left field line, powering the Shorebirds to a 6-0 first-inning lead. Craport brought home another on a sac fly in the second to make it 7-0.
Video: Craport legs out RBI 3B, scores on error
Casey Golden blasted a two-run homer in the fourth to get Asheville on the board, and the Tourists peeled back another on a Robbie Perkins RBI single in the fifth, making it 7-3. Robertson cleared the wall in right center for a solo home run in the sixth, getting one of those runs back for Delmarva.
Video: Robertson sneaks solo HR over right center
Asheville made its move in the top of the eighth as Shael Mendoza and Steven Linkous set the table with back-to-back singles. After a flyout, strikeout, and a couple stolen bases, Chad Spanberger singled both runners home. Spanberger eventually went on a wild ride around the bases with a wild pitch, stolen base, and wild pitch, crossing the plate to get the Tourists within 8-6.
The Shorebirds responded in kind with their second six-spot of the game in the bottom of the eighth. McCoy doubled home Nichting after a one-out walk, followed RBI knocks from Branden Becker, Craport, and Ryan Ripken. Jean Carrillo plated two more on a single to make it 14-6.
The Tourists rallied for three more in the ninth before Hayes induced the game-ending groundout, wrapping up the sweep.
Carrillo finished 3-for-5 with the solo home run and three RBIs, while Craport drove in three with a pair of runs. Nichting, McCoy, Becker, Robertson, and Curran all scored two runs, and every Shorebird batter got at least one hit.
Video: Carrillo smacks HR to left
Vilade, Golden, and Spanberger each drove in a pair of runs to lead the Tourists.
All four Shorebird starters picked up wins in the four-game sweep, boasting a 2.42 ERA with two quality starts to boot.
Between the last two games, Delmarva scored 32 runs in under 24 hours. Through their first four games the Shorebirds are hitting .357 as a team with a combined .934 OPS, powering new boss Buck Britton to four straight wins to begin his managerial career.
With a homestand victory already assured, the Shorebirds will welcome the Hickory Crawdads to town for a three-game series beginning on Monday night. Southpaw Zac Lowther, the No. 17 prospect in the Orioles system, makes his Delmarva debut against Hickory right-hander Reid Anderson (0-0, 0.00). First pitch is set for 7:05 p.m. with gates opening at 6:00. Monday night is 47 ABC 2 Buck Monday, featuring Upper Reserved tickets, hot dogs, and Pepsi products for $2 each, courtesy of Wicomico Heating & Air Conditioning. Pregame coverage on Fox Sports 960 AM and the MiLB First Pitch App begins at 6:50 with Will DeBoer on the call.
This story was not subject to the approval of the National Association of Professional Baseball Leagues or its clubs.
View More