'Birds Blast Out of Funk, Down 'Hoppers
Grenier home run sparks five-run sixth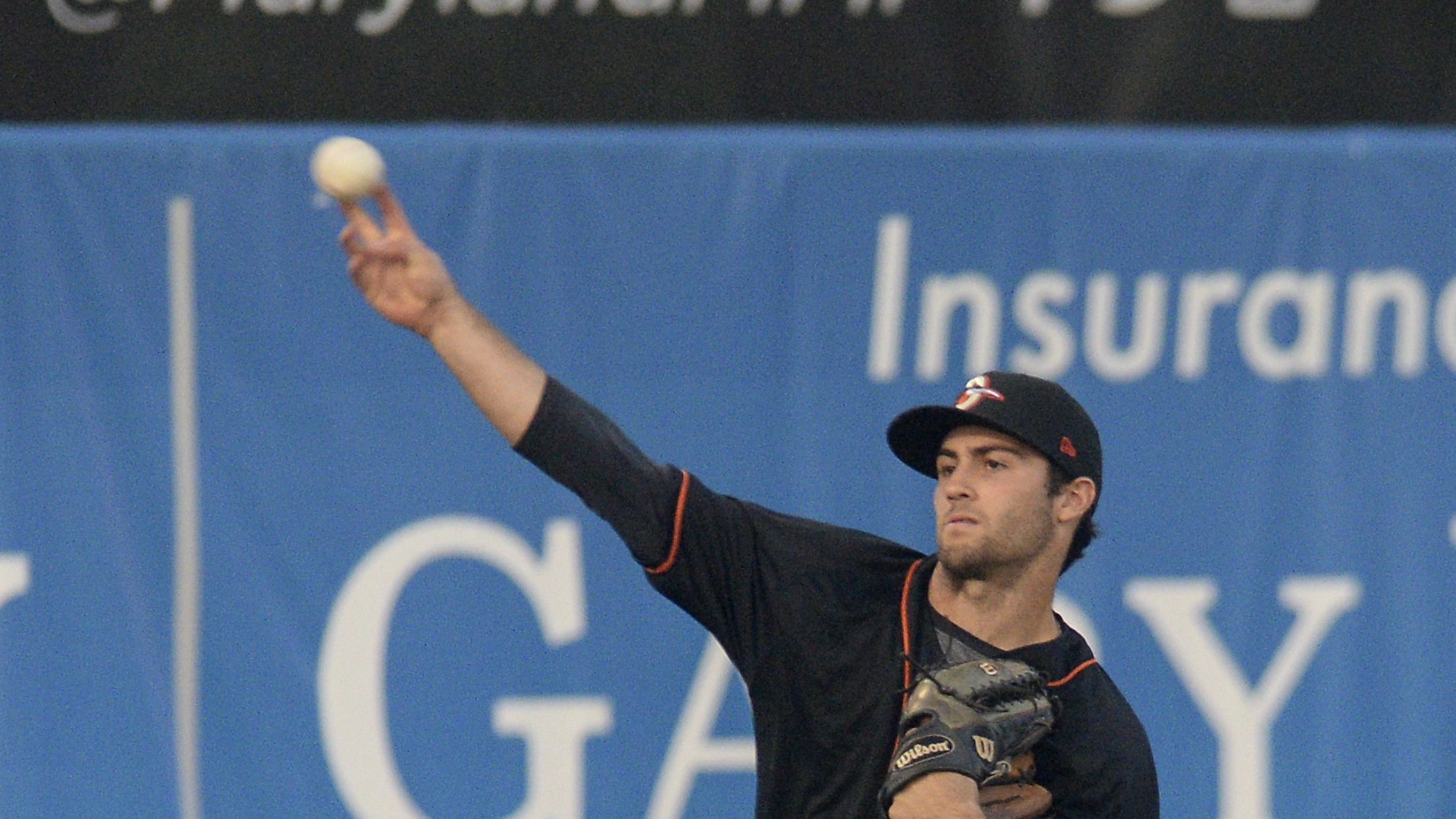 (Justin Odendhal)
SALISBURY, MD - The Delmarva Shorebirds busted out off their offensive funk in a big way, downing the Greensboro Grasshoppers 5-2 on Tuesday night at First National Bank Field.Hector Guance (2-1) was awarded the win in relief for the Shorebirds (27-7), going four scoreless three-hit innings with one walk and
SALISBURY, MD - The Delmarva Shorebirds busted out off their offensive funk in a big way, downing the Greensboro Grasshoppers 5-2 on Tuesday night at First National Bank Field.
Hector Guance (2-1) was awarded the win in relief for the Shorebirds (27-7), going four scoreless three-hit innings with one walk and five strikeouts to close out the game. Steven Jennings (2-5) took his lumps for the Grasshoppers (23-12), surrendering five runs on six hits in 5.2 innings.
Greensboro swiped their first run in the second inning. Rodolfo Castro led off with a single, and Patrick Dorrian walked two batters later. Castro then stole third base, setting up a double steal in which Dorrian broke for second and Castro came home on the throw to try and get Dorrian. Castro slid in ahead of the return throw to home, and the Grasshoppers took a 1-0 lead.
Dorrian tripled with one out in the fourth and scored on a Fabricio Macias single to double the Grasshopper lead at 2-0.
In danger of getting beaten by Jennings for a third time, the Shorebirds finally solved the Greensboro righty in the sixth. Adam Hall pegged a one-out single, and Cadyn Grenier went deep to left center for a two-run homer, his third of the year, to tie the game at 2-2.
Jean Carlos Encarnacion followed the Grenier blast with a single, stole second, and took third on a wild pitch. Seamus Curran then coaxed a walk, then two batters later Ryne Ogren walked to load the bases. Jennings was lifted in favor of John O'Reilly, who promptly walked Nick Horvath on four pitches to force in the go-ahead run. Robbie Thorburn followed by chipping one onto the green in shallow left for a two-out double, scoring Curran and Ogren to put the Shorebirds in front 5-2.
Guance quelled several potential Grasshopper rallies in his four frames, including stranding a pair on with two out in the seventh. A leaping grab at left field by Thorburn took a home run away from Grant Koch in the eighth and effectively took the last wind out of Greensboro's sails.
Thorburn finished 2-for-5 with a double and two driven in for his eighth multi-hit game of the season, all in his 12 games this month. Thorburn is now batting .385 with five extra-base hits and eight RBIs in May.
Grenier's home run was the fourth of his pro career; all have come against Greensboro - one at home and three at FNB Field.
Dorrian finished 2-for-3 with a triple, walk, and run to lead the Grasshoppers.
Delmarva starter Ofelky Peralta pitched 4.1 innings in a no-decision, allowing two runs on three hits with three walks and eight strikeouts over 79 pitches. Matt De La Rosa got the final two outs of the fifth to serve as a bridge to Guance.
The Shorebirds now get ready for their first of two doubleheaders on this road trip, this time two in the morning against the Grasshoppers. In a rematch of last Thursday's morning showdown, Grayson Rodriguez (4-0, 1.04) gets the Game 1 nod for Delmarva against Greensboro's Osvaldo Bido (5-1, 2.21); neither side has announced their Game 2 starter. First pitch is set for 11:00 a.m., and pregame coverage on Fox Sports 960 AM and the MiLB First Pitch App begins at 10:45 with Will DeBoer on the call.