'Birds Win Sixth Straight, Match Best-Ever Start
First-rounder DL Hall pitches three scoreless in SAL debut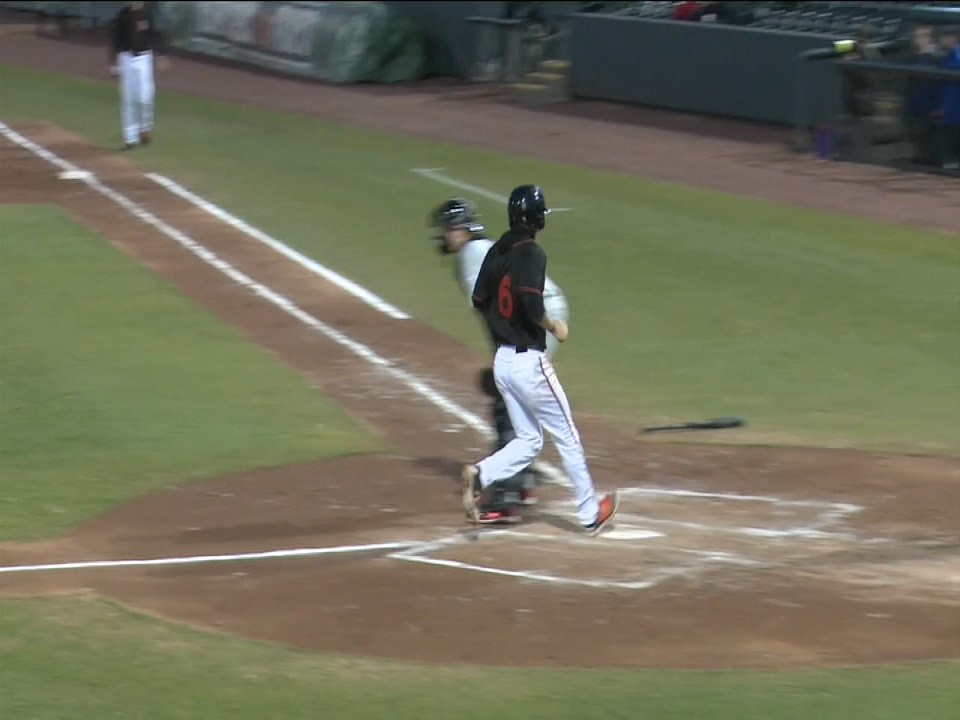 By Will DeBoer / Delmarva Shorebirds | April 10, 2018 10:34 PM
SALISBURY, MD - The Delmarva Shorebirds tied their best start in franchise history with their sixth win in a row, a 4-2 victory over the Hickory Crawdads on Tuesday night at Arthur W. Perdue Stadium.
The Shorebirds (6-0) won the first six in a row to start their inaugural season in 1996, a feat not equalled until now. This is the best start Delmarva has ever had as a Baltimore Orioles affiliate; the 'Birds were under the Montréal Expos umbrella in '96.
Gray Fenter (1-0) earned his first win with three innings out of the bullpen, allowing one run on four hits with no walks and a strikeout. Tyree Thompson (0-1) took a loss for the Crawdads (0-5), going five innings of three-run, five-hit ball. Travis Seabrooke picked up his first save with three innings in relief of Fenter, giving up a solitary unearned run.
Orioles 2017 first-round pick DL Hall made his first start of the season for the Shorebirds. The 19-year-old left-hander pitched three scoreless innings, allowing one hit and one walk while striking out two on 30 pitches. Hall faced the minimum of nine batters, relying on two double plays, even starting his own 1-4-3 twin killer to finish off the third.
Video: Hall Strikes Out First Class-A Batter
Delmarva broke the ice on the scoreboard in the bottom of the third. Ryan Ripken led off with a single, and Mason McCoy took his place at first on a fielder's choice. After a strikeout, Kirvin Moesquit singled his way aboard. Branden Becker followed with an RBI base knock to plate McCoy and make it 1-0. Will Robertson then drew a walk and Ben Breazeale split the gap in right center for a two-run double, giving the home side a 3-0 cushion.
Hickory broke up the shutout in the top of the fifth on an RBI single by Ryan Dorow. Then in the seventh, Yohel Pozo led off with a walk and advanced to third on an error. Kole Enright brought Pozo home with an RBI groundout to make it 3-2. After another grounder, the Crawdads had the tying run on third base, but Seabrooke got Yonny Hernandez to bounce out to short to get out of the jam.
Becker doubled to lead off the bottom of the eighth and eventually scored on a passed ball to boost the lead to 4-2. Seabrooke then relied on his defense in the ninth, coaxing a 4-6-3 double play in the frame to help wrap things up.
Video: Curran's Quick Hands Produce Unassisted DP
Becker finished 2-for-4 with a double, RBI, and two runs to lead the Shorebird offense. Breazeale notched two RBIs on the third-ining double.
Pozo scored both Crawdad runs, going 2-for-3 with a walk.
The Shorebirds go for their first-ever 7-0 start on Wednesday morning in the homestand finale against the Crawdads. Michael Baumann (1-0, 0.00) gets the start for Delmarva against Hickory's Tyler Phillips (0-1, 12.27). First pitch is set for 10:35 a.m. with gates opening at 9:30. In a mix of young and old, Wednesday is both a Field of Dreams game presented by Chesapeake Health Care, as well as a Silver Sluggers game presented by Peninsula Home Care. Pregame coverage on Fox Sports 960 AM and the MiLB First Pitch App begins at 10:20 with Will DeBoer on the call.
This story was not subject to the approval of the National Association of Professional Baseball Leagues or its clubs.
View More