Lowther Dazzles in Combined One-Hit Shutout
No. 17 Orioles prospect fans 13 in six no-hit frames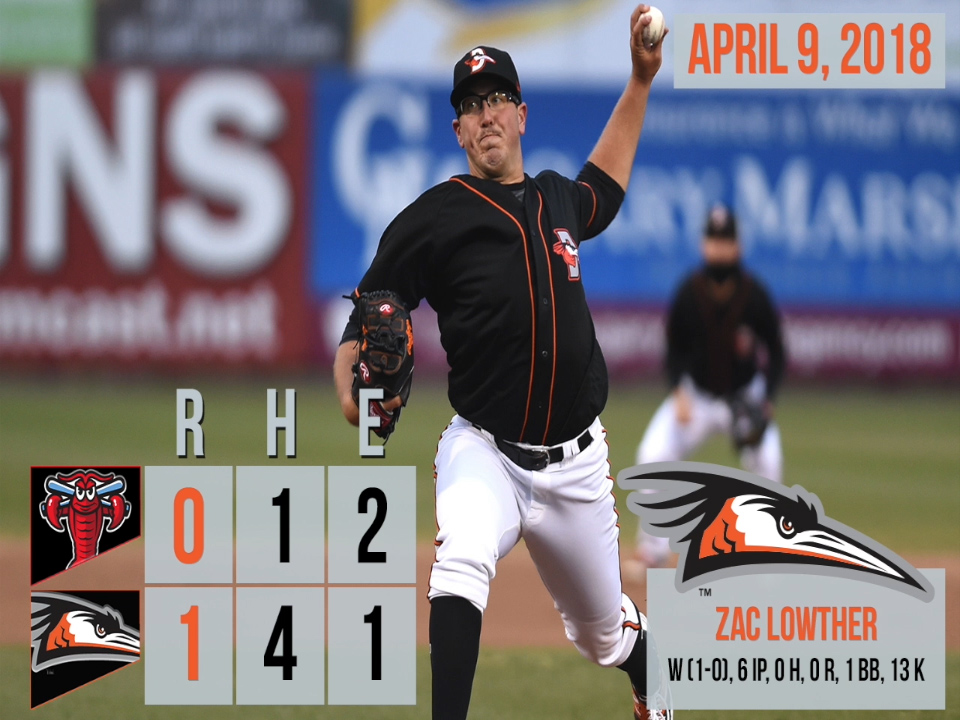 By Will DeBoer / Delmarva Shorebirds | April 9, 2018 10:25 PM
SALISBURY, MD - Zac Lowther anchored a pitching masterclass for the Delmarva Shorebirds, who held the Hickory Crawdads to one hit in a 1-0 shutout win on Monday night at Arthur W. Perdue Stadium. The Shorebirds (5-0) have now won five in a row to start the year, their best start in 22 years.
Lowther (1-0), the No. 17 prospect in the Orioles farm system, struck out a career-high 13 over six scoreless innings, giving up no hits and just one baserunner, a one-out walk to Kole Enright in the third inning. Despite the high strikeout total, Lowther got it all done in just 80 pitches.
Video: Lowther punches out career-high 13 in six
Reid Anderson (0-1) took the hard-luck loss for the Crawdads (0-4), allowing an unearned run on three hits in five innings of work. He walked one and struck out three. Zach Muckenhirn earned his first save for Delmarva by getting the last three outs.
After squandering a men-on-the-corners situation with no out in the first, Delmarva got its only run of the game on a fourth inning gift. Will Robertson worked a one-out walk and advanced to second on a wild pitch. After a Trevor Craport lineout, T.J. Nichting hit a soft grounder to second base. Hickory's Enright made the play but had to shovel pass to first base, where Sam Huff dropped the ball and deflected it down the foul line. Robertson slid in before any Crawdad got to the ball, and the Shorebirds took the slim 1-0 lead.
Lowther would need little more offense. He fanned five in a row from the first through third innings and struck out the side in both the second and fifth. With a punchout of Yonny Hernandez in the sixth, he set a new career high with a baker's dozen, surpassing the 12 Tri-City Valley Cats he struck out on Sept. 2, 2017 as a member of the Aberdeen IronBirds.
Alex Katz took the baton from Lowther in the seventh and promptly struck out two more. Hickory finally got its first hit with one out in the eighth, a Huff single to left. Katz shook it off quickly, getting Ryan Dorow to ground into the inning-ending 6-4-3 double play two pitches later.
Muckenhirn took the rubber in the ninth and gave up a one-out walk to Hernandez. After snagging an Eric Jenkins bunt popout, Muckenhirn got Miguel Aparicio to saw off his bat and lift a flyball into left. Frank Crinella squeezed his glove early, though, dropping the ball and allowing the tying run in Hernandez to get to third base. Undeterred, Muckenhirn overpowered Pedro Gonzalez on three pitches to lock down the save. The strikeout was the 16th of the night for Shorebird pitching.
Video: Muckenhirn fans Gonzalez, ices one-hit shutout
Kirvin Moesquit had two of Delmarva's four hits on the night, including a double to lead off the game. Mason McCoy and Crinella had the other two hits, both singles.
All five Shorebird starters have won their starts during the team's season-opening five-game winning streak. Delmarva starters are posting a combined 1.91 ERA through 28.1 innings.
Ben Breazeale has caught both of the Shorebirds' shutouts so far, notching a 1.00 catcher's ERA through three starts behind the dish.
The Shorebirds' 5-0 start is their best since their inaugural season in 1996, when the team opened up at 6-0 and carried an 11-1 record into their first-ever home game. The 5-0 start is Delmarva's best since becoming a Baltimore Orioles affiliate in 1997; in 1996 they were part of the Montréal Expos farm system.
The Shorebirds will try and match their best-ever start in game two against the Crawdads on Tuesday night. Lefty DL Hall, the Orioles' first-round pick in 2017, will make his long-awaited SAL debut against Hickory's Tyree Thompson (0-0, 0.00). First pitch is set for 7:05 p.m. with gates opening at 6:00. Pregame coverage on Fox Sports 960 AM and the MiLB First Pitch App begins at 6:50 with Will DeBoer on the call.
This story was not subject to the approval of the National Association of Professional Baseball Leagues or its clubs.
View More