Two Wood Ducks Named to Arizona Fall League Roster
Athletic Trainer Alex Rodriguez will join the DEWDs in Surprise, AZ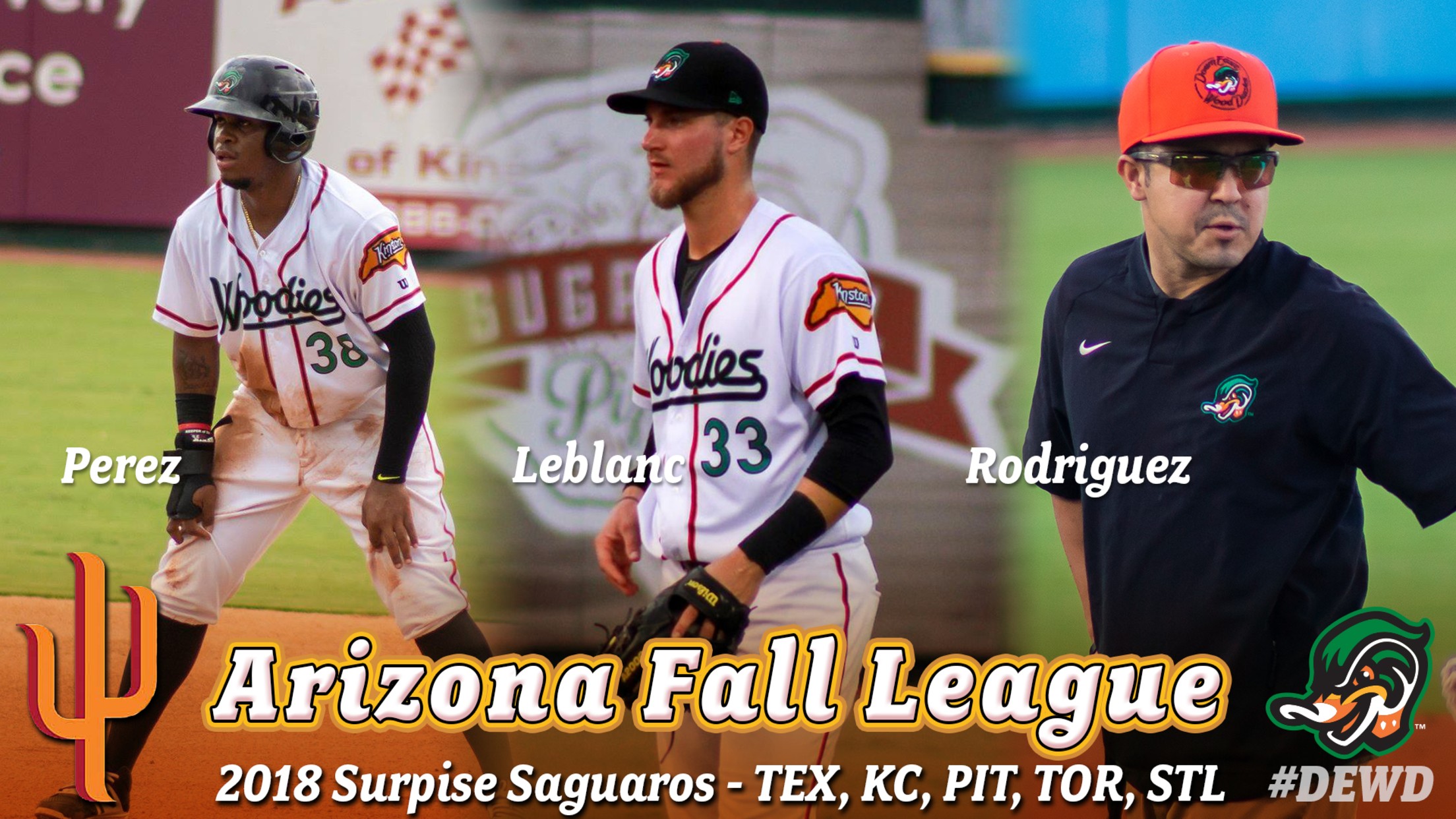 KINSTON, NC - On Thursday the Texas Rangers announced their prospects headed to Surprise, AZ to participate in the Arizona Fall League - a de facto all-star league of the minors' top prospects. Of the six representatives from the Rangers to the Surprise Saguaros, two have suited up for the
KINSTON, NC - On Thursday the Texas Rangers announced their prospects headed to Surprise, AZ to participate in the Arizona Fall League - a de facto all-star league of the minors' top prospects. Of the six representatives from the Rangers to the Surprise Saguaros, two have suited up for the Wood Ducks this season.
The participants are INF Yanio Perez and INF Chuck Leblanc will represent the Wood Ducks on the field in the 2018 circuit. Also, Down East Athletic Trainer Alex Rodriguez will be a member of the field staff with the team. This season the Saguaros will feature prospects from the Toronto, St. Louis, Pittsburgh, and Kansas City organizations.
Leblanc is enjoying a career year in virtually every offensive category. This is his third season in the organization after he was drafted in the fourth round out of the University of Pittsburgh. The Canadian was named a midseason All-Star with the DEWDs and currently slots second on the team in games played, doubles, and RBIs.
Perez joined the Wood Ducks on June 14th from the AZL Rangers on a rehab assignment. The Cuban began the year with the Frisco RoughRiders but was on the disabled list for a majority of the season. He also participated in the Fall League in 2017 and thrived with a .782 OPS and two homers in 21 games with the Saguaros.
2018 will mark the 27th season of Arizona Fall League baseball in the Phoenix metroplex. The other teams include Glendale, Peoria, Salt River, Scottsdale, and Mesa. The Rangers will also be represented by RHP Joe Barlow, RHP Demarcus Evans, OF J.P. Martinez, and former DEWD INF/C Josh Morgan.
Hickory pitching coach Jose Jaimes will serve the same role with the team in Surprise. Last season, the Woodies had seven players join the team in Surprise: RHP Steven Bruce, LHP Adam Choplick, RHP Tyler Ferguson, INF Luis Yander La O, INF/C Josh Morgan, OF Michael O'Neill, and INF Yanio Perez.
These rosters are preliminary and subject to change. The season begins on Tuesday, October 9th and select games will be web-streamed through MLB.Com and televised on the MLB Network.
Follow the Wood Ducks on social media all season long. Like us on Facebook at Down East Wood Ducks, follow us on Twitter, Instagram, and Snapchat @GoWoodDucks and stay linked at WoodDucksBaseball.com.