Clemens and Orimoloye Shell the Tortugas in 4-3 Win
All four runs came by way of the long ball in the victory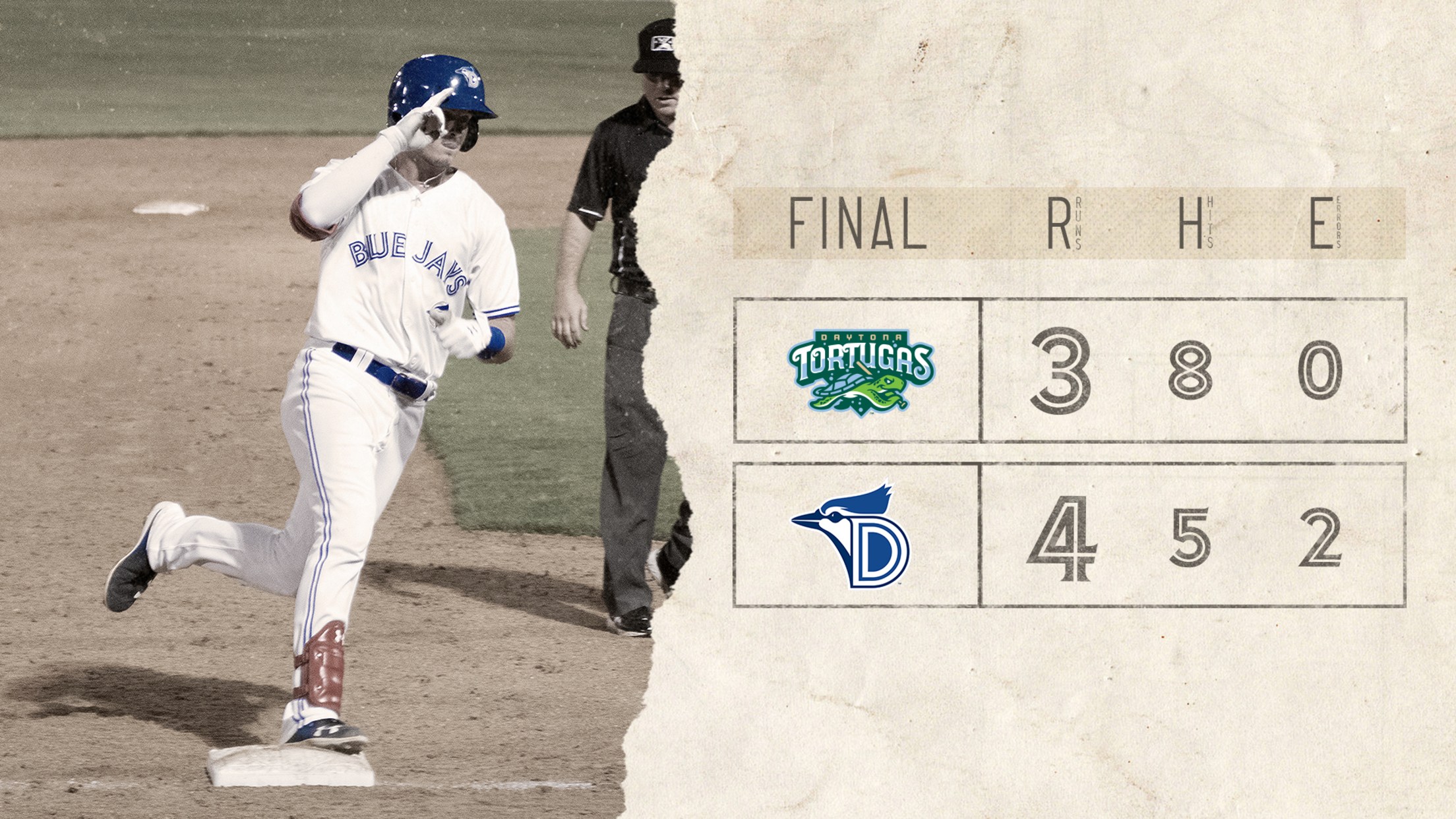 Clearwater- Ryan Tepera opened the game for Dunedin on a Major League rehab assignment for his second appearance with the team. He only allowed a walk to the four batters he faced for a relatively clean first inning.Nick Allgeyer came out for his scheduled start in the second to keep
Clearwater- Ryan Tepera opened the game for Dunedin on a Major League rehab assignment for his second appearance with the team. He only allowed a walk to the four batters he faced for a relatively clean first inning.
Nick Allgeyer came out for his scheduled start in the second to keep things going where Tepera started. Allgeyer picked up his tenth win of the year in the five innings of work, giving up one earned run with four strikeouts. In the second, Dunedin gained the lead thanks to a solo blast off the bat of Demi Orimoloye. It was his tenth home run of the year good for second on the team.
Daytona didn't waste time in tying the game back up with speed on the bases and a timely single. Andy Sugilio swiped second base and the next batter Bruce Yari brought him home with the single up the middle. The Blue Jays then found themselves behind come the top of the 4th inning. Two swift outs from Allgeyer gave hope for an easy inning, but a single put runners on second and third with two outs. Jose Garcia looked to get Dunedin out of the inning with a ground ball to second, but Samad Taylor misplayed the hop for the Tortugas to take a lead.
Dunedin could only manage five hits in the contest, but they made the hits count when it mattered most. The bottom of the 6th brought up Kacy Clemens with two outs in the inning. Runners on first and second with the new pitcher Dauri Moreta on relief for the Tortugas made the game seem in the balance. Clemens took the first pitch he saw from Moreta and deposited it deep over the right-center field wall to grab the 4-2 lead with three innings to play. The ninth home run for Clemens puts him third on the team.
The Tortugas threatened in the 8th with Sean Rackoski on in relief. Three singles got the rally started from the nine seven through two batters. Andy Sugilio drove in the run with a single to Kevin Vicuña that would have been a tough play to end the inning. Jose Garcia then lined a base hit into center that looked to tie the game, but a laser of a throw from Reggie Pruitt caught Alejo Lopez at home to end the inning and preserve the lead.
Jackson Rees finished of the Tortugas in the ninth with three batters faced. He picked off the pinch runner, Rey, at first, and he struck out one batter for his fifth save of the year. The Blue Jays will be back at Jack Russell with first pitch set for 6:30 against the Tortugas.