2015 Durham Bulls Season in Review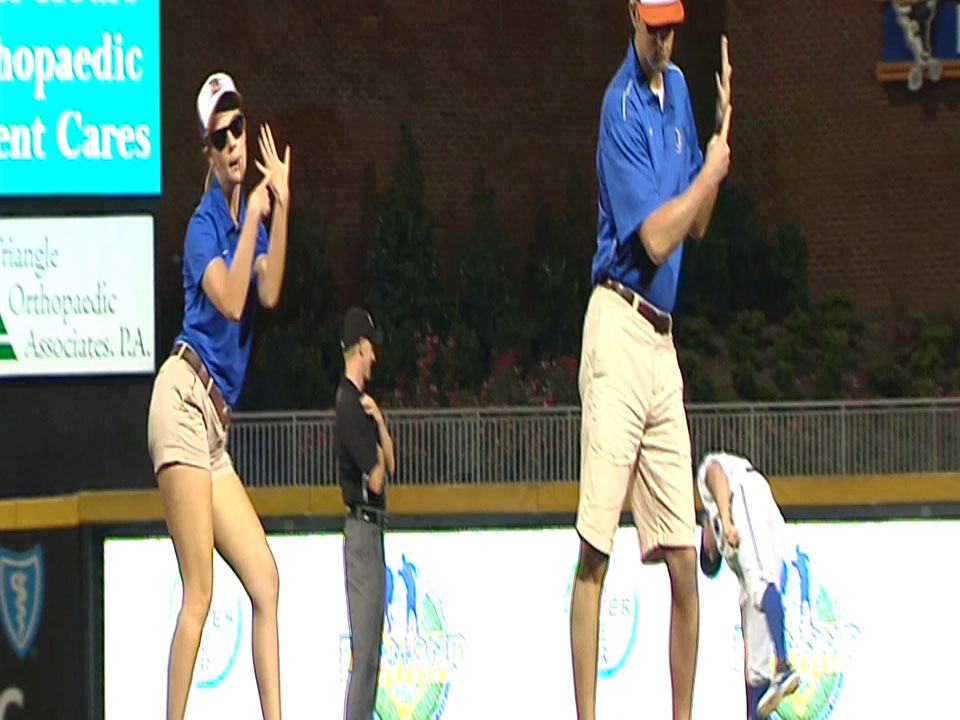 By Durham Bulls | September 24, 2015 10:01 AM
The 2015 Durham Bulls finished the season 74-70, clinching the 15th winning season in the franchise's 18-year International League history. Throughout the course of the season the Bulls held both first place and fourth place in the IL South Division, reaching a high of 12 games above .500 on 6/15, and a low of seven games under .500 on 8/18. Under first-year manager Jared Sandberg, the Bulls missed the postseason for the second time in the last four seasons, and the fifth time since joining the International League in 1998.
To view the 2015 Final Game Notes click here.
Tale Of Six Seasons
The Bulls experienced six distinct streaks throughout the 2015 season, beginning went it went 4-7 over its first 11 games, before tallying a 14-4 mark over its next 18 contests. From there the Bulls dropped 11 of their next 14, but then rattled off an 18-5 record over its next 23 games to improve to a season-best 12 games over .500. Durham won just 20 games over a 64-day span from 6/16-8/18 though, falling 14.0 games back of first-place Norfolk and seven games under .500, each the team's worst mark since finishing the 2012 season 17.0 games back of first-place Charlotte at 66-78. However, the team would go on to win 15 of its final 19 games.
Musical Chairs
The Bulls set two franchise records for player personnel moves in 2015, undergoing 213 roster moves and using 63 different players. Prior to this season the single-season franchise record for roster moves was 172 set in 2008, while Durham had never used more than 58 players - which it used in 2000. Including players on rehab assignments, 32 players (16 position players, 16 pitchers) appeared in at least one game for both Durham and Tampa Bay in 2015.
Southern Comfort
The IL South became the first division in league history in which every team finished the season with a winning record, as Durham and Charlotte finished T-3rd in the division at 74-70. After posting the worst cumulative winning percentage of any division in Minor League Baseball in 2014 (.467), the IL South posted a cumulative .526 winning percentage in 2015, 2nd-best of any division in Minor League Baseball (PCL American North: .536).
Kings Of The K
For the second straight season, Durham pitchers and Durham batters led the IL in strikeouts. Bulls pitchers struck out a league-best 1,117 hitters, while Bulls batters were punched out a Triple-A most 1,181 times. Prior to the 2014 Bulls, no team had led the league in both strikeouts by batters and pitchers since the 2007 Durham squad. Despite leading the league in strikeouts, no Durham pitcher finished the season with 100 punchouts, marking the first time an entire Bulls pitching staff went without a 100-strikeout pitcher since 2005.
Homer Happy
Durham pitchers surrendered a league-high 116 home runs this season, becoming just the second team in the franchise's Triple-A history (1998-present) to lead the IL in home runs allowed (142 in 2001). Bulls batters hit the 2nd-most long balls on the circuit (123), becoming the first Durham squad to finish Top-2 in the league in homers since it led the league with 137 in 2009.
Long At-Bats
Bulls batters led the IL in both strikeouts (1,181) and walks (506) in 2015, becoming the first IL team to lead the circuit in both categories since the 2004 Pawtucket Red Sox. Durham's 506 walks were its fewest in a season since 2012, but it led the league in free passes for the first time since 2009, when it tied Gwinnett atop the IL leaderboard with 539.
Close Calls
97 of Durham's 144 games (67%) were decided by three runs or fewer, 2nd-most in the IL behind Norfolk, which played 104. 2015 marked the second straight season the two teams led the IL in that category, after Norfolk played 97 such contests in 2014, three more than Durham's 94 games.
This Is Series
Durham finished the season with a 19-17-10 record in 46 series, capturing 13 of its 19 series wins in three-game sets. The Bulls swept four three-game series, and suffered two three-game sweeps and two four-game sweeps. Of those eight series sweeps, all came at the DBAP. The Bulls played their best baseball in the opening and closing games of sets, going 28-18 in series openers and 27-19 in series finales, while capturing a 7-3 mark in rubber matches.
Let's Play The North Some More
The Bulls finished the 2015 season with a 31-35 record against the IL South, an 18-19 record against the IL West, and a 25-16 clip against the IL North. Durham's .610 winning percentage against the IL North came on the heels of a 2014 campaign that saw them post a 21-27 mark against the same six teams.
Erroneous On Both Accounts
Durham posted a .976 fielding percentage behind 127 errors in 2015, each the 2nd-worst mark in the IL, ahead of only Indianapolis (.975, 138). Both the Bulls' fielding percentage and errors were the team's worst since 2008, when they posted a .975 clip and committed 135 errors.
Finish Strong
Through Durham's first 125 games the team held a .242 batting average, which would have been the worst in the team's Triple-A history. Over the team's final 19 games however, the team hit .306 (200-for-653) to raise its season average from .242 to .250.
Pack The House
For the second straight season the Bulls set the franchise's single-season paid attendance record, drawing 554,788 fans and shattering the previous record of 533,033 set a season ago. This season the DBAP sold out a single-season record 15 times, including a single-game attendance high on July 4 with a crowd of 11,871. On two occasions the stadium held capacity-plus crowds on three consecutive days, after it had never accomplished the feat prior to this season. Additionally, the final per-game attendance of 7,814 was the highest in franchise history.
Best Of The Best
Bulls LHP Blake Snell was named both the USA Today Minor League Player of the Year and Baseball America Minor League Player of the Year, becoming the first Bull since 2010 (RHP Jeremy Hellickson) to win each award. The 22-year-old went 15-4 with a 1.41 ERA (134 IP, 21 ER) between Advanced-A Charlotte, Double-A Montgomery and Durham, the lowest ERA in Tampa Bay's minor league history (min. 130 IP), and the lowest ERA of any minor leaguer (min. 115 IP) since RHP Justin Verlander's 1.29 clip in 2005. After joining the Bulls 7/24, Snell went 6-2 with a 1.83 ERA (44.1 IP, 9 ER), leading the International League with a .187 opponent's average and ranking 2nd in wins (6), ERA (1.83) and strikeouts (57). In addition to his two national awards, he was named Tampa Bay's Minor League Pitcher of the Year for the second straight season, was a Double-A Southern League Midseason and Postseason All-Star and a Futures Game selection.
Mr. Consistency
Utility man Taylor Motter was selected as Durham's Team MVP after ranking 1st in the IL in doubles (43) and extra-base hits (58), 3rd in total bases (229) and slugging percentage (.471), 4th in hits (142), on-base percentage (.366) and runs scored (74), and 8th in average (.292). The IL Midseason and Postseason All-Star posted four hitting streaks of at least 10 games, including a career-best 16-game hitting streak from 6/3-6/20, which was the 4th-longest hitting streak in the IL this season. After hitting just .157 through his first 14 games of the season, he proceeded to hit .308-13-68 over his final 113 games.
Richie Rich
Despite playing in just 69 Triple-A games this season, INF Richie Shaffer ranked T-4th in the IL with 19 home runs. The 24-year-old posted four multi-home run games with the Bulls, after never tallying a multi-home run game in his career before joining Durham 5/24 from Double-A Montgomery. On 6/12 at Louisville, Shaffer became the first Bull since 2009 - and just the 3rd Bull in the team's Triple-A history - with a three-home run game. 37 of his 66 Triple-A hits went for extra bases, while he hit 26 home runs in 108 minor league games between Montgomery and Durham.
What Can Brown Do For You?
From 7/6-7/9, OF Corey Brown became the fifth Bull in Durham's Triple-A era to hit a home run in four straight games. Brown finished the season on a 14-game hitting streak - raising his season average from .222 to .243 - while he reached safely in 31 of his final 34 games, hitting .319-4-16 in that span.
Save The Date
Despite appearing in just 27 games for Durham before he was promoted to Tampa Bay on 6/17, RHP Ronald Belisario recorded 17 saves, 3rd-most in the IL for the entire season. From 5/29-5/31 he saved three straight games in three straight days, becoming the first pitcher in the team's Triple-A history to accomplish the feat.
Back-To-Back Jacks
After hitting back-to-back homers just one time in 2014, the 2015 Bulls hit consecutive dingers eight times, including three times by utility man Taylor Motter and 1B/C JP Arencibia. Conversely, after allowing back-to-back jacks just once a season ago, the Bulls surrendered consecutive homers on six occasions this season, with four occurences coming at Charlotte.
Home Sweet Home (Sometimes)
The Bulls finished the 2015 campaign with a 39-33 record at the DBAP, clinching a winning record at home for the sixth straight season. Durham had a love-hate relationship with its home ballpark this season, going 18-11 over its first 29 games at the DBAP, 5-15 over its next 20 home games, and 16-7 over its final 23 contests at the DBAP.
The BOOG-ey Man
After his promotion from Double-A Montgomery on 6/26, OF Boog Powell proceeded to reach base safely in 50 of the 56 Triple-A contests he played in. Over that span he ranked T-3rd in the IL with 32 walks, while his .360 OBP was tied for the 11th best on the circuit. From 8/16-9/6 he strung together a career-best 12-game hitting streak, while he hit .321 (18-for-56) over his final 13 games to raise his average from .233 to .257. He finished the year with a combined .295 batting average and .385 OBP between Montgomery and Durham.
RICK(ard) Rolled
OF Joey Rickard ranked 2nd in the IL in batting average (.360) and 4th in on-base percentage (.437) from the time of his promotion from Double-A Montgomery (8/2) through the end of the season. Rickard reached base safely in each of his first 21 starts with Durham, tallying six multi-hit games in that span. Over his final 42 games between Montgomery and Durham (7/18-on), Rickard's .376 average was T-4th-best among all minor leaguers, while his .472 OBP was 3rd-best.
This story was not subject to the approval of the National Association of Professional Baseball Leagues or its clubs.
View More