Bulls Sink Tides 11-2
Franco, Mathisen go deep in Durham's rout of Norfolk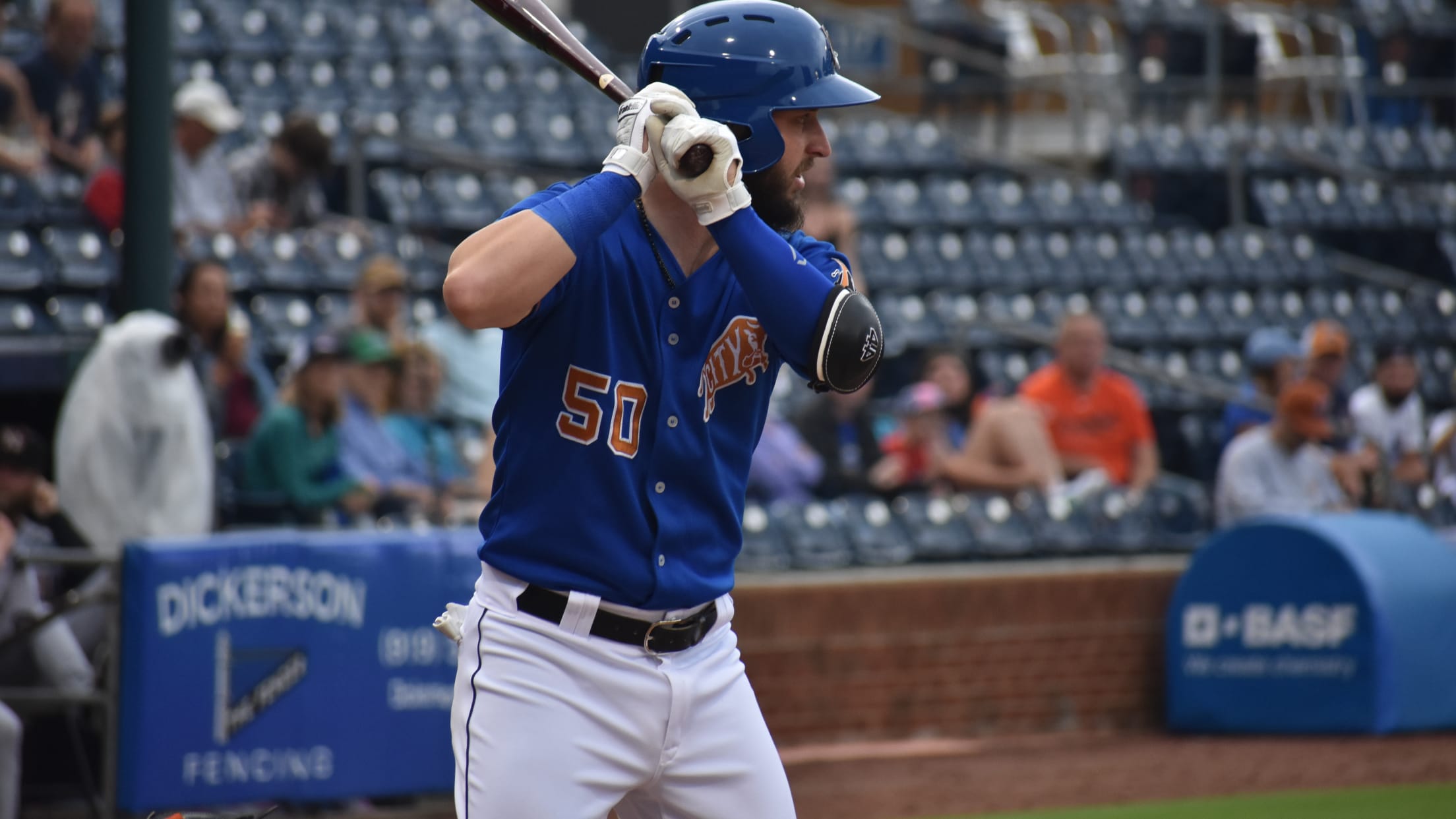 Bulls 1B Wyatt Mathisen recorded two hits, including his first home run with Durham, in Wednesday night's 11-2 victory. (Paxton Rembis / Durham Bulls)
Bulls shortstop Wander Franco smashed three hits, including his fifth home run of the year, while first baseman Wyatt Mathisen went also went yard and drove in two runs in Durham's 11-2 victory over the Norfolk Tides on Wednesday evening at Durham Bulls Athletic Park. With his three hits on
Bulls shortstop Wander Franco smashed three hits, including his fifth home run of the year, while first baseman Wyatt Mathisen went also went yard and drove in two runs in Durham's 11-2 victory over the Norfolk Tides on Wednesday evening at Durham Bulls Athletic Park.
With his three hits on Wednesday evening following his four-hit outing on Tuesday night, Franco has recorded seven hits in ten at-bats over his last two games. In that span he has raised his batting average 42 points from .272 to .314. He was joined by Mathisen (2-4, 2 R, 2B, HR, 2 RBI), LF Vidal Brujan (2-4, 3 R, BB, 2 SB) and CF Josh Lowe (2-4, R, 2B, BB) in posting multi-hit efforts.
After Norfolk opened the scoring in the top of the first, the Bulls answered with a trio of tallies in the last of the frame, highlighted by Brujan swiping home as part of a double steal with Franco, in addition to 2B Kevin Padlo's RBI single. Two innings later, Mathisen mashed a two-run blast to left, extending the lead to 5-1. After the Tides got a run back in the fourth, Franco crushed a three-run shot to right to make it 8-2. Durham would add three more runs courtesy of RF Ryan Boldt's fifth-inning RBI single and a pair of scores in the sixth.
Bulls relievers Chris Mazza (1.1 IP, H, BB, 2 K), David Hess (3.0 IP, 4 K) and Brian Moran (1.0 IP, 2 K) combined for the final five-plus scoreless innings, with Hess earning the win. Norfolk starter Konner Wade (3.0 IP, 6 H, 6 R, 2 BB, K) suffered the defeat.
The two teams are set to continue the series on Thursday evening, with first pitch scheduled for 6:35pm ET. RHP Chris Ellis (0-0, 8.44) is expected to get the nod for Durham, while Norfolk is anticipated to send RHP Mac Sceroler (0-0, 21.60). Tickets for that the remainder of this series, as well as for Durham's six-game homestand with Charlotte between June 8-13, are now available at durhambulls.com.