Bulls stampede IronPigs behind four homers
Kevin Herget earns 8th victory after 5.0 solid innings of work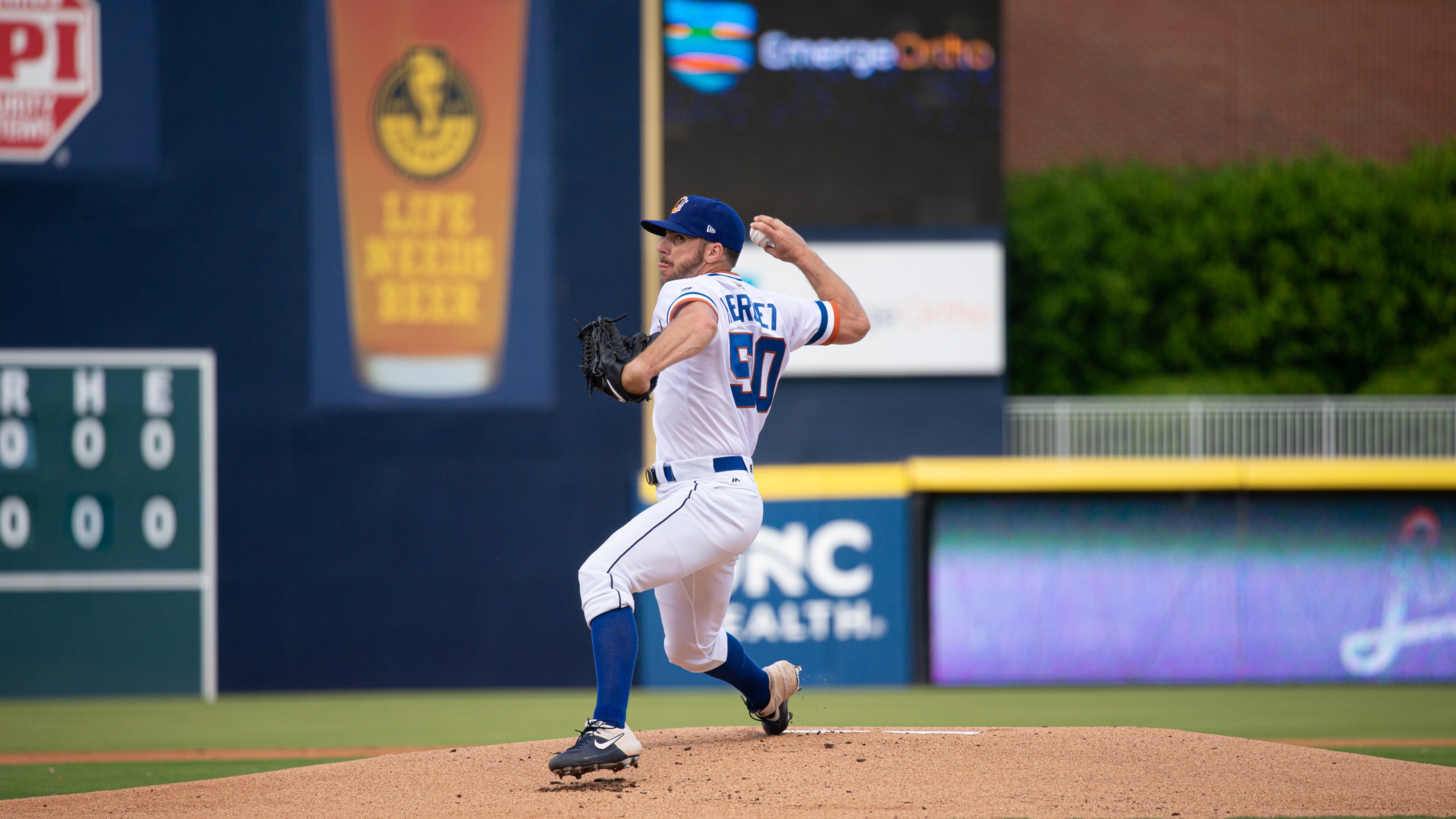 Bulls starter Kevin Herget fired five scoreless frames in Durham's 6-0 victory on Saturday night. (Paxton Rembis)
Bulls LF Grant Witherspoon, CF Vidal Brujan, RF Ruben Cardenas and 3B Jonathan Aranda all went yard Thursday night as Durham (53-43) took a 2-1 series lead with a 5-3 win over the Lehigh Valley IronPigs at Durham Bulls Athletic Park to remain in first place in the International League
Bulls LF Grant Witherspoon, CF Vidal Brujan, RF Ruben Cardenas and 3B Jonathan Aranda all went yard Thursday night as Durham (53-43) took a 2-1 series lead with a 5-3 win over the Lehigh Valley IronPigs at Durham Bulls Athletic Park to remain in first place in the International League East Division.
For the third consecutive game, Lehigh Valley would strike first as 3B Ali Castillo lined a sacrifice fly in the third. Witherspoon would then knot the score in the bottom half of the inning on a solo shot. After a 25-minute rain delay, Brujan led off the return to action by bashing another solo homer for the 2-1 lead.
In the fourth, the Bulls would remain hot at the plate as Cardenas added another solo bomb, and, in the sixth,Aranda would crush a solo blast to extend the Durham home run count to four. The IronPigs would respond in the seventh as RF Dalton Guthrie went deep for the third time in two games, trimming the Bulls lead to 4-2. Later in the frame, Castillo would do more damage as he drove in his second run of the night on a single shot. In the eighth, Durham C Joe Hudson drew a bases-loaded walk, extending the Bulls lead back to two.
Bulls pitcher Kevin Herget earned his team-leading eighth win in nine decisions after five innings of work, allowing one run on three hits and ringing up eight strikeouts, while Durham reliever Javy Guerra gets credited with his sixth save of the season. IronPigs pitcher Michael Plassmeyer suffered the loss. Herget's eight victories now rank tied for second in the International League.
The Bulls are set to continue their nine-game homestand on Friday evening for game four of their series against the IronPigs, with first pitch scheduled for 6:35pm. RHP Easton McGee (4-5, 4.68) is slated to toe the rubber for Durham and be opposed by LHP Cristopher Sanchez (2-0, 2.48) for Lehigh Valley.
Tickets for that game and all remaining 2022 home games are still available and can be purchased at DurhamBulls.com.