Bulls Walk Off With 7-6 10-Inning Win Over Tides
Esteban Quiroz's game-winning 2-run single lowers Durham's magic number to 1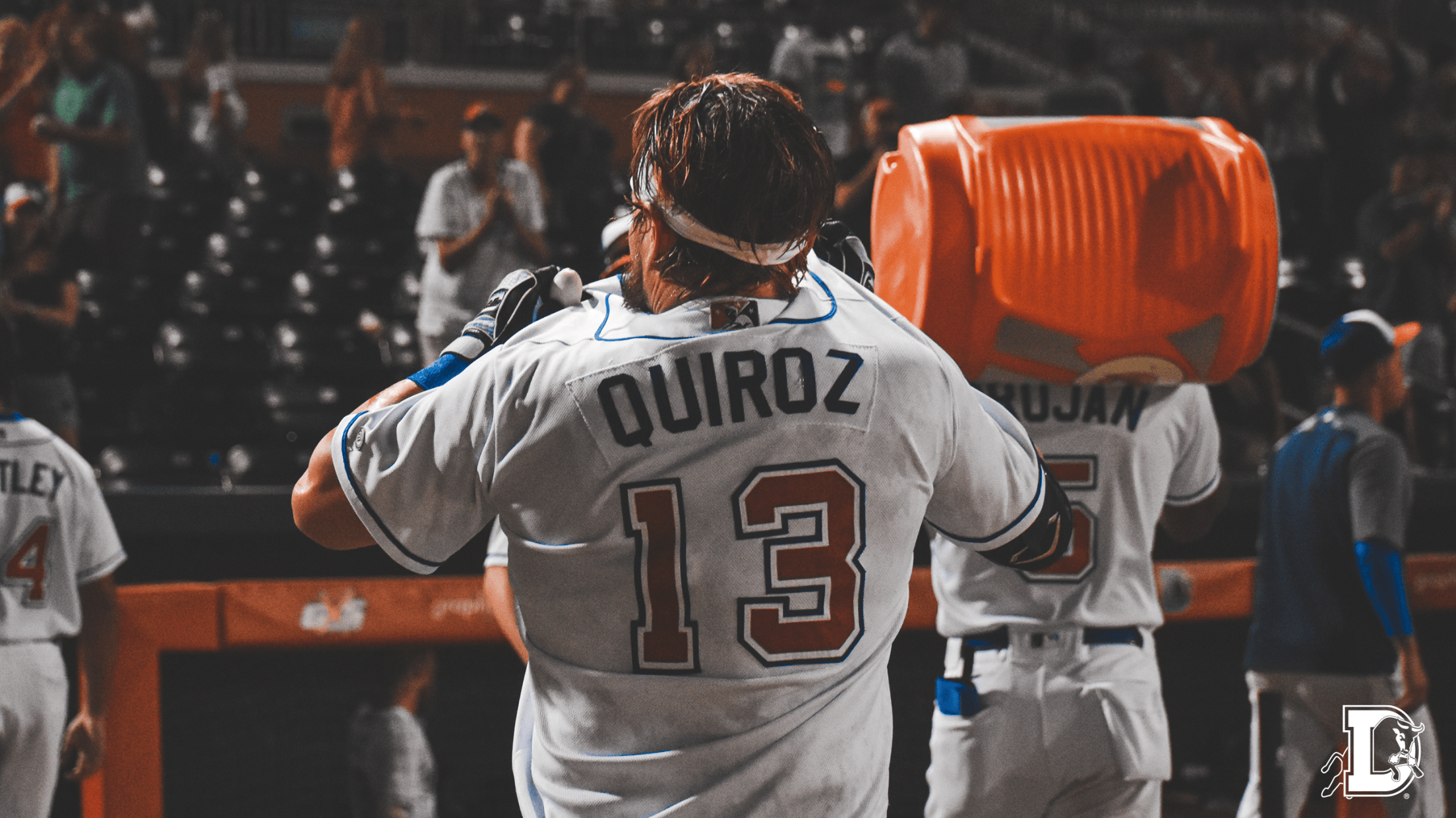 (Paxton Rembis / Durham Bulls)
Bulls third baseman Curtis Mead mashed three hits, including two doubles, and left fielder Ryan Boldt homered, while pinch hitter Esteban Quiroz's game-winning two-run single gave Durham a 7-6 victory over the Norfolk Tides on Sunday evening at Durham Bulls Athletic Park. The triumph also lowers the Bulls' magic number
Bulls third baseman Curtis Mead mashed three hits, including two doubles, and left fielder Ryan Boldt homered, while pinch hitter Esteban Quiroz's game-winning two-run single gave Durham a 7-6 victory over the Norfolk Tides on Sunday evening at Durham Bulls Athletic Park. The triumph also lowers the Bulls' magic number to clinch the Southeast Division crown to just one game with six games left in the regular season.
Trailing 6-4 entering the last of the tenth, C Rene Pinto ripped an RBI single up the middle to score CF Vidal Brujan to narrow the deficit to one. Boldt would eventually be intentionally walked to set the scene for Quiroz, who bounced his two-run single to right to cue the celebration and bring the Bulls to the brink of another division title.
After Norfolk grabbed the early advantage with a solo tally in the opening frame, Mead mashed an RBI double to right in the subsequent inning to even the contest. Stowers' longball in the sixth would make it 3-1, though Durham narrowed the margin to one in the last of the sixth via Pinto's RBI double to left-center. Mead would then smack his second double of the evening in the seventh before eventually coming home on SS Alika Williams's sacrifice fly to tie the game before Boldt's blast put the Bulls ahead by one. The Tides, however, would plate a single tally in the ninth to force extras.
Mead (3-4, R, 2 2B, RBI), Boldt (2-4, 2 R, HR, RBI) and Pinto (2-5, R, 2B, 2 RBI) each posted multi-hit efforts in the victory. Boldt's homer marked the marked the 14th time in 15 contests. It was also Durham's ninth walk-off win of the 2021 season.
Bulls starter Tobias Myers (6.0 IP, 4 H, 3 R, 3 ER, 2 BB, 6 K) did not factor in the final decision despite a quality outing. Durham reliever Phoenix Sanders (0.1 IP, H, R, ER, K) earned the win, while Norfolk righty Cesar Valdez (0.1 IP, 2 H, 3 R, 2 ER, 2 BB) suffered the defeat.
Following a league-wide off day on Monday, the Bulls begin a six-game road series in Charlotte on Tuesday, September 14. First pitch is scheduled for 7:04pm, with starting pitchers for both sides not yet announced.
The Bulls return to Durham for their final homestand of the 2021 campaign on Wednesday, September 22 to start a five-game set versus the Gwinnett Stripers, the Triple-A affiliate of the Atlanta Braves. First pitch of the series opener is set for 6:35pm. Tickets for that game, as well as all remaining Bulls home games are available and can be purchased at DurhamBulls.com.