Durham Drops Charlotte 4-3
Kelly clubs leadoff shot & drives in 2, Strotman earns 7th win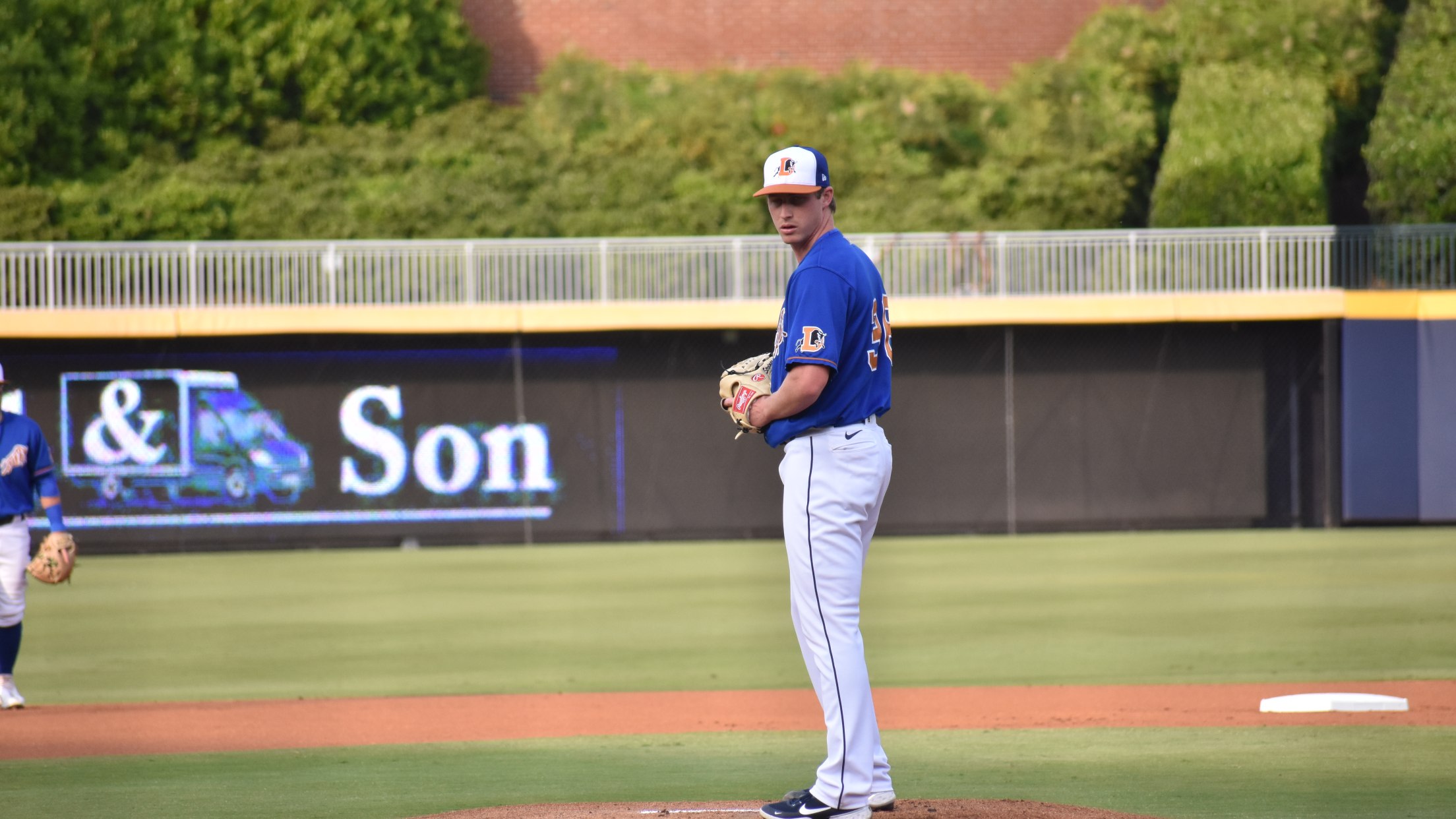 (Paxton Rembis / Durham Bulls)
Bulls first baseman Dalton Kelly crushed a leadoff home run and drove in two runs, while starting pitcher Drew Strotman tossed five shutout frames in Durham's 4-3 victory over the Charlotte Knights on Tuesday evening at Durham Bulls Athletic Park. Kelly smashed the first pitch the Bulls batting order saw
Bulls first baseman Dalton Kelly crushed a leadoff home run and drove in two runs, while starting pitcher Drew Strotman tossed five shutout frames in Durham's 4-3 victory over the Charlotte Knights on Tuesday evening at Durham Bulls Athletic Park.
Kelly smashed the first pitch the Bulls batting order saw in the last of the first before LF Ryan Boldt bashed an RBI double to left to make it 2-0. 2B Kevin Padlo would then extend the advantage to three courtesy of an RBI double in the fifth. Durham's shutout hopes one inning later came to an end when the Knights plated a single tally, however the Bulls answered right back when Kelly drove in his second run of the contest with an RBI single to right-center. Charlotte narrowed the margin to 4-3 in the ninth, however Durham shut the door and preserved the win.
Kelly (2-4, R, HR, 2 RBI) was joined by C Brett Sullivan (2-3) and DH Rene Pinto (2-3) in posting multi-hit efforts. Kelly's first-inning big fly marked the eighth time this year a Bulls batter has lead off the top or bottom of the first inning with a roundtripper.
Strotman (5.0 IP, 5 H, 0 R, 3 BB, 4 K) earned his team-best seventh victory after scattering five hits over 5.0 scoreless frames, adding four strikeouts. Bulls relievers Sean Poppen (3.0 IP, 4 H, R, ER, 2 K), Louis Head (0.2 IP, 2 H, 2 R, 2 ER, BB) and Ryan Sherriff (0.1 IP, H) combined for the final four innings, with Sherriff notching his first save. Charlotte starter Jonathan Stiever (5.0 IP, 7 H, 3 R, 3 ER, BB, 7 K) suffered the defeat.
The two sides are scheduled to face off in the second game of their series on Wednesday evening, with first pitch slated for 6:35pm ET. RHP Brent Honeywell Jr. (1-1, 3.80) is expected get the nod for the Bulls, with RHP Jimmy Lambert (3-1, 3.89) scheduled to toe the rubber for the Knights. Tickets for that game, as well as all remaining Bulls home games are available and can be purchased at DurhamBulls.com.