Krieger extends streak with big night
No. 29 Indians prospect collects four hits, four RBIs for 'Ducks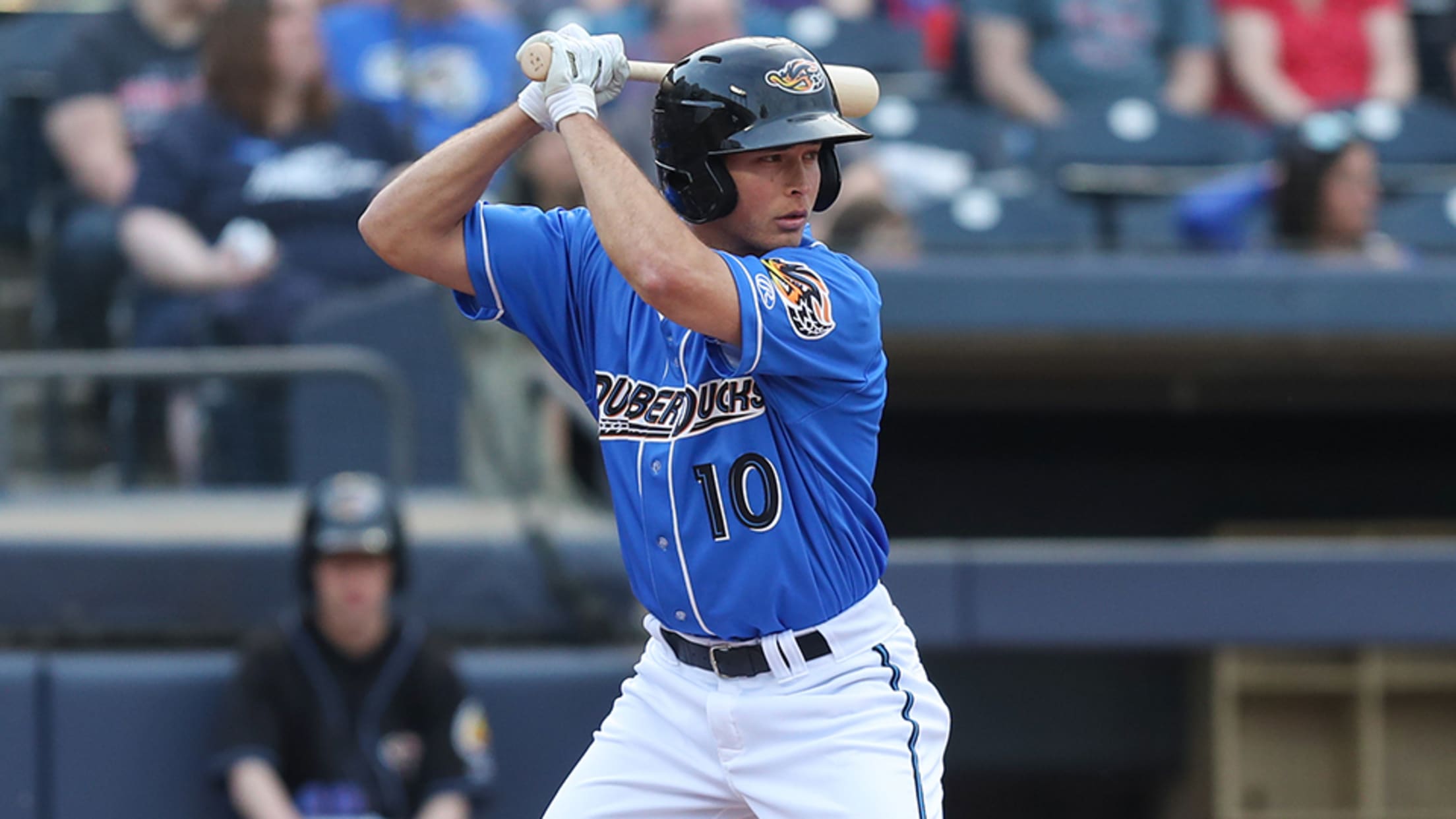 Tyler Krieger has collected five multi-hit efforts over his last six contests for the RubberDucks. (David Monseur/MiLB.com)
Looking around the Eastern League, you'd be hard-pressed to find a hotter hitter in July than Tyler Krieger. Coming into the month's final day with the circuit's longest hitting streak, the No. 29 Indians prospect outdid himself. Krieger collected four hits and matched a season high with four RBIs to lead
Looking around the Eastern League, you'd be hard-pressed to find a hotter hitter in July than Tyler Krieger. Coming into the month's final day with the circuit's longest hitting streak, the No. 29 Indians prospect outdid himself.
Krieger collected four hits and matched a season high with four RBIs to lead Double-A Akron to a 7-4 victory over Bowie at Canal Park on Thursday. With three singles and a triple, the 24-year-old extended the league's longest hitting streak of the season to 24 games.
"I stayed with my approach and stayed with the mechanical and approach thoughts that I've been working on in the cage with [RubberDucks hitting coach] Kevin Howard and taking it to the game," Krieger said. "It's been working out for us and it's been a fun stretch here."
The 2015 fourth-round pick came into the month hitting just .229, but on the strength of 11 multi-hit games, he's raised his average to .272. During the run, Krieger has hit .390 with nine extra-base hits and 18 RBIs. The specific tweaks Krieger made with Howard have enabled him to generate more strength from his legs, which allows him hit to all parts of the field.
The results speak for themselves as the switch-hitter has produced a .340 average and .a 400 on-base percentage over the past two months after posting a .159/.235/.182 line in May.
"I'm trying to see the ball in the good part of the plate and take it to the big part of the field. I'm not trying to do much and pull," Krieger said. "I'm just trying to see my pitch and stay within the middle of the field. My direction has been a big thing mechanically, just making sure that I'm striding straight and not cutting myself off."
But Krieger also said feeding off his teammates and reading their tendencies against certain pitchers also has helped him out. Collectively, Akron has hit .259 with a .729 OPS in July.
"We've got a lot of similar guys in terms of body type, swing type," he said. "So it's kind of easy to see how we're being pitched as a team and then make my adjustments off that. We have a lot of good hitters with some good approaches. It's been fun to watch."
Krieger flew to right field in the first inning, the only time he was retired in the game, then put the RubberDucks on the board in the third. Swinging at the first offering from Baysox starter Luis Ysla, Krieger poked one through the middle to drive in Logan Ice.
Gameday box score
The Clemson product added a single to right off the southpaw in the fifth before ripping another base knock to right two innings later against right-hander Tanner Chleborad.
With the bases full in the eighth, Krieger battled with righty Christian Binford until the count reached 2-2. On the sixth pitch of the at-bat, the California native cracked a hit into center to clear the bases with his second three-bagger of the season.
"[Bowie] had been throwing me some sliders, and I was just trying to stay through the middle of the field and not pull off," he said. "I was just trying to take the fastball the other way and the off-speed to right field. I was just trying to stay within myself and not try to overswing."
Krieger's streak is the only one on the circuit this year that has lasted at least 20 games. Current Mets infielder Jeff McNeil racked up a 17-game run from April 30-May 18. The outfielder's mark is also eight games better than MLB.com's top overall prospectVladimir Guerrero Jr.'s streak of 16 games compiled from April 21-May 10 with New Hampshire.
Admittedly, Krieger is happy to be in such strong company, but he added he's trying to not to harp on the streak. His plan is to make strides in all facets of the game as he closes out his third professional season.
"I think there are areas to improve on at the plate and there are areas to improve upon defensively, especially with arm strength and just knowledge of the situation in the outfield," he said. "And on the bases, when to get aggressive, when to shut it down, when to pick my spots. Those are just some areas that I've been working on."
Top Indians prospect Triston McKenzie (6-2) matched his longest Double-A outing with seven innings, allowing one run on five hits and a walk. He struck out five.
Andrew Battifarano is a contributor to MiLB.com. Follow him on Twitter, @AndrewAtBatt.