Alford, Urena lead young band of Blue Jays
Despite trades for big league talent, Toronto has Minor League depth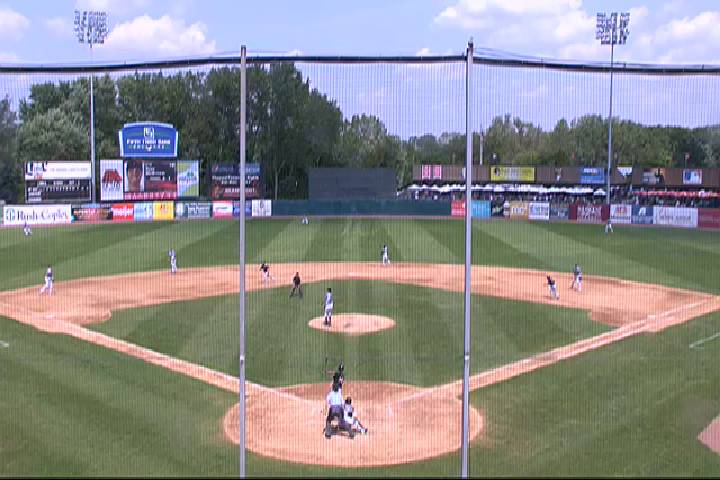 By Josh Jackson / MiLB.com | December 21, 2015 10:00 AM
This offseason, MiLB.com is honoring the players -- regardless of age or prospect status -- who had the best seasons in their organization. We're taking a look at each team to determine the outstanding seasons in Minor League Baseball.
In the Majors, the Blue Jays took their first American League East Division title since 1993. Jonathan Harris -- their top prospect and one of two Toronto Minor Leaguers in MLB.com's Top 100 -- was born on the very day Toronto opened that '93 World Series. Twenty-two years later, the Jays were two postseason victories shy of a return to the Fall Classic.
The big league success, though, didn't come free of cost to the Minor League system -- particularly in the pitching department. To get All-Stars Troy Tulowitzki and David Price, Toronto gave up packages that featured up-and-comers Jeff Hoffman, Miguel Castro, Jesus Tinoco, Jairo Labourt, Matt Boyd and Daniel Norris. The day after the Price deal, the Blue Jays bid farewell, via two more trades, to five more Minor Leaguers, including Rob Rasmussen and Alberto Tirado. A little more than a week later, hot-hitting shortstop prospect Dawel Lugo was on the move to Arizona for Cliff Pennington.
The organization is also in the midst of change this offseason -- team president Paul Beeston retired, and general manager Alex Anthopoulos surprised the baseball world by leaving the club. Ross Atkins, a longtime Indians executive, stepped into the GM void at the beginning of this month. Although they're not exactly flush, the Blue Jays do still have Minors assets to develop or trade for big league talent as needs arise. Beyond this year's All-Stars, Roemon Fields, Dwight Smight Jr., Rodrigo Orozco, D.J. Davis, Rowdy Tellez and Norberto Obeso all had fantastic seasons.
The Rookie-level Blue Jays won a division title and reached the Finals in the Gulf Coast League this season, and the Class A Lansing Lugnuts were first-half division champs and made it to the Midwest League semifinals.
Blue Jays Organization All-Stars
Catcher -- Ryan Hissey, GCL Blue Jays (10 games), Vancouver (43 games): The Blue Jays have one of the top catching prospects in the game in Max Pentecost, but the 2014 first-rounder missed the season after undergoing his second shoulder surgery. No backstop in the Toronto system did anything to generate the kind of excitement a healthy Pentecost should, but the 21-year-old Hissey came into the system in the 14th round of this year's Draft. He provided steady service behind the plate in Class A Short Season ball by hitting .283 with a .381 on-base percentage while slapping out 17 extra-base hits. The organization named him the Canadians' MVP with the R. Howard Webster Award.
First baseman -- Ryan McBroom, Lansing (127 games): Although he still doesn't rate among MLB.com's Top 20 Jays prospects, the 2014 15th-rounder made a statement with the 2015 campaign. He led the Midwest League with 39 doubles and finished second with a .315 average, 222 total bases, a .869 on-base plus slugging percentage and 90 RBIs en route to league MVP honors. He also slugged 12 home runs for the Class A Lugnuts.
"A guy that can really hit and is a very talented first baseman," Lansing manager Ken Huckaby said of the 23-year-old West Virginia product. "He has an incredible work ethic, an incredible drive to win. He's a true professional -- he's going to play this game for a while with the way he works."
Second baseman -- Christian Lopes, Dunedin (70 games), New Hampshire (34 games): Lopes led all Toronto Minor Leaguers in innings at second base (227 1/3 with the Double-A Fisher Cats and 584 1/3 with the Class A Advanced Blue Jays), while making a total of six errors. On the other side of the ball, he batted .260 with a .339 on-base percentage and 16 doubles.
It was the 2012 seventh-rounder's finest full-season performance, and he stayed consistent while bouncing between the Florida State League and the Eastern League five times.
Third baseman -- Matt Hague, Buffalo (136 games), Toronto (10 games): Hague earned the International League MVP award and batting title with a .338 average, which was the highest mark among all Blue Jays players -- including big leaguers -- and he also led Toronto Minor Leaguers with 92 RBIs. His 33 doubles tied for third on the Triple-A circuit.
The Blue Jays sent Hague to Japan's Hanshin Tigers for cash considerations in November.
Shortstop -- Richard Urena, Lansing (91 games), Dunedin (30 games): At 19, Urena not only played his way up to the Class A Advanced level, but finished among system leaders in homers (second with 16) and RBIs (fifth with 66) in his first full season. The switch-hitter wrapped up the year ranked No. 6 among Toronto prospects despite low walk totals (16, while striking out 110 times).
"I think it's something he needs to work on. We began to address it as the season went on, but honestly, I think it's something he's going to grow out of," Huckaby said. "If you have the pleasure of getting to watch him hit, you see he doesn't chase bad pitches unless they're in a certain spot. He's just really aggressive in that area, and when he got two strikes on him, teams would get him to chase in that one spot."
He also had more errors (23) than his defensive tools should have generated.
"His defense is really, really good," said Huckaby. "He's still learning to do a lot of things, because he's 19. [Blue Jays coordinator of Minor League instruction] Mike Mordecai and [roving infield coach] Danny Solano do a great job with him. I'm not by any means an expert on how to play the shortstop position, but he fields everything around him and he has an incredible arm."
Outfielders
Anthony Alford, Lansing (50 games), Dunedin (57 games): The Blue Jays' top-ranked position player is No. 97 in the game, and his 2015 season showed why. Having given up quarterbacking for Ole Miss last fall to focus full time on baseball, he hit .298/.398/.421, lacing 25 doubles and stealing 27 bases, third-most in the organization.
The 2012 third-rounder's experience on the gridiron makes him a better baseball player, especially on defense and in the clubhouse.
"He plays center field like a football player," Huckaby said. "He attacks the ball. He goes after it with force. He almost over-dives sometimes. He's fun to watch. He brought to our team in Lansing a football sense of discipline and team. Football is all about teammates -- if one guy breaks down, everybody breaks down. He brought that sense to [the Lugnuts]."
---
• Blue Jays reap benefits of Draft sleepers »
---
Chris Carlson, Lansing (106 games): Like McBroom, Carlson took advantage of the opportunity to get noticed in his first full season. The 2014 28th-rounder out of Cal Poly Pomona slashed .298/.379/.437 with 21 doubles, eight triples and seven homers. He stole 15 bases in 24 attempts.
"He has surprising power, but it's gap power," Huckaby said. "He's a fighter."
He played all three outfield positions and recorded eight outfield assists.
Dalton Pompey, New Hampshire (31 games), Buffalo (65 games), Toronto (34 games): After the Ontario native scorched the ball and ripped off bases at every stop from the FSL to the Majors last year, Pompey faced huge expectations this season. He fell short, but considering his miserable first half of the season, the numbers he finished with were all the more impressive.
The 23-year-old center fielder was sent from Toronto to Buffalo after struggling to a .193 average through May 1, and when he only batted .209 in the IL through June 5, he moved down another rung. He found his footing with the Fisher Cats. By the end of the year, he'd not only reascended to the Rogers Centre, but put up a .307/.383/.421 line in the Minors, stealing 23 bases and scoring 70 runs.
Designated hitter -- Ryan Schimpf, New Hampshire (76 games), Buffalo (31 games): After seven seasons with the Blue Jays, Schimpf signed with the Padres as a free agent in November. The 27-year-old slugger left on a high note, leading the organization with 23 homers, batting .250 -- his highest season average since 2012 -- and winning the Fisher Cats' Webster Award.
Right-handed starter -- Conner Greene, Lansing (14 starts, 14 starts), Dunedin (seven games, seven starts), New Hampshire (five games, five starts): A 2013 seventh-rounder, Greene climbed three levels, struck out 115 and walked 39 over 132 1/3 innings. He had a somewhat rocky adjustment when he got to Double-A, but he still finished the season with a composite 3.54 ERA.
In August, Greene added some speed to his breaking ball, making it much harder to identify out of his hand.
"[Dunedin pitching coach Vince Horsman] has been working with me to get it faster and more straight, more like a fastball," the 20-year-old righty told MiLB.com at the time.
Left-handed starter -- Shane Dawson, Lansing (19 games, 17 starts), Dunedin (five games, five starts): Dawson was third in the system with 120 strikeouts, and he was the only Toronto Minor League hurler to record at least 100 punchouts and keep an ERA below 3.50 -- his was 3.03, and he went 15-6 across two levels. He also issued just 32 bases on balls.
"Over my career, I've caught a bunch of guys Dawson reminded me of," said Huckaby, who played 18 professional seasons. "He can subtract off his fastball in a way not many 22- or 23-year-olds can do. He learned how to pitch much more than in the first couple years this year. He's a fierce competitor -- he hates to lose."
Honorable mention- Randy Wolf, Buffalo (23 games), Detroit (eight games, seven starts): The big league veteran gutted it out with the Triple-A Bisons until the Jays sent him to the Tigers for cash considerations on Aug. 20 -- two days before his 39th birthday. He was 9-2 with a 2.58 ERA over 23 IL starts.
Reliever -- Wil Browning, Dunedin (31 games), New Hampshire (13 games): Browning led everybody in the Blue Jays system -- including Major Leaguers -- with 25 saves. He held opposing hitters to a .173 average while going 3-2 with a 1.86 ERA. He also received the Webster Award for his contributions to the FSL club; his 22 saves were the most in the league.
Josh Jackson is a contributor to MiLB.com. Follow and interact with him on Twitter, @JoshJacksonMiLB. This story was not subject to the approval of the National Association of Professional Baseball Leagues or its clubs.
View More