Backstop Plawecki impressing with Mets
Purdue product discusses making contact, calling own pitches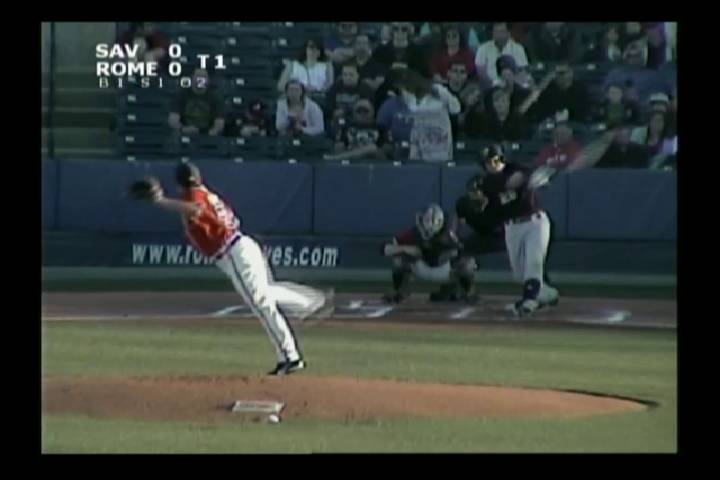 By John Parker / MiLB.com | March 17, 2014 10:00 AM
A first-round pick in 2012, Mets catching prospect Kevin Plawecki delivered a breakout performance in his first full season last year, hitting .305/.390/.448 for Class A Savannah and Class A Advanced St. Lucie. His batting average ranked fourth among all full-season Mets farmhands and his 80 RBIs tied for fifth-most in the system.
The big year has propelled Plawecki up prospect lists; MLB.com now ranks him eighth in the Mets organization. Besides having a reputation as a strong receiver and leader behind the plate, the 23-year-old backstop has a knack for making contact at the dish -- in 168 career games at Purdue, he struck out just 29 times and was named Big Ten Player of the Year in 2012.
Plawecki spoke with MiLB.com from Mets training camp in St. Lucie, Fla.
MiLB.com: How's your Spring Training coming along?
Kevin Plawecki: It's going really well. It's my first time on the big league side and I'm learning a lot.
MiLB.com: Mike Piazza was in Mets camp recently -- what did he tell you and the other catchers?
Plawecki: He talked mainly about receiving -- relaxing and letting the game come to you, being quiet with the glove, letting the ball close the mitt. It's great to get tips from a guy like that, a future Hall of Famer.
MiLB.com: There's been a lot of talk in statistical circles about pitch framing -- how the ability of, say, Jose Molina to make a ball look like a strike can seriously affect wins and losses. Is that something that you work on as catchers?
Plawecki: Yeah, that's part of what Piazza was talking about. When your movements are quiet, you can get some of those borderline calls. Guys like Yadier Molina and Travis d'Arnaud have such great hands that they make everything look smooth.
MiLB.com: How's your Spanish coming along? Last month we spoke with Pirates catching prospect Reese McGuire, who said one of the biggest adjustments to pro ball was learning to get around the language barrier with some of his Latin American pitchers.
Plawecki: I've read some articles saying that I'm bilingual, which is in no way, shape or form true. But I've picked up some terms -- I can understand [Spanish] better than I can speak it -- and we all find a way to make it work.
MiLB.com: You've got a reputation for making contact at the plate, with just 29 K's in college and 53 last year in 125 games. Is there a trade-off between contact and power?
Plawecki: I don't really think there's a trade-off. If you have a good zone and a good approach -- recognizing good pitches and swinging at them, not getting down in counts and being aggressive in the right way -- you'll have the advantage. Controlling the count is really important. If you avoid swinging at bad pitches, they have to come to you. There's obviously more to it, but I'd rather hit a wimpy ground ball than walk back to the dugout -- lots of good things can happen if you put the ball in play.
MiLB.com: Your hitting numbers were pretty much the same at St. Lucie as at Savannah last year, but your power went down the FSL. What was the difference?
Plawecki: I don't know. My walks were down, too. Maybe I felt a little pressure at being at a new level -- to impress a new set of guys and coaches? Maybe it was just the fact that it was my first full season and I wore down some. I'm not too worried about it, though -- just getting on base is more of a key for me.
MiLB.com: You got to call your own pitches in college -- how did that happen?
Plawecki: One game when I was a freshman, we were getting beaten pretty good and our coach told me that he wasn't going to bother calling pitches anymore and turned over the reins to me. I did okay the rest of the way and the coach decided to let it roll. It was a great learning experience -- learning to think about the game that way has been a big help all around.
MiLB.com: A bunch of guys from Purdue were drafted behind you in 2012 -- do you keep in touch? Did you face Nick Wittgren in the FSL last year? He was our Reliever of the Year.
Plawecki: Last year it always seemed like I either made the last out in the inning before Wittgren came on or was stranded on deck when he was done. I faced him once with Brooklyn in 2012 -- I think I popped out to second. He's a great pitcher and a great guy; it's awesome that he's done so well.
MiLB.com: You were Brandon Nimmo's roommate in Savannah last year after playing with him in Brooklyn in 2012. How does that kind of thing shake out, roommates being assigned?
Plawecki: We were thrown together in Brooklyn in 2012. It was the first pro experience for both of us, living in a hotel in New York City. We were able to bounce ideas off each other and became good friends. He's a great guy.
MiLB.com: The Mets have a prominent catching prospect in Travis d'Arnaud. Does it cross your mind much that you might be auditioning for a big league job with a different team?
Plawecki: It honestly doesn't. I'm enjoying what I have in front of me. I love being a Met and I'm good buddies with Travis, but it's the nature of the game to have competition no matter where you are. I'm trying to learn as much as I can from Travis and everyone else.
MiLB.com: Do you pick your own walkup songs? What's in the rotation?
Plawecki: Actually, my brother picked it out last year -- "Intro" by The xx. I need to get him to work on something for this season. I'm more into beats than words when it comes to walkup music.
MiLB.com: I understand you grew up a Cubs fan (sorry!). Who were your favorite players?
Plawecki: Yeah, yeah. I was a huge Sammy Sosa fan. I just loved watching him hit. The corked-bat incident was a letdown, but he was a hell of a player and a fun person. Mark Prior, too -- he was great back then.
John Parker is an editor for MiLB.com. This story was not subject to the approval of the National Association of Professional Baseball Leagues or its clubs.
View More