Hall extends scoreless streak for Erie
Tigers No. 23 prospect fans season-high 10 over six innings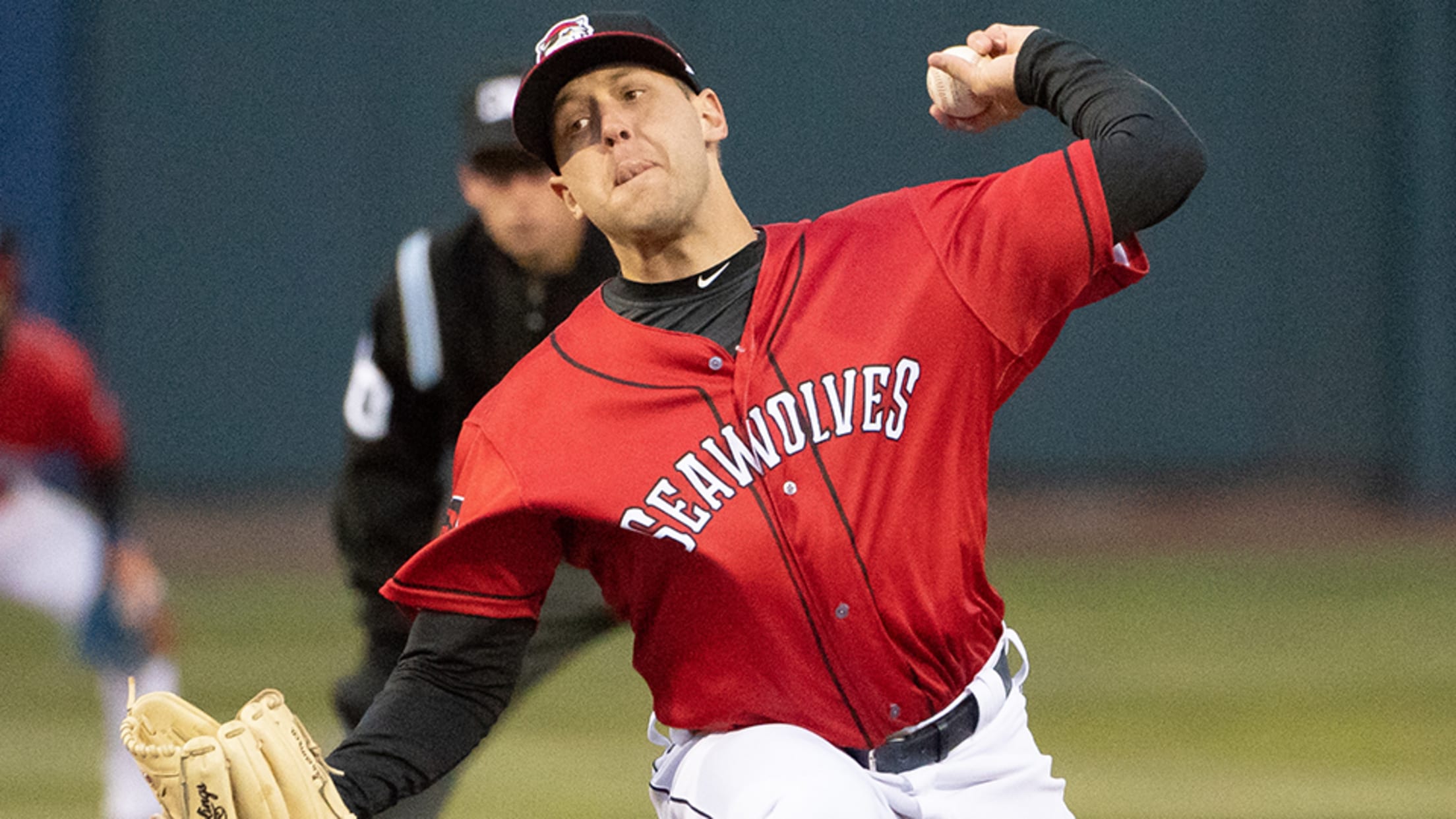 Matt Hall has a 1.58 ERA and 76 strikeouts over 57 innings in 27 appearances, including four starts. (Erie SeaWolves)
Starting or relieving doesn't seem to matter much to Matt Hall, who's gone more than a month since he allowed an earned run.The Tigers' No. 23 prospect extended his scoreless streak to 21 1/3 innings on Saturday, striking out a season-high 10 over six frames, as Double-A Erie rolled past
Starting or relieving doesn't seem to matter much to Matt Hall, who's gone more than a month since he allowed an earned run.
The Tigers' No. 23 prospect extended his scoreless streak to 21 1/3 innings on Saturday, striking out a season-high 10 over six frames, as Double-A Erie rolled past Binghamton, 10-0, at NYSEG Stadium. He hasn't givenup a run since June 19 and hasn't been charged with an earned run since since June 5 in what was his 26th relief appearance.
Hall (5-2) gave up four hits and a walk and remains unscored upon in four starts this season.
"He's definitely in a pretty good groove right now," Erie pitching coach Willie Blair said. "He's doing a lot of things right. The biggest improvement for him has been his fastball location. I had him for a bit last year and spotting his fastball wasn't a great strength. He could get away with mistakes because his curveball was so good, but he needed to make that jump with the fastball command. It makes his curve, which is already a pretty good pitch, look that much better. Now the hitters have to protect against both pitches plus an improving changeup."
The left-hander took the mound with a five-run lead and struck out the side on 10 pitches in the first. The 24-year-old fanned the first two batters in the second on his way to retiring the first seven hitters. Tim Tebow and Andrew Ely hit consecutive one-out singles in the third, but Hall induced an inning-ending double play from Levi Michael. He set Binghamton down in order in the fourth and worked around a single by John Mora in the fifth.
"It has been a nice run," Hall said. "Coach Blair has helped me a lot in my side sessions, especially working on my fastball command. That's made all the difference in the world. And of course, getting on the mound after my teammates put up a five-spot was a big help tonight. I concentrated on throwing strikes and wanted to get the bullpen some needed rest.
"The [scoreless] streak is nice, but the game isn't changing because I haven't given up a run in a while. If I execute, the numbers will take care of themselves."
Gameday box score
Ely's leadoff double in the sixth put Hall's scoreless streak in jeopardy, but the Missouri native struck out Michael before issuing his only walk of the game to Kevin Taylor. He rebounded to strike out Mets No. 15 prospectJhoan Urena and Tebow to record the third double-digit strikeout performance of his career and first since June 28, 2017 with Class A Advanced Lakeland.
"I preach first-pitch strikes, getting two of your first three pitches to a batter over for strikes and getting outs in four pitches or less," Blair said. "He's done those quite often this year and he's got a calm demeanor about him that helps. He's a competitor, but you don't see it as outwardly as you might with other guys. Good or bad, he's the same guy. During the few times this year he has struggled, he's come back out and gotten on the right track. He's done a phenomenal job for us this year."
Hall has fanned 26 and allowed 12 hits and two walks over 21 1/3 innings since moving into the SeaWolves rotation, winning three straight and lowering his ERA to 1.58. He entered 2018 having started 58 of his 60 Minor League appearances, but the Tigers moved him into a long relief role in Erie. The southpaw returned to the rotation on June 22 and has continued to excel, no matter what he's been asked to do.
"I go out there looking at the game the same way no matter my role," Hall said. "I need to get the batter out. I don't picture it as being any different whether I'm starting or relieving."
That's exactly the type of attitude Blair wants to see from all his hurlers.
"Anytime you're coaching a kid and see him grow and take strides in the right direction, it's gratifying," the 12-year Major League veteran said. "It feels good to have a little piece of that, but the bottom line is he's taken what I've given him and run with it. He deserves all the credit."
Caleb Thielbar, Kurt Spomer and Tigers No. 30 prospect Mark Ecker combined for three strikeouts over three perfect frames to complete Erie's Eastern League-leading ninth shutout.
Sixth-ranked prospect Jake Rogers doubled twice and drove in a run, while No. 10 Daz Cameron had two RBIs and scored twice.
Binghamton's Ricky Knapp (0-1) allowed six runs -- four earned -- on six hits and three walks with one punchout in three innings in his first Double-A start of the season.