Eflin dazzles for new club at new level
After pair of offseason trades, Phils' No. 5 prospect quickly settles in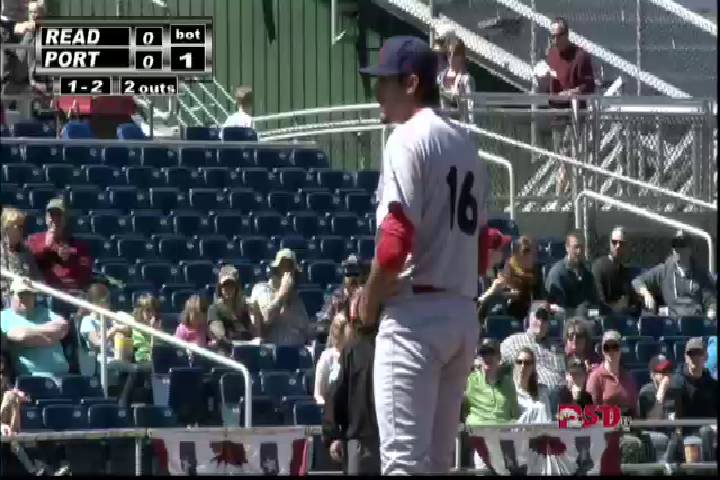 By Sam Dykstra / MiLB.com | April 12, 2015 7:26 PM
There was a time this offseason when Zach Eflin felt like he was in limbo. Now properly ensconced with Philadelphia, he's feeling -- and looking -- pretty settled.
The club's No. 5 prospect, who was traded from the Padres to the Dodgers in the Matt Kemp trade and then moved to the Phillies as part of the Jimmy Rollins acquisition in December, scattered four hits and a walk over six scoreless innings in his organization and Double-A debut -- Sunday's 10-2 win by Reading over Portland.
Given all his offseason movement as well as adjustments needed for a new farm system and level, Eflin admitted it was "very surreal" when he took the mound Sunday afternoon.
"I had some jitters really early on that I had to shake off," he said. "I just made sure I was prepared and got the blood flowing a little to get rid of it. I've never been too good of a bullpen pitcher, so that was easy to get over. And once I was out there, I took everything I had to make it a quality outing."
There was no evidence of nerves in the early frames as the 21-year-old retired the first eight Sea Dogs he faced. He only struck out two -- Carlos Asuaje and Henry Ramos, back to back and both swinging to end the first frame. Eflin didn't allow a batter to reach beyond second base and stranded a runner at second with one out in the third and fourth frames.
The right-hander relied heavily on his two-seamer to generate 10 ground-ball outs with only two via fly ball.
"I was proud of myself because I know I'm not the type of pitcher that can cheer for a strikeout," he said. "I'm more of a guy that cheers for ground balls. That was a big thing they stressed in the California League last year. Keep the ball low and throw two-seamers to keep the ball in the yard. I like to mix up speeds with that pitch too, and today that was big throwing them off balance."
The 2012 compensation-round pick by the Padres out of a Florida high school spent his entire 2014 season in the Golden State, where he owned a 3.80 ERA with a 1.32 WHIP and 93 strikeouts in 128 frames at Class A Advanced Lake Elsinore. He averaged 1.67 ground-ball outs for every out in the air at that level.
In the offseason things got interesting for the 6-foot-4 hurler, who was ticketed for Double-A San Antonio before all the wheeling and dealing got underway.
Rumors began circulating that the Dodgers acquired Eflin, along with catcher Yasmani Grandal and fellow pitching prospect Joe Wieland, for Kemp and catcher Tim Federowicz, but nothing was official until Kemp passed a physical. Eflin himself found out about the rumored deal via a text message from a friend and turned to MLB Network to check out the news.
With the deal still not official -- and no word from either the Padres or Dodgers -- more news broke that the Phillies were looking to get Eflin in a flip from Los Angeles. That was when the hurler tried to avoid the rumor mill and let things take their course. Later in December, he finally got two calls an hour or two apart -- one from Padres general manager A.J. Preller saying he'd been dealt to LA and might be moved again and a second from Phillies GM Ruben Amaro Jr. welcoming him to the new organization.
"It was a very unique experience," Eflin said.
Now in a new organization for the first time since being drafted, the Florida native didn't receive much instruction from the Phillies, who are notably undergoing a rebuild. He took that as a positive.
"I think they liked the pitcher I was last year and just wanted me to keep doing that," he said. "They didn't really say much, so maybe they might like something in what I bring and I might fit the description they were looking for in this organization. That's what it feels like."
Not to be left out was the fact he was playing above the Class A Advanced level for the first time.
"I just want to prove I belong in this league and in every league I play in," Eflin said. "At the end of the day when I've got the rock in my hand, I have enough confidence in myself that I can do well in any league by just attacking hitters, not trying to be too pretty and executing my pitches -- my changeup, bettering my slider, all of that.
"I can honestly say this has been one of the first times I've felt really comfortable where I am."
Fightin Phils first baseman Brock Stassi hit a three-run homer in the sixth. Designated hitter Art Charles went 3-for-5 with two doubles, two runs scored and an RBI.
Sam Dykstra is a contributor to MiLB.com. Follow him on Twitter, @SamDykstraMiLB. This story was not subject to the approval of the National Association of Professional Baseball Leagues or its clubs.
View More