Fisher Cats' Tellez, Urena scale Jays ladder
No. 9 Toronto prospect busts out in Double-A; No. 1 keeps ascending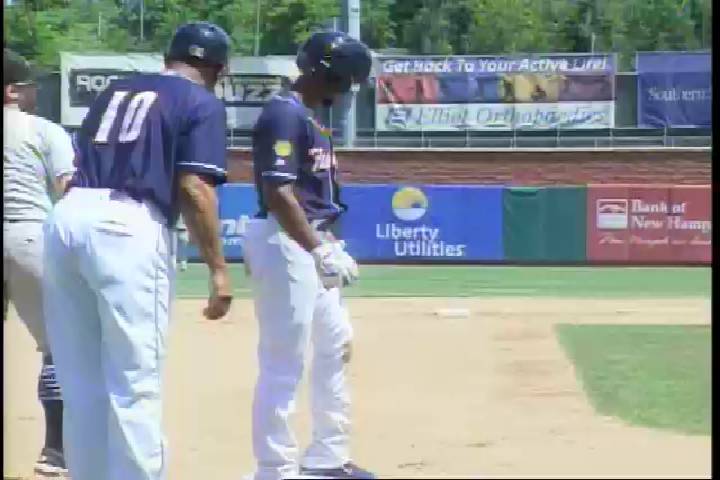 By Michael Leboff / MiLB.com | December 19, 2016 10:30 AM
This offseason, MiLB.com will be honoring the players -- regardless of age or prospect status -- who had the best seasons in their organizations. We're taking a look at each team to determine the outstanding seasons in Minor League baseball.
With two straight appearances in the American League Championship Series, the Toronto Blue Jays have reignited the fan base north of the border. And even with the team undergoing some changes this offseason, there is plenty more for Blue Jays fans to be excited about going forward, starting with Toronto's No. 9 prospect, Rowdy Tellez.
After a solid season in 2015, the 6-foot-4 first baseman broke out in 2016 with Double-A New Hampshire. Tellez was a force to reckoned with all season and finished near the top of many offensive categories in the Eastern League.
In August, Tellez was joined there by MLB.com's No. 74 overall prospect, Richard Urena. For the second straight season, the 20-year-old shortstop excelled against much older competition, giving the Jays a look at what could be their shortstop-first base combination in the near future.
But the feel-good story of the Blue Jays system in 2016 was Max Pentecost. When the Jays selected Pentecost in the first round of the 2014 Draft, the organization had high hopes he would take steps toward becoming their franchise catcher. Unfortunately, Pentecost underwent two shoulder surgeries and missed the entire 2015 season. Just getting Pentecost back into the fold would have been a big win for the franchise, but the 23-year-old put up great numbers with Class A Lansing and earned himself a promotion to Class A Advanced Dunedin in the second half of the season.
On the other side of the ball, power once again served as a recurring theme as Angel Perdomo and Jon Harris consistently proved too much to handle for lineups all season long.
Blue Jays Organization All-Stars
Catcher -- Ryan Hissey, Lansing (111 games): Since his selection in the 14th round of the 2015 Draft, Hissey has been incredibly consistent and dependable behind the plate. The 22-year-old set a career high in games played in 2016 and delivered some offensive production for the Class A Lugnuts, batting .246/.310/.337 with four homers and 36 RBIs.
First baseman -- Rowdy Tellez, New Hampshire (124 games): Tellez's numbers might not tell the entire tale of his tremendous campaign, but they give a pretty good idea of how impressive he was in 2016. After hitting just .164 in April, the 21-year-old began to heat up in May and never looked back. In addition to finishing third in the Eastern League with 23 home runs, Tellez was second in on-base percentage (.387) and third in slugging percentage (.530) and OPS (.917).
"Obviously, Rowdy got off to a slow start in 2016, but he certainly rebounded and finished the year with very good offensive numbers. We look forward to him starting 2017 right where he left off at the end of 2016," said Blue Jays director of Minor League operations Charlie Wilson.
Second baseman -- Christian Lopes, New Hampshire (108 games), Dunedin (15 games): After spending the first month of the season with Dunedin, Lopes was promoted to Double-A at the end of April and kept on delivering. Lopes, who also was a 2015 Organization All-Star, batted a team-best .295 with three homers and 46 RBIs for the Fisher Cats.
Third baseman -- Vladimir Guerrero Jr., Bluefield (62 games): Just as one might expect from the son of Vladimir Guerrero, the Blue Jays' seventh-ranked prospect showed a lot of offensive upside in his first professional season. Guerrero Jr. hit .271/.359/.449 with eight homers and 46 RBIs in 62 games at Rookie-level Bluefield. The numbers are even more eye-popping when factoring his age -- the son of the nine-time Major League All-Star won't turn 18 until Spring Training.
Shortstop -- Richard Urena, Dunedin (97 games), New Hampshire (30 games): After making it to Class A Advanced as a 19-year-old in 2015, Urena delivered again in 2016, earning a promotion to Double-A on Aug. 23 at age 20. Between the two levels, the native of the Dominican Republic posted a slash line of .295/.335/.434 and finished the season with the fifth-best average in the Toronto system.
"We spent a lot of time together this year on a lot of different things. I was proud to watch him turn from a kid who's good at baseball into a baseball player," Dunedin manager Ken Huckaby said. "He really dove into the mental side of the game, but started to get into the other stuff like scouting reports and stuff like that. And that's why his game took him to the next stage."
"We were very happy with Richard's season," Wilson added. "Like many young players, Richard needs to continue to work on his defense and improve his plate discipline."
Outfielders:
Jonathan Davis, Dunedin (120 games): After only playing 60 games in 2015, Davis doubled that mark this season. The 24-year-old did a little bit of everything for Dunedin, posting a .252/.376/.441 slash line while setting career highs with 14 homers and 54 RBIs. The speedster finished tied for second in the Florida State League with 33 stolen bases and tied for third with eight triples.
"He's that underrated type of baseball player that has gotten everybody to start talking," Huckaby said. "He's everything you want in a baseball player. He's fun to be around, extremely athletic, and for a small guy, he's got ton of pop. He's been impressive at every level he's played at so far and I don't think that's going to change."
Dwight Smith Jr., New Hampshire (126 games): As a professional, Smith Jr. has made a habit of putting together productive seasons. A versatile fielder, the 24-year-old made appearances at all three outfield positions in 2016 while hitting .265 with 15 homers and 74 RBIs.
J.B. Woodman, Vancouver (54 games), Lansing (nine games): The Blue Jays selected Woodman in the second round of this year's Draft and the Ole Miss product immediately settled into pro ball. In 63 games between Class A Short Season Vancouver and Lansing, Woodman batted .297/.391/.445 with four homers and 29 RBIs.
Designated hitter -- Max Pentecost, Lansing (62 games), Dunedin (12 games): Pentecost didn't seem rusty in his first action since returning from injury in May. The Kennesaw State product batted .281 in his first month back and continued to improve as he got into the flow of the season.
At season's end, Pentecost sported a slash line of .302/.361/.486 with 10 homers and 41 RBIs between Lansing and Dunedin. The Georgia native didn't spend any time behind the plate, but the Blue Jays still hold out hope that Pentecost will be able to catch going forward.
"It was nice to finally see what Max could do with the bat, and it was as advertised. He has the potential to be dynamic with the bat," Huckaby said. "He's certainly athletic enough to play positions other than catcher, but athletic catchers with the hands and hitting skills that Max possesses don't come around that often, so we are going to give him every chance we can to play behind the plate."
Right-handed starting pitcher -- Jon Harris, Lansing (16 starts), Dunedin (eight starts): Toronto's first-round pick in 2015 came as advertised in his first professional season. Harris spent the lion's share of 2016 with Lansing but showed enough to earn a promotion to Dunedin and finish off a promising first full season. The the 23-year-old led all Blue Jays Minor Leaguers with a 2.71 ERA in 129 2/3 innings, finishing 11-4 with 99 strikeouts and 38 walks.
"He was able to go out and control the game without getting overemotional," Huckaby said. "He never pitched scared and never seemed to let the game get away from him. Jon is very mature for a kid in just his second year of professional ball. He's a good teammate and a lot of fun to be around."
Honorable mention: Sean Reid-Foley, Lansing (11 starts), Dunedin (10 starts): After enduring some ups and downs in 2015, Reid-Foley was sharp in 2016. The Jays' second-ranked prospect posted a 10-5 record with a 2.81 ERA and 1.01 WHIP, striking out 130 hitters over 115 1/3 innings between Lansing and Dunedin. Reid-Foley was rarely hurt by the long ball, giving up only four homers all season long.
Left-handed starting pitcher -- Angel Perdomo, Lansing (27 appearances): Not only did Perdomo show the ability to handle an increased workload in 2016, the 22-year-old southpaw also continued to prove he can overpower hitters on a consistent basis. Perdomo led all Toronto Minor Leaguers with 156 strikeouts in 127 innings for Lansing, pitching to a 5-7 record with a 3.19 ERA and a 1.22 WHIP.
"The organization was very encouraged with Perdomo's progress in 2016," Wilson said. "Angel showed that he has the potential to have an above-average Major League fastball with high swing-and-miss capability, and furthermore, he lowered his walk rate this season."
Reliever -- Dustin Antolin, Buffalo (46 games), Toronto (one game): In his first Triple-A season, Antolin provided Buffalo with a steady arm in the bullpen. The native of Hawaii recorded 10 saves in 13 opportunities. He amassed a 2.04 ERA, fanning 61 batters in 53 innings for the Bisons. Antolin made his Major League debut on May 16.
Michael Leboff is a contributor to MiLB.com. This story was not subject to the approval of the National Association of Professional Baseball Leagues or its clubs.
View More