Giants ride young infielders to success
Arroyo, draftees Shaw, Vizcaino headline Organization All-Stars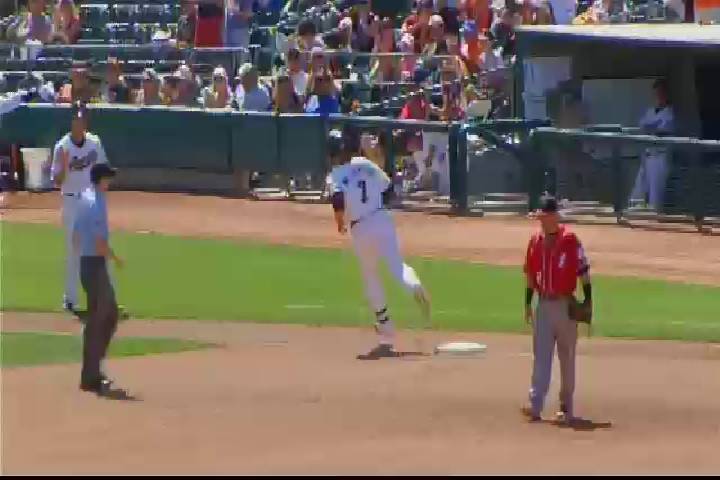 By Robert Emrich / MiLB.com | December 9, 2015 10:00 AM
This offseason, MiLB.com will be honoring the players -- regardless of age or prospect status -- who had the best seasons in their organizations. We're taking a look at each team to determine the outstanding seasons in Minor League baseball.
While the Giants continued a pattern of reaching the playoffs every other year by missing out in 2015, their Minor League affiliates enjoyed a degree of success with a .526 combined winning percentage. Two clubs -- Class A Advanced San Jose and Class A Short Season Salem-Keizer -- reached the playoffs, with San Jose advancing to the California League Championship Series for the second time in three years.
San Francisco also managed to replenish the farm system, snagging Phil Bickford and Christopher Shaw in the first round of the Draft, Jalen Miller in the third round and signing Lucius Fox as an international free agent. The quartet comprises half of the organization's top eight prospects.
Giants Organization All-Stars
Catcher -- Aramis Garcia, Augusta (83 games), San Jose (20 games): A second-round pick a year ago, Garcia spent most of the season in Augusta before reaching San Jose in his full-season debut. The 22-year-old flashed solid offensive skills, compiling a .264/.342/.431 slash line in 103 and ranking fifth in the system with 66 RBIs. San Francisco's No. 11 prospect also was sharp behind the plate, throwing out 40 percent of would-be basestealers.
"I think the things that stick out is that he's a big strong kid, so he's got above-average power and receives very well," Giants director of player development Shane Turner said. "I really think the impressive part about him is that he went to Augusta and struggled early and learned. The Cal League went the same way. The defense never wavered; he's a sponge mentally."
First base -- Christopher Shaw, Salem-Keizer (46 games): The first-round pick out of Boston College picked apart Northwest League pitching in his pro debut, batting .287 with 12 homers and 30 RBIs in 46 games. A left-handed hitter, Shaw showed he was able to handle southpaws, racking up a .772 OPS against them en route to a .911 OPS that would have led the league had he played enough to qualify. Despite playing 23 fewer games than the runner-up, the Giants' No. 8 prospect led the league in homers, two more than Hillsboro's Trevor Mitsui.
"I actually got to see him. He came to San Francisco to work out before the Draft, so I got to see the reason we took him to begin with, which is left-handed pull power," Turner said. "It's an easy swing with pull power. He's just a big, strong physical guy. He has a good idea of the strike zone, which will be tested. We believe that the bat will help him move fast. First base, he's actually working at. He's learning the nuances of it, but he's a hard-working kid."
Second base -- Kelby Tomlinson, Richmond (64 games), Sacremento (33 games), San Francisco (54 games): A jack-of-all-trades -- he also saw time at shortstop and third -- Tomlinson batted .321, stole 21 bases and scored 64 runs in 97 Minor League games while posting a 59-32 strikeout-to-walk ratio. The 25-year-old then made an impact in the big leagues, batting .303 and scoring 23 runs in 54 games.
"He has middle infield skills," said Turner, a former Major Leaguer. "He has the quickness and the hands and arm to play second and short. I think eventually we'll have to expand to third and possible center. Kelby has worked hard in his years with us. He's gotten better and better at every level. I thought the season before he had a very sound year at Double-A. Short, flat stroke, uses the whole field, knows how to hit behind the runner, can bunt, can steal a base. Just a very competitive baseball player. He's going to do whatever he has to do to be an asset to whatever team he is playing."
Shortstop -- Christian Arroyo, San Jose (90 games): After struggling in limited 2014 action with Augusta, Arroyo made the jump to the California League and excelled. The 20-year-old batted .304, totaled 39 extra-base hits and, despite missing six weeks due to a strained oblique muscle, earned end-of-season All-Star honors for San Jose. The Giants' No. 2 prospect followed that with a solid Arizona Fall League campaign, collecting seven more extra-base hits while batting .308 in the desert.
"Christian has a pretty simple approach, but I think the thing that sets him apart is how competitive he is," Turner said. "He sets the bar very high and he worked hard to reach that bar. The biggest improvement from the beginning to end, he got himself out more early in the season because he chased. As the season went on, he improved in that area. He's another kid that baseball player describes him. His bat is going to play, gap-to-gap swing with a little bit of pull power. Accurate arm, quick release, smart ballplayer. Doesn't get caught up in the action, he's always aware."
Third base -- Jose Vizcaino, Salem-Keizer (48 games): The son of the 18-year big league veteran with the same name, Vizcaino differs from his father in his offensive game. The fifth-round pick went deep six times in 48 games for the Volcanoes -- his dad hit four homers in 383 Minor League games and homered 36 times as a Major Leaguer. The younger Vizcaino added 11 doubles while batting .288, playing predominantly third base.
"I think the first thing that surprised me is how big he is," Turner said. "He's a big, strong physical guy. He has power and right now his power plays more to the middle of the field; as he progresses, we'll see more power to the pull side. I see him as a third baseman -- he has the hands that he can play up the middle, but the body type projects more of a third baseman."
Outfielders
Ryan Lollis, San Jose (30 games), Richmond (seven games), Sacramento (72 games), San Francisco (five games): No matter where Lollis played this year, he produced. The 28-year-old led the organization with a .340 batting average while drawing 41 walks and striking out 56 times in 109 Minor League contests. While not traditionally a home run threat, Lollis enhanced his game with a career-high 31 doubles and scored 73 runs, the second-best total of his seven-year career.
Jarrett Parker, Sacramento (124 games), San Francisco (21 games): The 2010 second-round pick had one of the best seasons of his career, finishing second in the system with a career-high 23 homers and third with 74 RBIs, another personal best. Parker compiled a .283/.375/.514 slash line for the River Cats and capped his season with a stint in the big leagues that saw him become the first Giant since Willie Mays in 1961to record a three-homer, seven-RBI game.
Hunter Cole, Augusta (10 games), San Jose (54 games), Richmond (51 games): Cole, who also saw time at second base, shot through the system and capped his year by reaching Double-A for the first time. The 23-year-old was consistent throughout, posting an OPS of .795, .866 and .802 at his three stops. Cole smacked 33 doubles, nine triples and nine homers, driving in 63 runs in 115 games.
"What we saw two years ago when we drafted him is that he was a much better athlete than advertised," Turner said of the Giants' 17th-ranked prospect. "He's an above-average runner and he has good power to the middle of the field. He's a strong kid, a lot stronger than you'd think when you see him in uniform."
Utility -- Mac Williamson, Richmond (69 games), Sacramento (54 games): A year after being limited to 23 games following Tommy John surgery, Williamson advanced all the way to Triple-A. The 25-year-old combined for 43 extra-base hits, including 13 homers, and finished fourth in the system with 73 RBIs while putting up an .801 OPS in 123 games. After struggling early in his Pacific Coast League stint, San Francisco's No. 13 prospect homered seven times in his final 44 games with the River Cats.
"We asked Mac to make some adjustments mechanically in his swing, and we think he did a great job," Turner said. "It's the ability to control your emotions and understand the bigger picture. It's easy for me to say, but if you're 1-for-15, it's hard to keep applying those adjustments. I thought [hitting coach] Andy Skeels did a great job with him by keeping his mind in the right place. He worked on those things religiously, worked with Skeels postgame in video. he's moving in the right direction.
"Mac's a strong-willed guy. He's been through a lot in his career, going through Tommy John, he'd have to remind himself every now and then about the bigger picture. Really good makeup."
Right-handed starter-- Chase Johnson, San Jose (20 games), Richmond (three starts): After struggling at Augusta in 2014, Johnson dominated the California League this year en route to All-Star honors. The 23-year-old led the system with 129 strikeouts and ranked fifth with a 2.82 ERA, going 9-4 in 23 outings. The Giants' No. 28 prospect limited opponents to a .241 batting average while yielding five home runs over 124 2/3 innings.
"I think what Chase did really, really well was he worked on his mechanics. He started to locate his fastball and he was around the strike zone when he needed to be," Turner said. "He pitched more to contact, he got the hitter up there and swinging the bat."
Left-handed starter -- Mark Reyes, Augusta (23 starts): Reyes recorded 89 strikeouts over 139 2/3 innings, succeeding by keeping the ball down -- a 1.59 ground ball-to-fly ball ratio helped him limit South Atlantic League foes to a .222 average. He was second in the system in ERA and notched nine wins.
Reliever -- Josh Osich, Richmond (31 games), Sacramento (six games), San Francisco (35 games): Notching an organization-best 21 saves, Osich gave up only seven runs -- one homer -- over 41 innings while posting a 0.93 WHIP. The 27-year-old struck out 45 while posting a 1.32 ERA and did not allow an earned run in his final seven appearances before being promoted to the big leagues for good on Aug. 7.
Robert Emrich is a contributor to MiLB.com. Follow him on Twitter @RobertEmrich. This story was not subject to the approval of the National Association of Professional Baseball Leagues or its clubs.
View More