Keller sets career high with 11 strikeouts
Top Pirates pitching prospect allows three hits over six innings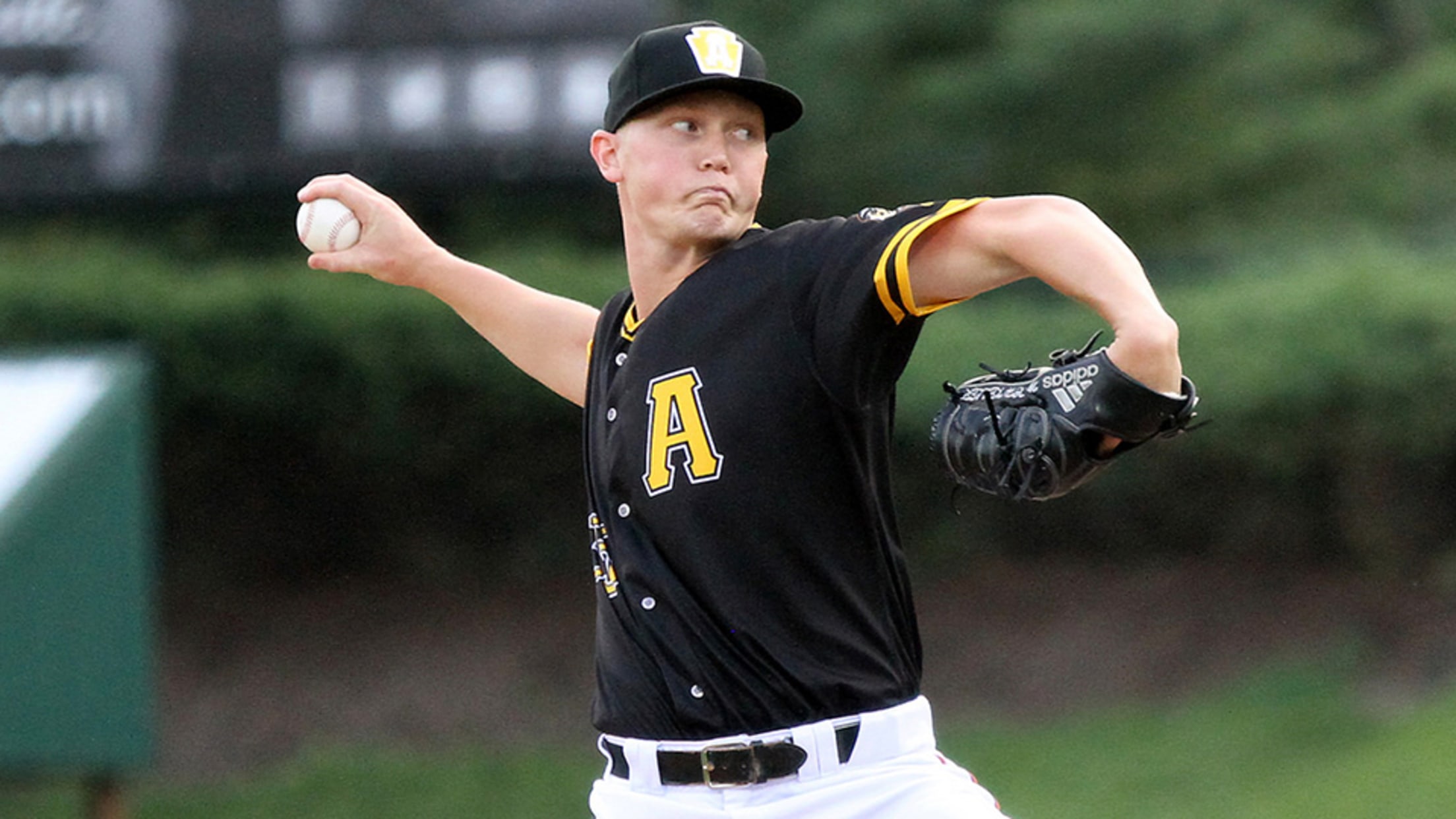 Mitch Keller is 8-5 with a 3.03 ERA and 116 strikeouts over 116 innings across two levels this season. (Mark Olson/MiLB.com)
Mitch Keller has dominated right-handed hitters this season, but he's had his share of issues with lefties. He got over those in a big way Friday night.The Pirates' second-ranked prospect recorded a career-high 11 strikeouts over six scoreless innings as Double-A Altoona overcame Harrisburg's left-handed-heavy lineup in a 6-5 victory at
Mitch Keller has dominated right-handed hitters this season, but he's had his share of issues with lefties. He got over those in a big way Friday night.
The Pirates' second-ranked prospect recorded a career-high 11 strikeouts over six scoreless innings as Double-A Altoona overcame Harrisburg's left-handed-heavy lineup in a 6-5 victory at Peoples Natural Gas Field. He allowed three hits and a walk while registering the most strikeouts by a Curve pitcher since Tyler Glasnow fanned 12 on July 27, 2015.
Gameday box score
"Probably the best I've felt on the mound in a while," Keller said. "Just being able to throw all my pitches for strikes kept them off-balance. Utilizing my changeup to the seven lefties in the lineup was huge for me tonight."
The Senators stacked their lineup with lefties to combat Keller (2-2), who allowed them to hit .236 while compiling a 4.63 ERA in 15 starts at Class A Advanced Bradenton compared to a .191 average and 1.91 ERA against righties. He's improved since joining the Curve, holding left-handed hitters to a .191 average compared to .203 against righties, but Harrisburg's lineup still featured lefties in the top six spots.
That proved to be no issue for Keller, who cruised through two clean innings before allowing a leadoff single to right-handed hitter Khayyan Norfork in the third. Norfork advanced to second two batters later on a sacrifice by Matthew Crownover but was stranded in scoring position, and Keller did not allow another runner past first base.
"You're going to have good and bad days on the mound, but I just felt really in control of everything tonight," Keller said. "I was able to move my fastball to both sides of the plate really well tonight and my changeup just played off that."
Not only had Keller struggled with lefties, he also had issues the third time through the lineup since moving up to Double-A. He allowed 11 earned runs in the fifth and sixth innings in his first five starts for Altoona, and while he allowed a pair singles in those frames Friday, his last six outs came via strikeouts to eclipse his career high. It was the first time he kept an Eastern League opponent off the scoreboard after the fourth.
• Get tickets to a Curve game »
"My mentality was the same; I just think I was able to execute off-speed earlier in the game, so they had it in their mind it was in there," Keller said. "Prior games, I was unable to do it. The hitters earlier in those previous games when I wasn't doing so well were just sitting on curves and changeups and sitting on fastballs, and that's where I got hurt."
The last time Keller faced a lineup stacked with left-handed hitters was in his season debut on April 8, when he allowed five runs on five hits over 2 1/3 innings against Charlotte. The Stone Crabs plugged seven lefties into the lineup that night, one of two times this year the right-hander allowed more than four runs.
"One time earlier this season in High-A it happened, and it didn't end too well for me," Keller said. "I was looking at this as a good challenge for me."
Keller entered Friday's start with a 3.77 ERA and 34-to-10 strikeout-to-walk ratio over 28 2/3 innings with Altoona. He lowered that mark to 3.12 while bumping his Double-A strikeout total to 45 after punching out 64 over 77 1/3 innings in the Florida State League. He threw first-pitch strikes to 17 of the 22 batters he faced.
"Just being able to throw inside to lefties and using my breaking ball to put them away," Keller said. "We had a good game plan going in and executed it perfectly. I just think getting ahead with strike one was a big thing tonight."
Pablo Reyes went 2-for-5 with a double, triple and an RBI for the Curve offense, while Jerrick Suiter added two hits and Anderson Feliz reached base four times -- drawing three walks and doubling in a run.
Nationals No. 19 prospectJosé Marmolejos went 2-for-2 with three RBIs off the bench as the Senators rallied for five runs in the seventh and eighth.
Crownover (1-7) allowed two runs on five hits and three walks with three strikeouts in five innings for Harrisburg.