Moya, Ziomek claw way up Tigers system
Detroit organization displaying plenty of depth in outfield, on mound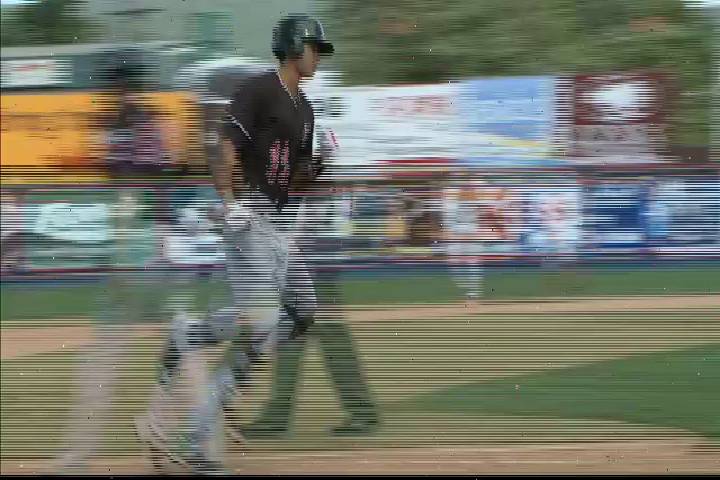 By Danny Wild / MiLB.com | November 20, 2014 10:00 AM
This offseason, MiLB.com is honoring the players -- regardless of age or prospect status -- who had the best seasons in their organization. Today, continuing with the Detroit Tigers, we're taking a look at each team to determine the outstanding seasons in Minor League Baseball.
The Tigers are annual contenders in the Majors, but their farm system -- which has produced names such as Justin Verlander and Alex Avila in recent seasons -- is in a bit of a rebuilding phase. Detroit doesn't have a single player on MLB.com's Top 100 prospect rankings and its top-rated youngster, Derek Hill, hasn't even played 50 games as a pro yet.
On the field, Triple-A Toledo (69-74), Double-A Erie (71-71) and Class A Advanced Lakeland (62-75) all missed the playoffs in 2014. Class A West Michigan (82-58) reached the Midwest League postseason but fell in the first round to Fort Wayne, while short-season Connecticut (42-34) earned a Wild Card and exited in the first round of the New York-Penn League playoffs to Tri-City.
But it's not as though the Tigers' system lacks talent. Outfielder Steven Moya and left-hander Kevin Ziomek were candidates for a Breakout Prospect MiLBY Award this fall, and the organization has plenty of promising arms and outfielders. Trading top second-base prospect Devon Travis on Nov. 12 thinned a sparse infield outlook, though. We took a moment with Dave Owen, a former Major Leaguer who has worked as Detroit's director of player development since 2011, to highlight some of the system's best performers of 2014.
Tigers Organization All-Stars
Catcher -- James McCann, Toledo (109 games), Detroit (nine games): McCann made his Major League debut in a September callup, enjoying a dozen at-bats after putting in his time at Triple-A all summer. The 24-year-old backstop hit .295 with seven homers, 54 RBIs and a .343 on-base percentage for the Mud Hens, even swiping nine bases. He's ranked as Detroit's top catching prospect and their organization's No. 12 player overall.
"With Mack, this guy is a leader, a solid defender and he's got good hands and a good arm," said Owen. "His bat has been coming along the last couple years. He's working hard with our guys, using the whole field and really making some nice strides offensively, too. His defense is very good."
First Base -- Jordan Lennerton, Toledo (121 games): The 28-year-old has been with Detroit since 2008, when he was a 33rd-round pick out of high school. His production actually dropped a bit in 2014, his second season at Triple-A, when he hit .249 with 10 homers, 53 RBIs and a .362 OBP in 121 games. Though the Tigers love Lennerton's glove, his appearance here also underscores how thin they are at some infield positions -- other first-base notables include James Robbins, who hit .231 with 17 homers, and Aaron Westlake, who clubbed 15 long balls but hit .236. Luckily, Detroit has one of the best hitters on the planet in Miguel Cabrera manning first in the Majors.
"This guy can really, really play first base," Owen said of Lennerton. "Defensively, he's very, very good. You can say the same for James Robbins -- he's really sweet around the bag. Robby had some more power, Lenny got off to a real slow start and picked it up at the end. He didn't do great, but both guys are very good defensive players."
Second base -- Devon Travis, Erie (100 games): The 23-year-old made this list last year after hitting .351 at two levels in 2013. Just 5-foot-9 and 195 pounds, Owen has described the infielder as a "grinder" in consecutive seasons. The righty impressed again in 2014 by batting .298 with 10 homers, 52 RBIs, 16 steals and a .358 OBP after a promotion to Double-A. A Florida State product, Travis was an Eastern League end-of-season All-Star and was ranked as Detroit's No. 4 prospect before the team traded him to Toronto on Nov. 12 for outfielder Anthony Gose. We asked Owen about Travis before the trade went down:
"Wow, he is a gamer, he loves to play baseball," he said. "He's a grinder, he brings energy to the ballpark every day, just a really heads-up baseball player. If you look at him, you might not be too thrilled, but he's got some pop in his bat and he's just a good, quality baseball player. We're excited about him. He's done it everywhere he's been, so we expect that to continue."
Shortstop -- Hernan Perez, Toledo (133 games), Detroit (eight games): Perez has seen time in the Majors in each of the past three seasons, appearing in 44 games since 2012, but his seventh season played out mostly in Toledo, where he hit .287 with six homers, 53 RBIs and 21 steals. Rated as Detroit's No. 9 prospect, Perez moved up the shortstop rankings after the Tigers shipped former No. 3 prospect Willy Adames to Tampa Bay in the David Price deal. Dixon Machado, who hit .286 with six homers and 40 RBIs at two levels, also showed promise in '14.
"Dixon is a phenomenal defensive player and his bat has lagged behind," said Owen. "This year he's starting to get stronger. We saw a little of it toward the end of the season, he was able to move the ball better offensively, and his defense has been stellar. We're excited to see where his winter goes. He's working hard. Hernan Perez -- they both have plus hands, plus arms and good range, so you can't go wrong with either one. I really like both. Hernan has great instincts -- he's one of those guys who shows up every day. He's a steady player."
Third base -- Mike Hessman, Toledo (116 games): We could say a lot about Mike Hessman's career (it began during Bill Clinton's first term as president and a year before interleague play reached the Majors). Hessman will be 37 on Opening Day this year, and all kidding aside, he's put together an impressive baseball career regardless of the number of uniforms he's worn. The big man enters 2015 with 417 career Minor League homers and became the International League's all-time leader this past season. He's a veteran leader who remains a Triple-A legend, and the Tigers are happy to have him mentor their younger players in Toledo.
"He's just a true blue professional, he just knows how to hit," Owen said of Hessman, who batted .248 with 28 homers and 64 RBIs last year. "It's been a wonderful experience. He's just one of those quiet leaders on a team that all teams need. He sets the example by the way he goes about everything. It's a blessing to have him with us, we appreciate that."
Outfield
Steven Moya, Erie (133 games), Detroit (11 games): Moya, Detroit's Minor League Player of the Year, is one slugger who should directly benefit from hitting alongside Hessman in Toledo next year. The 23-year-old had a breakout campaign in 2014, batting .276 with 35 homers, 105 RBIs, 16 steals and a .375 OBP at Double-A, forcing his way up to the Majors when rosters expanded.
"Moe's got huge potential -- we're excited about him," Owen said. "He's a big kid. He's kinda been nicked up the last few seasons, but he was healthy this year and we got a chance to see him play every day. You look back and see what he did -- he put up some great numbers."
Moya, Detroit's No 6 prospect, led the system in homers and RBIs and stood sixth in steals. The Futures Game All-Star's 35 homers ranked fourth in the Minors and he finished fifth overall in RBIs.
"We're pretty excited to think about what he might be. No doubt, he went up in September with our big club, which was good for him -- he got to be around our guys up there like Miguel [Cabrera] and Victor [Martinez] and all those guys," Owen added. "I think it's going to be a really nice stepping stone getting into Toledo, and he'll be in big league camp."
Wynton Bernard, West Michigan (131 games): The 24-year-old was the Padres' 35th-round pick in 2012, but San Diego gave up on the right-handed outfielder after two seasons. That was probably a bad idea -- Bernard blossomed in 2014 and was Class A West Michigan's MVP after hitting .323 with six homers, 47 RBIs and 45 stolen bases in 507 at-bats. His .394 OBP and 30 doubles helped him earn Midwest League All-Star honors.
"He's a no-brainer. Our scout Tim McWilliam sent him to us. He was released by San Diego, and he comes and we sign him and bring him to camp and he stays with us, and now he's got a chance to play on a regular basis," said Owen. "He's a guy that still has some things to learn, which we all do, but this guy, he is really an exciting player to be around."
Jeff McVaney, Lakeland (132 games): Detroit's eighth-round pick in 2012 returned to the Florida State League in 2014 and improved on his '13 totals, hitting .273 with 11 homers, 74 RBIs and 17 steals -- all career highs. The 24-year-old has some company in the outfield -- Connor Harrell, Jason Krizan, Tyler Collins and Ben Guez all posted nice stats last year -- but the Tigers believe the Texas State product is a well-rounded player.
"He's not going to wow you with a bunch of tools, but man, he is a solid baseball player," said Owen. "He is a guy that you put him in the lineup, you're not going to get him out of the lineup. He's ready to play and he's a good teammate. He has great instincts for the game."
Designated hitter -- Ty Collins, Toledo (121 games), Detroit (18 games): Collins made his big league debut in March as a pinch-hitter on Opening Day, but returned to the Minors on April 14. He spent most of the year at Triple-A, where he hit .263 with 18 homers, 62 RBIs and a dozen steals. He returned to Detroit on Sept. 1 and went 6-for-24 overall with the Tigers to wrap up his fourth pro season. An MiLB.com Organization All-Star each of the past two years, Detroit's No. 14 prospect has proven his consistency as a left-handed outfielder, one the Tigers are still optimistic about as he begins to refine his approach. He has a good arm and has played both corner outfield spots.
"Tyler did a nice job. He's a guy that has been real pull-happy over the years, but he's been turning that around. He's starting to understand himself," said Owen. "He's a strong kid, he doesn't have to pull everything, so he's made some nice growth in that area. Offensively, he's using the whole field. He runs pretty good, he can play all three outfield spots."
Right-handed starting pitcher -- Austin Kubitza, West Michigan (23 games): The 22-year-old out of Rice spent 2013 as a reliever before joining the Whitecaps rotation this past year, and made an amazing combo with lefty Kevin Ziomek (see below). In 131 innings, the 6-foot-5 righty went 10-2 with a 2.34 ERA and 140 strikeouts. The Tigers' Minor League Pitcher of the Year walked 43 and allowed just five homers and 98 hits. A two-time Pitcher of the Week, Kubitza also earned a trip to the Midwest League All-Star Game before starting Game 1 of the Whitecaps' playoff series. Detroit's No. 5 prospect ranked second in the system in ERA and strikeouts.
"He's big and strong, just a good-looking young man," said Owen. "He's going to be one of those guys we let Spring Training determine what we do. He had a great year. He's got three really good pitches, he's in a great time of his life where he's just still learning and has a lot of potential in front of him. It's just a matter of, No. 1, staying healthy, and No. 2, getting his experience and getting his innings in. We'll get that for him and see where he goes with it."
It's worth noting that Jonathon Crawford, the Tigers' top-ranked right-hander, also found success in West Michigan, finishing 8-3 with a 2.85 ERA and 85 strikeouts in 123 innings, while No. 7 prospect Buck Farmer went 12-6 with a 3.07 ERA in 22 Minor League starts before finishing his year in Detroit.
Left-hander starting pitcher -- Kevin Ziomek, West Michigan (23 games): Also 22, Ziomek was Detroit's second-round pick in 2013 out of Vanderbilt and he impressed in his first full season, going 10-6 with a 2.27 ERA and 152 strikeouts in 131 innings. The Tigers' No. 4 prospect led the organization in strikeouts and ERA and was also a Midwest League All-Star despite not being a typical power pitcher. Ziomek's fastball sits around 90 mph, but he's been able to throw strikes and work off his changeup.
"That was a fun team in West Michigan, and you had [No. 3 prospect] Jonathon Crawford and [No. 20 prospect] Chad Green. It was a fun team to watch, those guys all fed off each other too," said Owen. "Ziomek, he's got three average pitches at least. He can spin a curve, he's got a feel for his changeup and this guy knows who he is. Don't look at the radar gun with him, he knows how to pitch. He's learning his body just like Kubitza, just working on consistency and repeating his delivery and commanding the fastball. It's going to be fun to watch him gain that experience and see what they turn into."
Green, 23, went 6-4 with a 3.11 ERA and 125 strikeouts at West Michigan, while Detroit's top-ranked pitching prospect, southpaw Robbie Ray, was 7-6 with a 4.22 ERA in 20 games for Toledo with nine appearances in the Majors.
Reliever -- Angel Nesbitt, Erie (24 games), Lakeland (24 games): Nesbitt is a hard-throwing right-hander the Tigers signed out of Venezuela in 2009, and he really made progress this year, appearing in 48 games while reaching Double-A in his second full season. With a fastball that has reached 98, Nesbitt was hard to hit in 2014, going 3-0 with a 1.49 ERA and 20 saves in 25 opportunities. The 23-year-old also struck out 72 in 66 2/3 innings and his 20 saves led the system, tied with Kevin Whelan, who had equally impressive numbers between Toledo and Detroit. (He owned a 2.70 ERA and struck out 54 in 42 1/3 frames.)
"I like Angel, he's only 23 years old. He had a really solid season. He's a strong, durable guy that's got a plus-plus fastball and a feel for a slider and a change," Owen said. "There's a potential three-pitch guy out of your bullpen, I'm really excited for Angel to see how he comes into camp. He's a good young pitcher and arm for us, we need to get him experience and innings and help him continue to gain his consistency. This guy has potential to come out of the bullpen with some power stuff."
Danny Wild is an editor for MiLB.com. Follow his MLBlog column, Minoring in Twitter. This story was not subject to the approval of the National Association of Professional Baseball Leagues or its clubs.
View More