Prospect Q&A: Fulmer in a Motown groove
Tigers top prospect follows award-winning season by getting married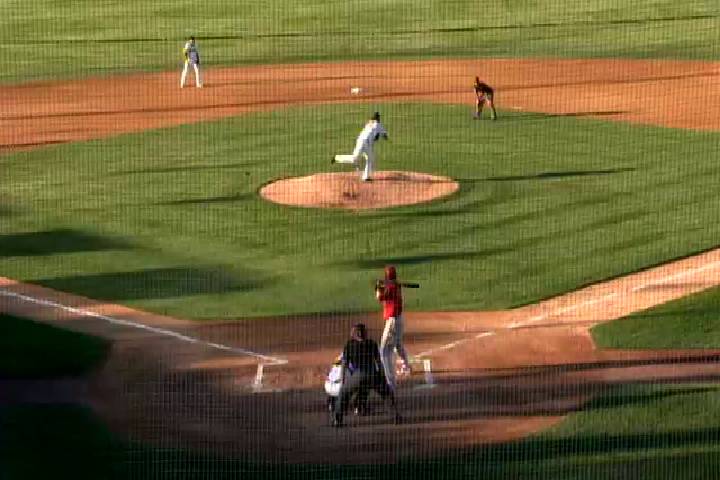 By Robert Emrich / MiLB.com | January 28, 2016 10:00 AM
Don't call it a comeback. Just call it a healthy season for Michael Fulmer.
Fulmer entered 2015 with a 16-21 career record and 3.60 ERA. He ended the year as the Tigers' top prospect.
The 22-year-old right-hander, selected 44th overall by the Mets in the 2011 Draft, battled injuries in 2013 and 2014. Fulmer tore his meniscus during Spring Training in 2013 and again during the season, limiting him to 46 innings.
A year later, the Oklahoma native was 6-11 with a 4.38 ERA in 20 starts while dealing with a bone spur and chips in his pitching elbow, throwing 98 2/3 innings between Class A Advanced St. Lucie and Double-A Binghamton.
Finally healthy in 2015, Fulmer was 6-2 with a 1.88 ERA for the B-Mets when he was traded to the Tigers on July 31 as part of the package for All-Star outfielder Yoenis Cespedes. Finishing the season with Double-A Erie, he added four wins with Erie and was named the Eastern League Pitcher of the Year.
MiLB.com: Take me through the day of the trade. How did you find out?
Fulmer: The trade was something I didn't expect; I'm glad it happened now. Honestly, I'm so happy to be part of the Tigers organization, the good vibes that I got meeting all the guys at the Fan Fest this weekend and playing in Erie for two months. That day in particular, we were in Richmond, just a normal day, I went out and played catch, stretched, because I was between starts, and did my conditioning. I was sitting outside, talking to my pitching coach [Glenn Abbott] and the clubhouse guy comes out and says the manager wants to see me.
I knew the trade deadline was up and didn't really think anything of it. I went inside, all my teammates just started clapping. The manager [Pedro Lopez] walked out and said, 'I guess you know what happened.' Still didn't know what to believe at that point. I actually had to sit there and watch the game and had to go back to the hotel to fly out the next morning. It's just a blessing that I'm able to do that and that the Tigers believe in me as much as they do.
MiLB.com: What was it like adjusting to a new organization?
Fulmer: I didn't know what to expect going in. The first day I got there and met all my teammates, I was on the bump that day. It took my mind off meeting all the new guys and just go out and get prepared for my next start. It turns out all those guys are great guys and welcoming to the team and I went out there and got a "W" for the team. That was all that mattered.
MiLB.com: Coming off two injury-filled years, how happy you were with 2015?
Fulmer: I was just happy that I made all my starts, that was the biggest goal of mine. I give all credit to all the rehab guys and the pitching coordinators and the whole staff for giving me routines and tips for how to stay healthy. That was my biggest thing going in. I'm just happy it came through.
After 2013 and 2014, all these minor injuries, it was more frustrating than painful. I took that time, my rehab time, to make sure I got better at what I could do when I returned. Like I said, the rehab coordinators, the physical therapy staff, they all helped tremendously. I have to give all the credit to them.
MiLB.com: You were named Eastern League Pitcher of the Year. How honored were you by that?
Fulmer: I'm blessed for that. To have everybody's approval for that, it means the world to me. It didn't mean that much to me until noticing all the talent and competition around the Eastern League [last] year. I'm blessed to be chosen for that award.
MiLB.com: Did you ever start to doubt yourself because of the injuries?
Fulmer: Yeah. Every injury, you kind of overthink things. "What if this didn't happen or this didn't happen?" God has a plan and I have no regrets. I'm a firm believer that everything happens for a reason. I took those times, not to sulk, I took those times to develop a routine and prevent another injury. I think this year I went a step further and I don't think I'm going to turn back to it.
MiLB.com: Tell me about your pitches.
Fulmer: First off is a four-seam fastball. It's got to be your best pitch and you have to be able to command it to both sides of the plate. Also, I have a two-seam and a slider and a changeup. I used to throw a curveball. Stopped throwing the curveball and I worked on the slider and changeup a lot more. I think those two pitches have progressed tremendously. This is the first year I didn't throw my curveball. I'm thinking that now that I have the changeup and slider down, everything is getting to where I want it to be, I might bring the curveball back for this upcoming season.
I like to have that mix of pitches that late in game -- I can show the curveball if they haven't seen it. I have to work on it more, but just having that extra pitch will be helpful.
MiLB.com: How has this offseason been different from previous ones?
Fulmer: This offseason has been different because I've got a ton of motivation: My first big league Spring Training and first time with a new organization and trying to make a good impression. I've worked harder this offseason because I am 100 percent healthy. So I'm hitting the gym five times a week and make sure my conditioning is up and stamina is up, make sure my arm is healthy going into Spring Training.
MiLB.com: I saw on Twitter that you recently got married. Congratulations. How exciting was that for you?
Fulmer: It's kind of a relief, stress getting off my shoulders. I know me and my wife were anxious for the day, we were dating for the seven years prior. [The wedding] was a great time, everything we dreamed of, as well as the honeymoon. That was awesome -- we went down to the Bahamas. She knows -- she's my biggest supporter -- it's time to get into a groove and get ready for Spring Training. She supports me 110 percent and I appreciate that.
MiLB.com: You got to participate in the Tigers' Fan Fest. What was it like meeting guys you might be playing with in the big leagues soon?
Fulmer: Talking to guys like [Justin] Verlander, [Jordan] Zimmermann, [Mike] Pelfrey, [Daniel] Norris, Matt Boyd, guys like that, I didn't know what to expect from it because I've never been a part of anything like that. They're all great guys and I appreciate the opportunity the Tigers gave me to go up there and hang with those guys. I had a blast. Tiger fans, they lined up for hours. I almost had more fun than they did. I kept smiling and I couldn't wipe it off my face.
MiLB.com: Early in 2015 while with St. Lucie, you faced Brian Anderson, a high school teammate. What was that like for you guys?
Fulmer: We got to face each other this past year in my rehab start for St. Lucie at the end of April. He was playing for Jupiter. I won't say what happened, I'm sure he'd tell you. [Editor's note: Anderson hit a three-run homer off Fulmer]. It's good to see. He was the best man at my wedding, it was good playing against him and seeing how he's doing. It's fun to keep all your high school guys, to see them in pro ball. It's really awesome.
MiLB.com: You watched the Mets, many of whom you played with, go on to the World Series. What were your thoughts during that run?
Fulmer: It was fun to watch. A lot of those guys, I've played with at some point in their Minor League careers. It was good seeing them go to the World Series. I give them all the credit and I wished them the best.
Robert Emrich is a contributor to MiLB.com. Follow him on Twitter @RobertEmrich. This story was not subject to the approval of the National Association of Professional Baseball Leagues or its clubs.
View More