RubberDucks sweep their way to EL title
Indians affiliate bests Trenton, 2-1, in Game 3; Haase named MVP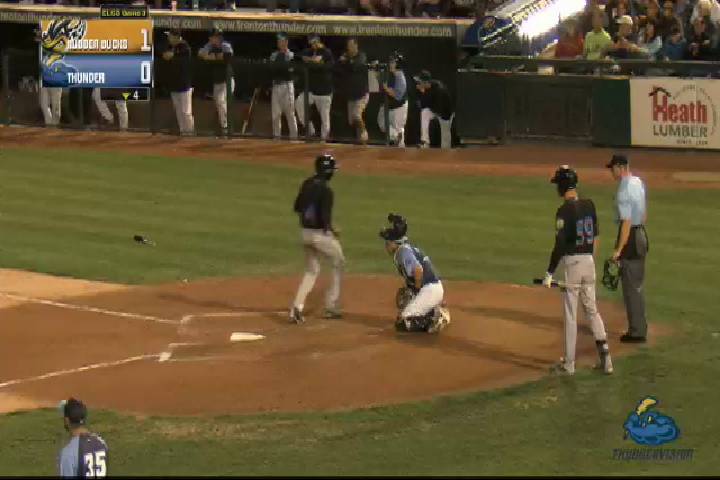 By Michael Peng / MiLB.com | September 16, 2016 11:51 PM
Akron manager Dave Wallace knew he had the perfect recipe for success in his players, so it was no surprise they ended up where they did on Friday night.
"Everything that a championship team is made of and a championship team does, we did," Wallace said. "We got great starting pitching, we got great work out of the bulpen, we played great defense and we had some really timely hitting. That's the reason why we are Eastern League champions."
The RubberDucks claimed their first title since 2012, completing a three-game sweep of Trenton with a 2-1 victory as Nick Pasquale and two relievers combined on a four-hitter at Arm & Hammer Park.
"This means a lot because there are so many guys that had a hand in it," Wallace said. "I'm really proud of the staff, really proud of each and every player that was a part of this. They are just a really special group of young men, and this year is something I'll never forget."
Those qualities were evident to the third-year manager from the very beginning.
"They were themselves from day one and they were men of character first of all, and I think that's what carried us through some really difficult times," Wallace said. "They prepared and played as best as they could every single day and I'm really proud of them for that."
In a season that saw the RubberDucks lose key players like Clint Frazier, MLB.com's No. 16 overall prospect who was dealt to the Yankees at the Trade Deadline, and Bradley Zimmer, the No. 26 overall prospect who was promoted to Triple-A Columbus on July 25, it was guys like Eric Haase who helped fill the voids.
"There are some great stories on our team as far as individual players go, but Eric might be at the top of that list," Wallace said of the 23-year-old catcher who had seven RBIs to earn Championship Series MVP honors.
"He struggled earlier in the year, went on the DL and spent that time really working on some swing adjustments and never lost faith in himself. He worked with Tim Laker and Luke Carlin, our hitting coaches, and when he came off the DL and got back in the lineup, he was just electric in the second half. We would not be here right now if it wasn't for him."
Haase was 0-for-3 with a walk in the clincher, but RBIs from Eric Stamets and Jordan Smith were the difference. Indians No. 20 prospect Greg Allen led the way with three hits and a run scored.
Pasquale (1-0)gave up a run on four hits and a walk with three strikeouts over 5 2/3 innings. Cole Sulser struck out two over 2 1/3 frames and Louis Head fanned two in the ninth for his second postseason save.
"We were confident with Louis Head coming in there, just with the way he's been throwing the ball and the way we've been playing defense," Wallace said. "We felt really good about it, but we knew it wasn't over. We have a lot of respect for the Trenton team. They were at the top of their lineup going into the bottom of the ninth, but Louis just stepped up, shut them down, and that was all she wrote."
Trenton scored its lone run in the fifth on Sebastian Valle's homer. Starter and sixth-ranked Yankees prospect Justus Sheffield -- who was part of the Frazier deal -- lasted 4 2/3 innings while yielded a run on two hits and four walks with five strikeouts.
Michael Peng is a contributor to MiLB.com. Follow him on Twitter @MichaelXPeng This story was not subject to the approval of the National Association of Professional Baseball Leagues or its clubs.
View More