Smith, Cecchini rebound into Mets' stars
Smith drives in career-high 79 runs, Cecchini bats .317 for Binghamton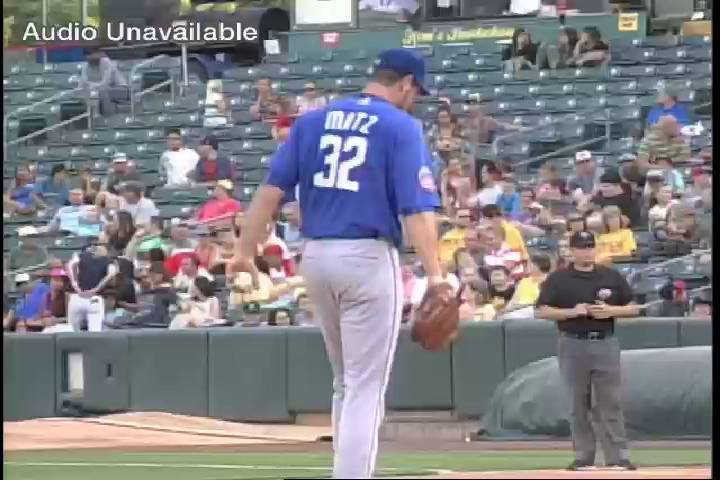 By Robert Emrich / MiLB.com | November 23, 2015 10:30 AM
This offseason, MiLB.com is honoring the players -- regardless of age or prospect status -- who had the best seasons in their organization. We're taking a look at each team to determine the outstanding seasons in Minor League Baseball. Select a team from the dropdown below.
This is the year Mets' prospects graduated.
Noah Syndergaard, Kevin Plawecki, Michael Conforto and Steven Matz, all top prospects heading into the season, played big roles in helping New York to reach its first World Series since 2000. Notably, Syndergaard notched two wins in four postseason outings while Conforto went deep three times in the playoffs.
Success wasn't limited to just the big league club, though, since five affiliates posted winning records, with four making the playoffs. Here are the players that helped make a lot of that success possible:
Catcher -- Patrick Mazeika, Kingsport (62 games): An eighth-round pick out of Florida's Stetson University -- the same school that yielded Mets hurler Jacob deGrom -- Mazeika made a big impact on the Appalachian League, finishing second in the circuit with a .354 batting average, second with 48 RBIs, third with a .991 OPS and pacing the league with 27 doubles. Not a bad opening act for the 22-year-old backstop.
"We really liked him as an offensive player, especially as a left-handed hitter," vice president of player development and scouting Paul DePodesta said. "He's just hit everywhere he's been. It was certainly a very encouraging start to his pro career."
First base -- Dominic Smith, St. Lucie (118 games): Like other Mets first-round picks before him, Smith has had to contend with difficult hitting environments, and that has shown up in the home run totals; his 2015 total of six long balls represent a career high for the 20-year-old. Smith excelled in other ways though, batting .306, good for fourth in the Florida State League. The Mets' No. 5 prospect led the league and organization with 79 RBIs while smacking a career-high 33 doubles, winning the Florida State Player of the Year award.
"It was terrific," DePodesta said of Smith's year. "He was the Florida State League Player of the Year. To win that award at that age, in a tough league and a demanding environment, it says a lot about Dom. He's a guy who can potentially hit in the middle of the order, where there's both average and power. I think the power will continue to show as we move into next year and the year after that. He really has that foundation of being a terrific hitter first."
Second base -- Jeff McNeil, St. Lucie (119 games), Binghamton (four games): Two years after being selected in the 12th round, McNeil continues to show a solid bat, compiling a .308/.369/.377 slash line. The 23-year-old tied for the organization lead with 80 runs scored and stole 16 bases. McNeil was also valuable defensively, seeing time at shortstop and third base in addition to second and committed 13 errors all season.
"He's another guy who just performs everywhere he's been," DePodesta said of the Mets' No. 30 prospect. "He wasn't necessarily a high pick. Even before going to Long Beach State, he wasn't a big baseball player -- he was a golfer in high school. He has a natural feel to hit. He can run, he's a very good athlete, he's got a real sense for the barrel and is ultra-competitive. When you put all those things together, he's already done a real nice job in his first few seasons. I think at this point he just needs to be tested at the upper levels."
Shortstop -- Gavin Cecchini, Binghamton (109 games): After three seasons of somewhat disappointing results, the Mets' 2012 first-round pick put up the numbers expected of him in 2015. Cecchini batted a career-high .317, finishing third in the Eastern League, smacking a personal-best 139 hits and, for the first time in his career, posted an OPS over .800, at .819. All this came in the Mets No. 4 prospect's first time at Double-A.
"Gavin does such a good job of adjusting to his competition pretty quickly," DePodesta said. "Going back to 2014, his first six weeks in Savannah, he was getting his sea legs and then he really took off and played well. At the halfway point, we had to move him to St. Lucie because he was just better than the competition -- basically repeated that act in St. Lucie. He was feeling his way the first six weeks and then the last month he was playing above the competition.
"I felt like, if we gave him a chance to spend a whole year at one level, it would be exciting to see. He rewarded that faith in him. The difference was he was good right out of the gate. He's an offensive shortstop, still very young, we think he's going to hit for average, hit some doubles, hit some home runs, it's pretty hard to find a shortstop these, we're super excited about what he did this year."
Honorable mention: Luis Guillorme, Savannah (122 games): A 10th-round pick in 2013, Guillorme made big strides offensively, finishing fourth in the organization with a .318 batting average while drawing 54 walks and stealing 18 bases in the Mets No. 24 prospect's full-season debut.
"This is a guy who has excellent barrel control," DePodesta said. "In high school, against some good competition in South Florida, he virtually never struck out. We felt like this was a guy who was always going to be able to put the ball into play. He went beyond that this year. He has a real feel for the whole field. He stole some bases this year. He really became an on-base machine for that team. His defense is really advanced -- we think he plays defense at a very high level. It was great to see the bat this year, and we think it will continue."
Third base -- Josh Rodriguez, Binghamton (115 games), Las Vegas (five games): A 10-year Minor League veteran, Rodriguez fell one home run short of setting a career high, going deep 19 times. He also fell one short of a personal best with 81 RBIs and had the second best OPS of his career, compiling an .857 mark for the B-Mets and 51s.
Outfield
Kevin Kaczmarski, Kingsport (64 games): Drafted one round after his teammate Mazeika, Kaczmarski led both the organization and the Appalachian League with a .355 batting average and posted a 33-23 strikeout-to-walk ratio. The 23-year-old swiped 20 bases and tied for third in the league with 47 runs scored.
"He is an exciting player because he does a lot of things really well," he said. "He's a really good defender, he can run, he's got some power, he controls the strike zone and he plays extremely hard. He's a good teammate who really gets after it. We're certainly excited to see what he can do next year in full season."
Travis Taijeron, Las Vegas (127 games): Taijeron had the best season of his career, leading the organization with a career-high 25 homers while driving in 71 runs, also a personal best. The 26-year-old's .929 OPS was his highest since is debut season in Brooklyn in 2011. He also drew a career-high 65 walks on the way to Pacific Coast League All-Star honors.
Alex Castellanos, Las Vegas (79 games): Despite playing in only 79 games, Castellanos racked up 50 extra-base hits, tying for 10th in the Pacific Coast League with 32 doubles. The 29-year-old went deep 16 times, posting a .314/.381/.614 slash line for the 51s.
Utility player -- Wuilmer Becerra, Savannah (118 games): Considered a throw-in when he was acquired by the Mets from the Blue Jays in the trade that also netted them Syndergaard and catcher Travis d'arnaud, Beccera, the Mets' No. 12 prospect, made his full-season debut in 2015, posting a .765 OPS in a tough-hitting environment, and he didn't turn 21 until Oct. 1.
"We were pleased," DePodesta said. "That jump to full season can always be a challenging one. We think he got better each month. He's got power and he's a good defender in the corner outfield. Like most young players, we think he's got to tighten up a little bit with his approach, but he's dangerous. The most encouraging thing was that he got better and better each month."
Right-handed starting pitcher -- Robert Gsellman, St. Lucie (eight games), Binghamton (16 games): Gsellman has made a steady climb up the organizational ladder since being drafted in 2011 but 2015 was his finest work. The 22-year-old led the organization with 13 wins, ranked fifth with a 2.89 ERA and limited opposing batters to a .234 batting average.
"He showed us right away a rare maturity for his age," DePodesta said of the Mets' No. 16 prospect. "He showed the ability to treat this as a profession, from the beginning, which, as you can imagine, is very difficult for most high school kids to do.
"There was a time in 2013 -- he was going to go to Brooklyn and he was in extended spring training and we needed a spot starter in St. Lucie. So we sent over Robert to pitch there and he pitched really well. When that team got healthy, we were going to send him to Savannah because, as it turned out, they needed a guy. The St. Lucie coaching staff didn't want to give him up, but we told them, 'No, this is the plan for him.' So he went to Savannah, made four or five starts for them, and then the Brooklyn season was about to start and we wanted him as the Opening Day starter for them, and the Savannah staff didn't want to give him up.
"His velocity has continued to tick up, he throws a ton of strikes, he has a very good sinker, and his curveball has come a long way. All that is really encouraging. We think he's close. It's a difficult bar in our organization because of Syndergaard, Wheeler, DeGrom, Harvey and Matz and all these guys, but we think he's going to be a very solid Major League starting pitcher."
Left-handed starting pitcher -- Steven Matz, St. Lucie (two starts, Binghamton (two starts), Las Vegas (15 games), New York (six games): After turning heads in 2014, Matz made a big jump, pitching in a difficult environment in Las Vegas. The 24-year-old was 7-4 with a 2.19 ERA in 15 Pacific Coast League outings. Overall the Mets' top prospect fanned 107 batters over 105 1/3 innings and was a perfect 4-0 after his promotion to New York, making three starts in the playoffs as well, where he continued to impress.
"Steven is so good," DePodesta said. "He's another one who is so mature and handles big moments with no problem. Just unusual poise and maturity to go along with the big-time stuff: the mid-90's fastball and what I think is a plus-curveball and a plus-changeup. Still with all that, the amazing thing is that this year he made six or seven regular-season starts and his next three starts were in the Division Series, the NLCS and the World Series. The way people were talking about him, it was like he was one of the four with Syndergaard, Harvey and DeGrom, and he's still not made 10 starts in the Major Leagues. I'm super excited to see him for the next, hopefully, five, six or more years down the road."
Relief pitcher -- Akeel Morris, St. Lucie (24 games), Binghamton (23 games), New York (one game): Morris continued to raise his profile in 2015, recording 81 strikeouts over 61 1/3 innings, notching 13 saves on the year. The 23-year-old right-hander limited Minor League hitters to a .137 batting average while allowing just two home runs, one at each level.
Robert Emrich is a contributor to MiLB.com. Follow him on Twitter @RobertEmrich.nic This story was not subject to the approval of the National Association of Professional Baseball Leagues or its clubs.
View More