Nurse Nets First Win As Ems Cruise On Re-Opening Night 
Starting pitcher Conner Nurse fired five solid innings and the bullpen, as per usual, shut the door the rest of the way in a comfy, ho-hum win on Re-Opening Night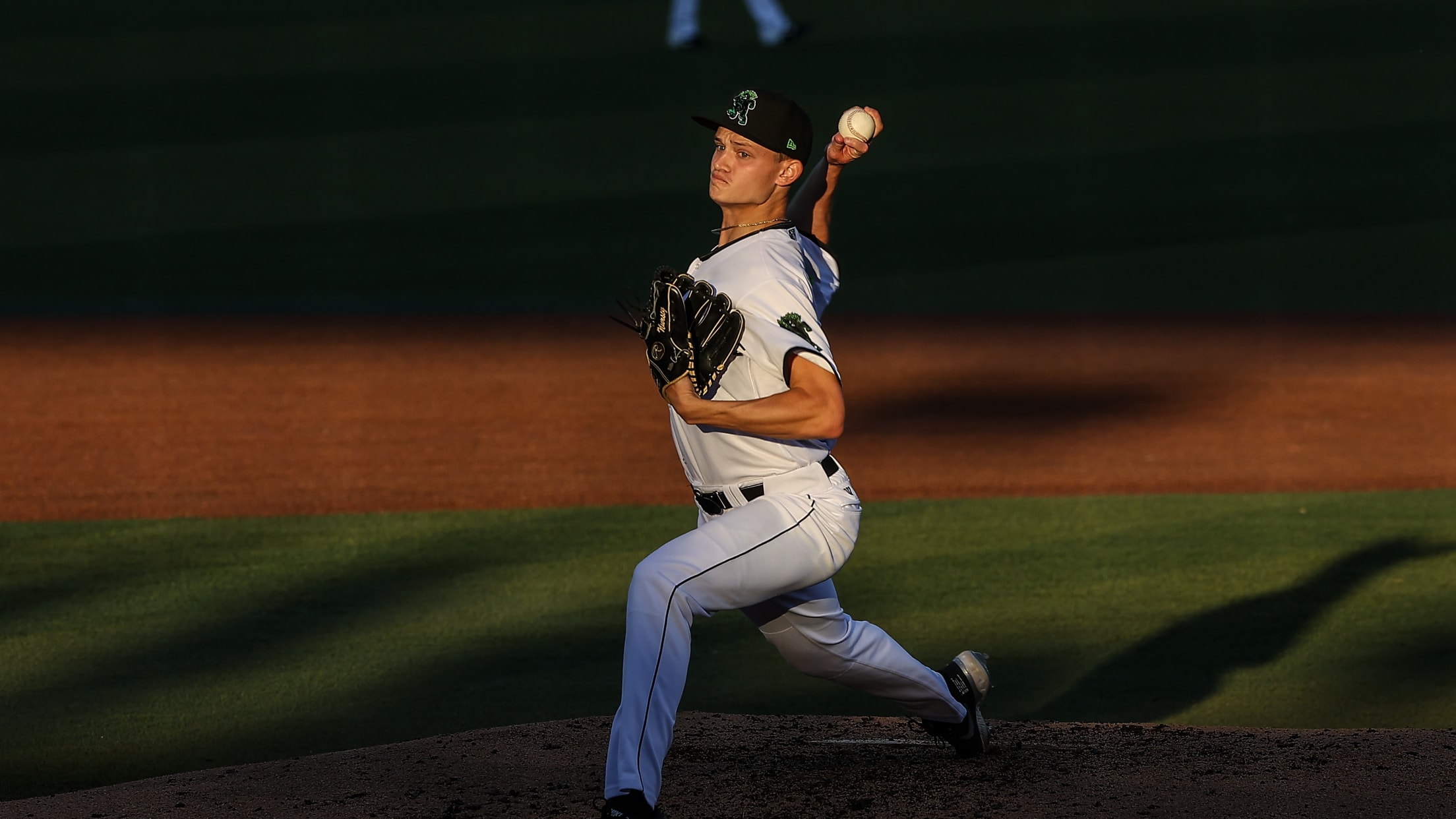 Boy, it sure feels good to be home, don't it? After a frustrating finish to a two-week roadtrip, the Eugene Emeralds (21-15) opened up a two-week homestand in fine form on Tuesday night, cruising to a 5-1 win over the Hillsboro Hops (16-19) on what was Re-Opening Night at PK
Boy, it sure feels good to be home, don't it? After a frustrating finish to a two-week roadtrip, the Eugene Emeralds (21-15) opened up a two-week homestand in fine form on Tuesday night, cruising to a 5-1 win over the Hillsboro Hops (16-19) on what was Re-Opening Night at PK Park.
THE DETAILS:
Winning Pitcher: Conner Nurse (1-3, 5.23 ERA): 5.0 IP | 4 H | 1 R | 1 ER | 2 BB | 3 K

Losing Pitcher: Kenny Hernandez (2-1, 3.18 ERA): 5.0 IP | 4 H | 4 R | 2 ER | 2 BB | 3 K

Save: N/A

HR(s): Eugene: N/A | Hillsboro: Ricky Martinez (2)
HOW IT HAPPENED: Celebrating a significant increase in allowed capacity at PK Park, the Emeralds wasted no time jumping out to the game's first lead by plating a pair of runs in the very first frame to make it 2-0 before the Hillsboro bus had even made it back to the team's hotel.
Will Wilson got things started with a one-out walk that was followed by a Sean Roby single that pushed him to third. With runners on the corners and Diego Rincones at the plate, a passed ball from Hops catcher Nick Dalesandro allowed Wilson to scamper home and put the Ems in front, 1-0.
One batter later, Logan Wyatt delivered the first of two RBI singles on the evening, scoring Roby to put the Emeralds up by a pair of runs after just one inning.
Hillsboro cut their deficit in half two innings later behind a solo shot from Ricky Martinez, his second homer of the season, but the Eugene lead was pushed back to two in the home half of the frame in a rare instance that a double play ball actually proves to be a positive as Roby grounded into a 6-4-3 double play that scored Ismael Munguia from third to make it 3-1.
Brandon Martorano added another Emeralds run with a sacrifice fly in the fifth that scored Franklin Labour, and the Eugene lead was increased up to 5-1 in the sixth when Logan Wyatt came through with another RBI single that scored Sean Roby.
Unsurprisingly, that was more than enough for the Emeralds bullpen as just two pitchers – Jasier Herrera and Chris Wright – combined to allow just four base runners over the final four frames while striking out five Hops and, most importantly, not allowing a single run to seal a 5-1 victory to open the twelve-game homestand for the Emeralds.
PEAK PERFORMERS:
Conner Nurse – RHP: It's been long overdue thanks to some tough luck and bad breaks, but Nurse was finally able to tally his first win of the 2021 season behind a solid five-inning performance, never allowing more than one base runner to reach in any inning.

Logan Wyatt – 1B: A savant at working walks, Wyatt leaned on the lumber tonight going 2-for-3 with a pair of RBIs. He also, of course, drew a walk.

Jasier Herrera – RHP: What a performance out of the 'pen from the big fella. The Columbia native was exceptional over three innings of work, allowing four hits with no walks and striking out two batters.

Chris Wright – LHP: First it was Jose Marte that occupied the closer role, then RJ Dabovich. After Marte was promoted to Double-A earlier this season and Dabo just got the call up this week, is Wright next in line? Sure looks like it after another exceptional performance he put forth on Tuesday. Though not a save situation, Wright was lights-out once again, striking out all three Hops batters he faced in the ninth to close out the win. Per the ever-observant Joseph Hill of the Daily Emerald, Wright now has tallied 35 strikeouts in just 15.1 innings this season between Low-A San Jose and High-A Eugene.
WHAT'S NEXT: The Emeralds and Hillsboro Hops face off again on Wednesday at 7:05pm PST at PK Park. You can listen live to all the action with the voice of the Emeralds Matt Dompe on the call via 95.3FM The Score, via MiLB.com or on the MiLB app, and you can also watch all the action live on MiLB.tv.
Information regarding tickets to Emeralds home games is available at www.EmeraldsBaseball.com or by calling (541) 342-5367.
Stay up to date with the Emeralds by following the team on Facebook, Twitter and Instagram.