Berryhill Bashes Two Homers in Series-Opening Loss to Salem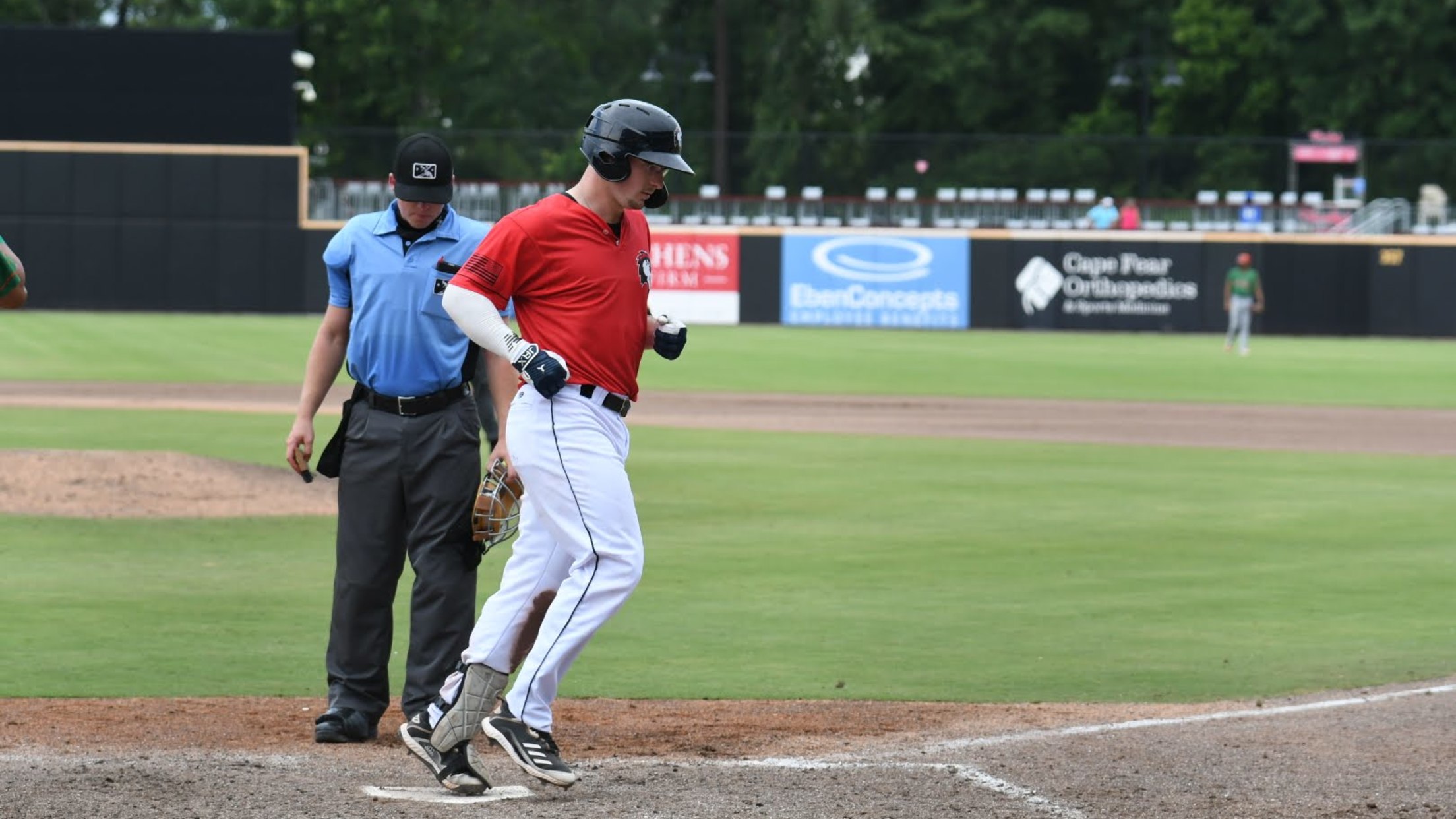 SALEM, VA - Despite a career night from Luke Berryhill, the Fayetteville Woodpeckers lost control of a multi-run lead in the middle innings of Tuesday's contest, falling in the series opener to the Salem Red Sox 16-8 at Haley Toyota Field. In his second two-homer game of the season, Berryhill
SALEM, VA - Despite a career night from Luke Berryhill, the Fayetteville Woodpeckers lost control of a multi-run lead in the middle innings of Tuesday's contest, falling in the series opener to the Salem Red Sox 16-8 at Haley Toyota Field. In his second two-homer game of the season, Berryhill also became the first player this season to drive in six runs, and the first to collect three extra base hits.
The first of Berryhill's big swings came in the first inning after Salem starter Chih-Jung Liu walked J.C. Correa and Ronaldo Urdaneta to open the night. Berryhill followed with a shot high off the light tower in left field to make it a 3-0 lead. The home run was Berryhill's eighth to give him sole possession of the team lead.
Nate Perry and Yeuris Ramirez followed in the third with consecutive RBI singles off Liu to push ahead to the largest lead of the game, 5-0.
Starting pitcher Jayson Schroeder opened his day with two scoreless innings before Salem broke through offensively the second time through the order. Matthew Lugo and Stephen Scott connected for RBI doubles in the third, and Joe Davis cut it to 5-3 with a sacrifice fly.
Berryhill's second big fly of the night came in the top of the fourth inning off Salem reliever Jordan DiValerio (W, 8-2). Urdaneta drew a walk and Berryhill smoked a high liner over the top of the left field wall to make it a 7-3 lead.
The four-run cushion was quickly erased in the bottom of the fourth. With the bases loaded and Shroeder a strike away from escaping the inning, Scott split the right-center field gap for a three-run double that knotted the game at 7-7.
Davis provided the go-ahead swing with a solo homer of Kevin Holcomb (L, 1-2) in the fifth. Holcomb quickly retired three in a row thereafter and turned the game over to Fabricio Reina in the sixth. Fresh out of the bullpen, Reina loaded the bases on two walks and a hit batter, setting the stage for Scott to nail a grand slam and break the game open at 12-7. Scott finished 3-for-5 with 8 RBI, the most RBI surrendered to a single player by the Fayetteville pitching staff this season.
Trailing 16-7 in the top of the ninth, Berryhill continued his career-best RBI night, driving home Urdaneta with a double of Nate Tellier that capped the contest at 16-8.
The six-game road series continues on Wednesday with first pitched scheduled for 7:05 pm ET. RHP Diosmerky Tavares is scheduled to start for the Woodpeckers and the Red Sox will counter with LHP Jorge Rodriguez.
FULL BOX SCORE: https://www.milb.com/gameday/woodpeckers-vs-red-sox/2021/07/13/649154#game_state=final,lock_state=final,game_tab=box,game=649154