Schreiber and Shaver Homer as Fayetteville Breaks Skid
Woodpeckers Even Series with Nine-Run Showing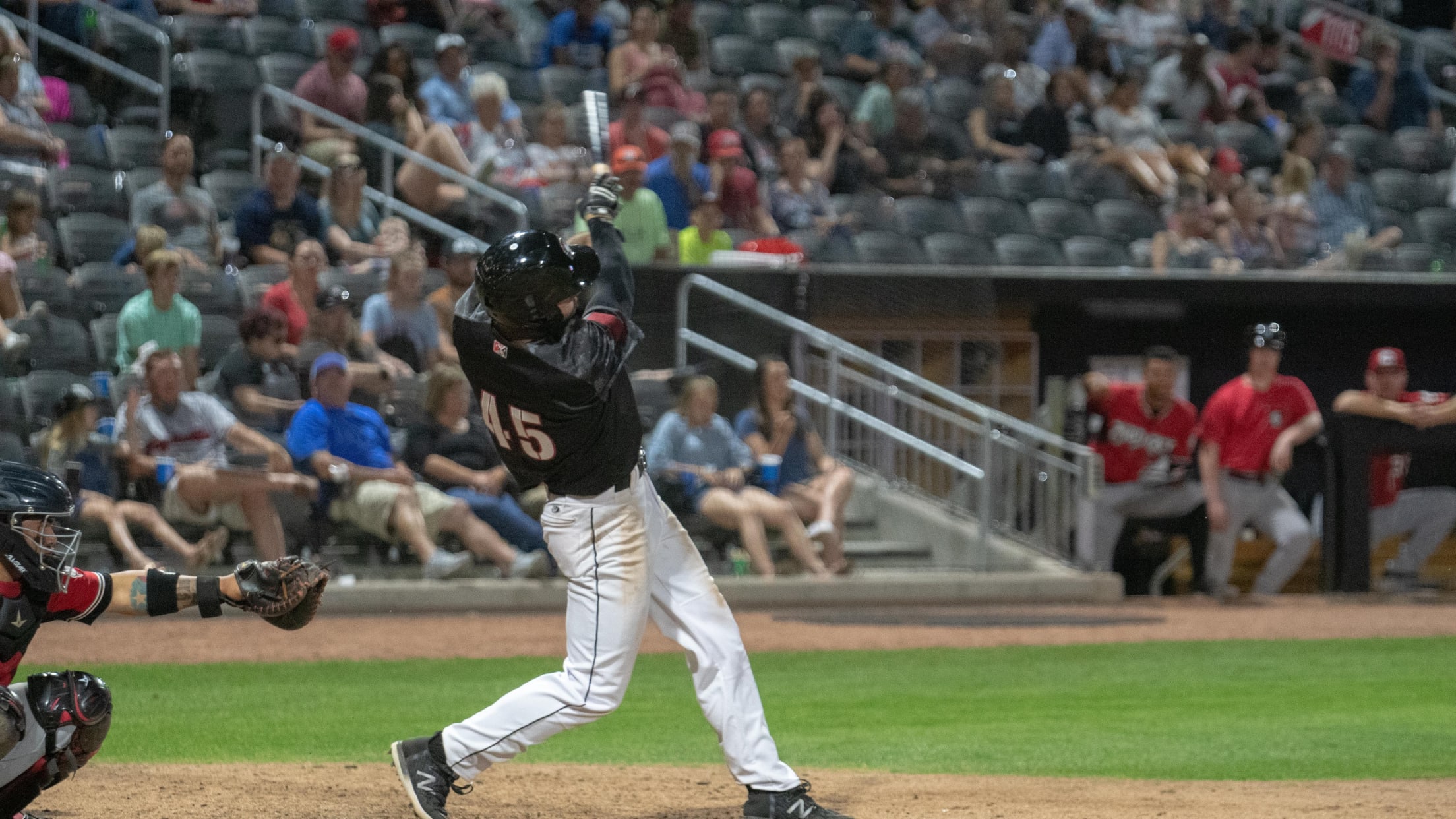 (Joseph Dwyer)
More than happy to see their dubious stretch of three-straight walk off losses end, the Fayetteville Woodpeckers blew pas the Lynchburg Hillcats on Saturday night with a 9-3 win at City Stadium in Lynchburg. Fayetteville never trailed in the game, and the squad was benefited by a pair of home
More than happy to see their dubious stretch of three-straight walk off losses end, the Fayetteville Woodpeckers blew pas the Lynchburg Hillcats on Saturday night with a 9-3 win at City Stadium in Lynchburg. Fayetteville never trailed in the game, and the squad was benefited by a pair of home runs by Scott Schreiber and Colton Shaver, and outstanding work from a pair of arms out of the bullpen.
Both sides were quiet to go down in the first inning, as Jean Carlos Mejía looked strong to start for Lynchburg. (24-23) Fayetteville lucked into a baserunner in the second inning, as Scott Schreiber reached safely on a missed catch error at first base, later advanced on a wild pitch, and finally scored on a single by Enmanuel Valdez.
After seeing leads slip away multiple times over their three-game losing skid, the Woodpeckers (22-27) were anxious to add more support for the pitching staff, and they did so just an inning later. In the third inning, Michael Papierski led of the frame with a walk, and Alfredo Angarita followed with a single. On Angarita's single, both runners were able to advance to scoring position on a poor throw toward third base, giving Fayetteville a prime chance to add to their lead, and Fayetteville was able to cash in on that opportunity thanks to RBI from both Jacob Meyers and Jonathan Arauz. While Arauz only went 1-for-4 on the day, his single in the second inning extended his season-long hit streak to nine games while giving Fayetteville a 3-0 lead at the same time.
Still not content with their lead, Fayetteville delivered the knockout punch to Mejia (L, 2-1) in the fourth inning. Jake Adams opened the frame with a single, stole his first base of the season, and he advanced to third on a wild pitch while Scott Manea drew a walk. With two on and one out, Valdez lofted a ball to the center field wall to bring in both runners, and eventually winding up at third base with a triple. After a pitching change, Valdez came home on the very next batter when Papierski flew out to right field, extending the lead to 6-0.
Starting strong for Fayetteville, Yohan Ramirez labored through a scoreless first inning, but logged a perfect second and third inning to help the Woodpeckers cultivate their lead. In the fourth, Ramirez surrendered consecutive singles with one out to put runners a first and third base, eventually allowing one to score on a groundout before the inning was over. With the lead briefly trimmed to five runs, Colton Shaver popped it back to six when he served a pitch from reliever Anderson Polanco over the left field wall for his fourth homer of the season.
Already 77 pitches into the night, Ramirez returned to the mound for the fifth inning, but was lifted after allowing a pair of runners aboard. Coupled with a throwing error on an attempted pickoff, one of those early runners to score. Removed from the game, Ramirez was replaced by Leovanny Rodriguez. While Rodriguez did allow an inherited runner to score, making the contest 7-3, the right-hander was still strong through the rest of his night. Rodriguez (W, 4-2) tossed three innings of scoreless ball to guide Fayetteville to the win.
Wrapping up the night offensively, Scott Schreiber was determined to push the lead back to six runs, and he did so by popping his first home run this season with Fayetteville over the right field wall. The two-run shot for Schreiber made it 9-3, a lead large enough for Willy Collado to work with, as the sidearm hurler tossed a scoreless eighth and ninth innings to finish out the win for Fayetteville.
With each side winning one game so far, Fayetteville and Lynchburg will each try to take a lead in the Memorial Day Weekend series when game two starts on Sunday. Shawn Dubin will take the mound for the Woodpeckers as he continues to hunt for consistency since his promotion from Single-A Quad Cities. First pitch in Lynchburg is scheduled for 3:00PM.
The Fayetteville Woodpeckers are the Advanced Single-A affiliate of the 2017 World Champion Houston Astros and play in their Inaugural Season at beautiful Segra Stadium in downtown Fayetteville. Segra Stadium, a $40 million state-of-the-art sports and entertainment venue, features space for over 5,200 fans, natural grass, a 25x70 LED video scoreboard, six luxury suites, four field boxes, the premium AEVEX Veterans Club level, Healy's Bar and outdoor party deck, a kid's zone, and more. With a rich history of baseball in the city of Fayetteville and Cumberland County, the Woodpeckers are thrilled to write a new chapter with their inaugural campaign on Hay Street. Fans are encouraged to visit FayettevilleWoodpeckers.com to purchase tickets, learn more about the team, and find out about upcoming events and promotions at the ballpark. Fans may also reach the Woodpeckers by visiting the BB&T Box Office in front of Segra Stadium, calling (910) 339-1989, or emailing [email protected].