Toolshed: Kelenic took unique path to Queens
Mets first-rounder used travel ball, Team USA to build profile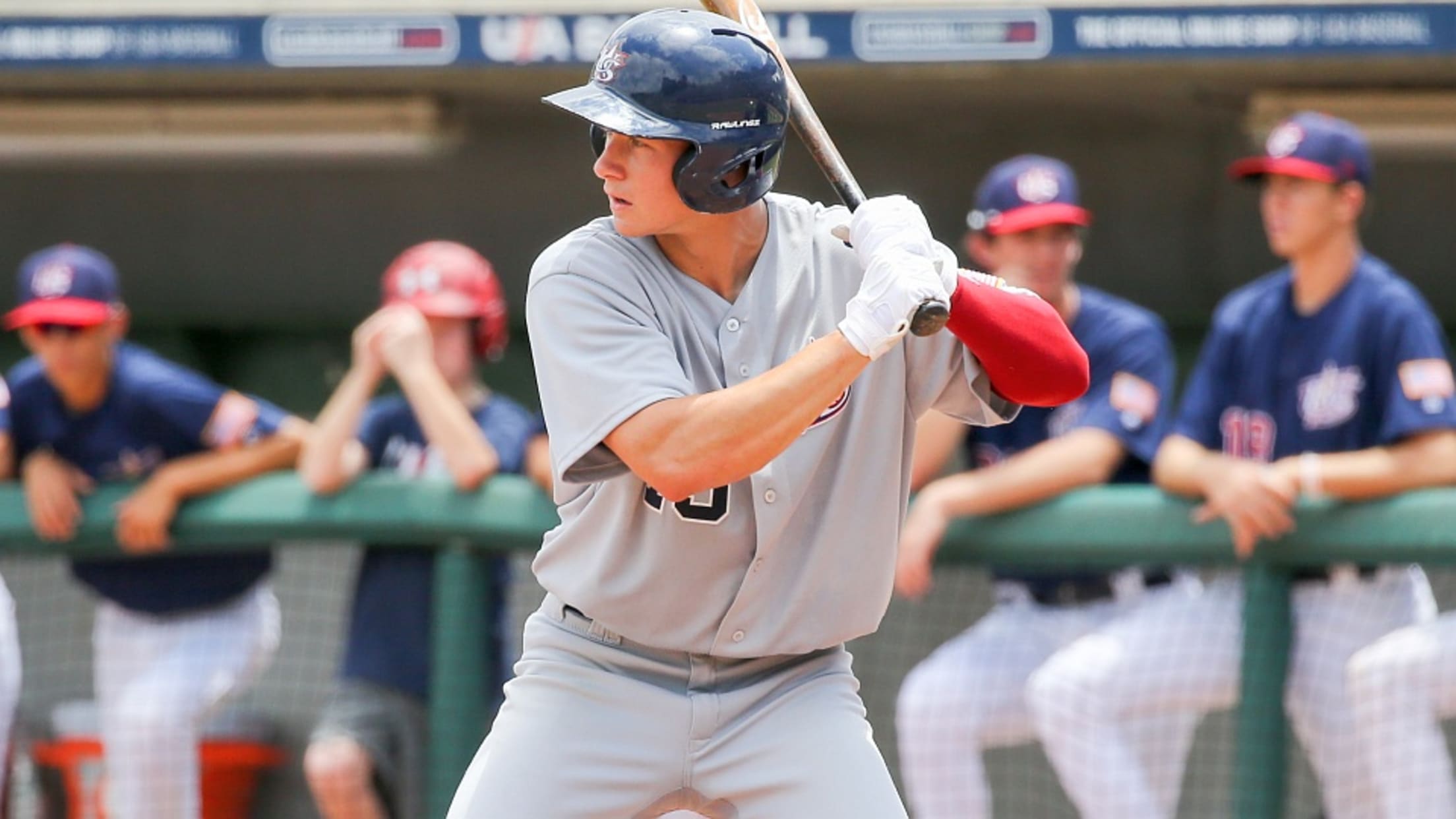 Jarred Kelenic was the Mets' highest pick in the Draft since taking Philip Humber third overall in 2004.
The hottest hitter in the Mets system is coming to Flushing. It'll be a short stay.Three weeks after taking him with the sixth overall pick in the 2018 Draft, the Mets have invited Jarred Kelenic to Citi Field on Wednesday to take batting practice with the big club. The 18-year-old,
The hottest hitter in the Mets system is coming to Flushing. It'll be a short stay.
Three weeks after taking him with the sixth overall pick in the 2018 Draft, the Mets have invited Jarred Kelenic to Citi Field on Wednesday to take batting practice with the big club. The 18-year-old, left-handed-hitting outfielder has already begun his pro career in the Gulf Coast League, where he's quickly proven to be a menace -- Kelenic has multiple hits in all three of his games, going 8-for-13 (.615) with a triple, a double and a stolen base. Between his debut Saturday and his third game Monday, only two Minor Leaguers (Ryan Mountcastle, Rangel Ravelo -- both with nine) had more hits than Kelenic's eight.
In other words, Kelenic didn't need the apple-red carpet rolled out upon his arrival in New York. He's done plenty to introduce himself already.
"I was excited," Kelenic said Tuesday night by phone. "I wanted to start as soon as possible. I wouldn't have changed anything. I'm actually looking forward to going back to be honest. But at the same time, I'm so happy to be here. I'm blessed to be here. To put on a Mets jersey is special. It reminds me of a lot of when I played for Team USA. Just having that uniform on is something different."
Kelenic was the first high-school player taken in the 2018 Draft and became the highest prep player ever taken from the state of Wisconsin, and some important decisions made early on informed both of those facts as well as his early success as a pro.
Going back to eighth grade, Kelenic determined that he wouldn't play for his high school team at Waukesha West High School, instead opting to play for the Rawlings Hitters out of nearby Caledonia, about 25 miles away in the Milwaukee suburbs. Because of the ability he'd shown from a young age, Kelenic had already played up two levels with his travel teams as a middle-schooler and thought that pro ball could be a reality if he took the right steps to develop.
"I knew the high school route wasn't going to challenge me," he said. "I'm always up for a challenge, whether it's baseball or something other than baseball. High school wasn't going to do that, so I found the next best thing.
"Better pitching. More traveling. I think traveling is half the battle. Getting on the bus, traveling from city to city, getting off the bus, stretching and being ready to play -- that definitely was going to help me. My ultimate goal was to play professional baseball. I was looking for scenarios that were going to help me in the best way possible. It's also just a faster game. Guys are out there playing because they have the same goals I did. When you can surround yourself with people on the same mission you are, it's a great thing."
Though he wasn't taking the traditional route through the high school ranks, Kelenic impressed enough scouts in the spring of 2016 to earn an invitation to Team USA's Tournament of Stars that June. Despite being a rising junior, the left-handed slugger made the cut from the showcase's 108 invited players to the 20 players selected to represent their country on the 18U National Team. Future first-rounders Triston Casas and Brice Turang and fourth-rounder Mike Siani were the only other members of the Class of 2018 on that final 20-man squad.
His selection was no novelty. Kelenic ended up leading Team USA -- a squad with a lineup that boasted 2017 first-rounders Royce Lewis, Hunter Greene and Nick Pratto -- in hits that summer, going 11-for-27 (.407) with five extra-base hits, seven RBIs and four steals in his eight starts and played a key role on the team that won a gold medal at the COPABE Pan Am "AAA" Championships in Monterrey, Mexico.
With his eligibility still remaining, Kelenic was a much easier selection the following summer ahead of Team USA's trip to the U18 WBSC World Cup in Thunder Bay, Ontario. The offensive results weren't quite as sparkling during that run, but Kelenic did start all nine games for the club during its run to another gold medal. He ended up going 9-for-35 (.257) in his nine games, and by going deep twice, he was the only USA slugger other than Casas (three) to hit more than one homer in the tournament.
If Kelenic thought travel ball would provide more of a challenge, he admits he had his eyes opened completely with his international experience, in terms of facing tougher competition and more difficult environments than those he'd seen in the Midwest.
"The whole situation with Team USA Baseball was the best of my entire life," he said. "Not only did it help better my skills on the field, but it also helped me become a better person and realize just how fortunate I am. The month I played both years I played for them was the most I'd learned in all my years of playing baseball.
"Sometimes when you're playing against Mexico and the umpires are from Mexico, they don't really want you to win. There are a lot of other factors at play. High school isn't going to have that. Travel ball isn't going to have that."
With his status as a top talent in the 2018 Draft all but assured, Kelenic took a big step last winter by choosing to graduate from Waukesha West a semester early, thus devoting his entire time from January on to his focus on baseball leading up to the June Draft. With his diploma out of the way, Kelenic used his days to work out at the Stiks Academy batting cages and NX Level sports training facility in Waukesha, both of which are owned by his family. (The Kelenics also own Infinity Fields Baseball Park in town, which routinely hosts local baseball tournaments.) He even went as far as staying off his Twitter account from New Year's Day forward, only returning to celebrate his selection by the Mets.
Though scouts couldn't find him on the usual Wisconsin high-school circuits, Kelenic still felt he was showing enough to help his case now that he'd returned from the international stage.
"I was playing games Saturdays and Sundays and playing doubleheaders both days," he said. "I ended up playing 30-something games, and that's about the same, if not more than some high school teams. The weather was definitely tough. That was tough on scouts, they even told me. But I got out, did what I needed to do and personally don't think I could have had a better spring. Everything worked out just fine."
The Mets agreed, falling in love with Kelenic's five-tool profile. The 6-foot-1 outfielder has the potential to be a plus hitter with above-average speed and a plus arm that should play anywhere in the outfield. He may not be guaranteed to stick in center field, but the overall profile should still provide value in either corner. That was enough for New York to grab him at No. 6, though the fact that he signed for $4.5 million -- a drop from the $5,525,200 value assigned to that slot -- likely helped matters by saving the Mets money to use on later picks.
Kelenic has already demonstrated his talent in Florida and credits every decision he's made during his amateur days with helping him get off to this quick start.
"Oh, 100 percent," he said. "I really get after it in the offseason to the point where when my first professional offseason comes, it's going to be the same routine and the same stuff that I've done ever since I was in seventh grade. I'm still going to work hard in the weight room like I have every year. It's not going to be anything new. Yeah, pro ball is something new, but when you've worked this hard and when you've played with some of the best guys, it's nothing new. It's the same game, and it makes you a lot more comfortable."
Kelenic's history parallels that of Brandon Nimmo, whom the Mets took 13th overall after he played exclusively American Legion ball during his high school days in Wyoming. Though the two are not a perfect comp, Nimmo has been New York's best hitter this season with a .281/.402/.568 line, 12 homers and 167 wRC+ in 68 games, showing that traditional routes through the American amateur ranks aren't necessary for building a pro career.
Since a young age, Kelenic has taken steps to make sure he'd someday take his hacks in a Major League park. On Wednesday, he'll do that for the first time in a Mets uniform. He doesn't believe it will be the last.
"I've always set the bar high," he said. "I've always wanted to go this high since I was four years old. So to me, was I surprised? No. But I put in the work for it. To me, I deserved to go where I went. At the same time, I'm going to get to work to get to the big leagues as quick as possible."
Sam Dykstra is a reporter for MiLB.com. Follow and interact with him on Twitter, @SamDykstraMiLB.