FSL notes: Pompey eyes Canadian fame
Jays prospect, Ontario native won Gold Glove at Lansing last year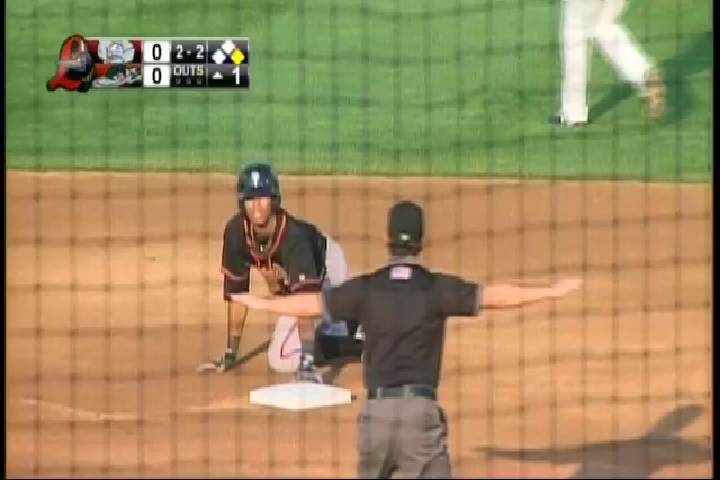 By Guy Curtright / Special to MiLB.com | May 7, 2014 10:00 AM
Growing up outside Toronto, Dalton Pompey made regular trips to see the Blue Jays play.
"I loved those players on the teams in the early 2000s," the speedy Dunedin center fielder said. "I'd take my glove to the games and try to get Carlos Delgado to sign it."
The Blue Jays slugger never did.
"When I met him later, I told him how I carried a grudge after that," said Pompey, who realizes now that a player can't possibly make every autograph seeker happy.
Pompey, the Blue Jays' No. 19 prospect, is already a target himself, and the native of Mississauga, Ontario, is sure to be a Canadian baseball hero if he makes his hometown Blue Jays.
The 21-year-old already has a Rawlings Gold Glove as the best defensive center fielder in the Minors for 2013 and his offensive production has been impressive as well this season with the move from Class A Lansing to the Class A Advanced Florida State League.
Pompey batted .339 with a .415 on-base percentage in his first 30 games with Dunedin and was 15-for-15 in stolen base attempts.
The switch-hitter had just nine extra-base hits, but speed -- not power -- is his game, and he had 19 runs scored along with 16 RBIs as Dunedin got off to an FSL-best 23-8 record.
Pompey put in extra work defensively a year ago, determined to separate himself from other speedy center fielders. This season, he is concentrating on getting more consistent at the plate and even better on the bases.
Pompey stole 38 bases last season in the Midwest League, but batted a modest .261.
"I'm a lot more confident hitting this year," he said. "I've learned to do my thinking when I'm working on things in the cage. When the game beings, it's just 'see ball, hit ball.'"
At 17 years and six months, Pompey was one of the youngest players taken when the Blue Jays made him a 16th-round pick in 2010, and his progress at the plate has been hampered by injuries.
Pompey broke his right hamate in 2011 during Spring Training, then fractured his left while playing for Vancouver of the Class A Short Season Northwest League in 2012. Last year was the first time he'd played more than 60 games in a season.
"At least I don't have to worry about my hamates anymore," said Pompey, who had both removed.
Hitting, though, depends on strong wrists and hands, and there was no question that Pompey was set back at the plate.
Now he's drawing attention for his offense as well as defense. Accolades, though, often come with a price -- first pitch was delayed when Pompey received his Gold Glove before a Dunedin home game.
"My parents came down from Canada and it was a cool experience," he said. "But I think the other players got impatient waiting for the game to get started."
Pompey calls playing for Team Canada in the World Junior Championships one of his best baseball experiences. But his goal is to make Canada's Major League team.
"To play for the Blue Jays, the team I rooted for, would definitely be a dream come true," he said.
In brief
Buxton back: Fort Myers center fielder Byron Buxton, ranked No. 1 among MLB.com's Top 100 Prospects, struggled in his first two games after coming off the disabled list May 4. He was 0-for-7 with four strikeouts after a wrist injury suffered in Spring Training cost the 20-year-old Minnesota prospect the first month of the season and a likely start at Double-A New Britain. Buxton, the No. 1 overall pick in the 2012 Draft, hit .326 in the second-half of the 2013 season with Fort Myers after hitting .341 with Class A Cedar Rapids.
Quick promotion: Left-hander Matt Boyd was promoted from Dunedin to Double-A New Hampshire after dominating Florida State League hitters in April. The sixth-round pick by Toronto in the 2013 Draft out of Oregon State was 4-0 with 0.29 ERA in five starts, the only run allowed in 31 innings coming on a homer. Boyd, 23, gave up just 18 hits and had 37 strikeouts to five walks.
Slow start: Daytona center fielder Albert Almora, ranked No. 16 among MLB.com's Top 100 Prospects, was hitting .247 with an on-base percentage of .265 and slugging mark of .340 after his first 24 games. The No. 6 overall pick in the 2012 Draft by the Chicago Cubs didn't turn 20 until April 16, and he was bothered by nose bleeds early in the season. Almora, the Cubs' No. 3 prospect, was limited to 61 games last season with Class A Kane County because of a hamate fracture and then a groin strain, but batted .329.
Guy Curtright is a contributor to MiLB.com. This story was not subject to the approval of the National Association of Professional Baseball Leagues or its clubs.
View More