FSL notes: Tilson ready to play spoiler role
Cardinals No. 10 prospect relishes idea of opposing hometown Cubs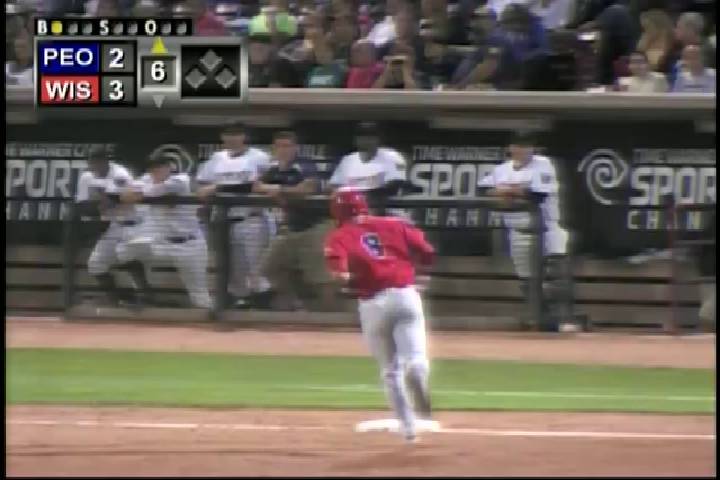 By Guy Curtright / Special to MiLB.com | July 23, 2014 10:00 AM
Chicago's upscale North Shore suburb of Wilmette is Cubs territory, but Charlie Tilson went against the grain.
"My buddies all gave me a hard time about being a big White Sox fan," the center fielder said.
Not rooting for the Cubs turned out to be a good move, though, when the St. Louis Cardinals took Tilson out of New Trier High School in the second round of the 2011 Draft. The 21-year-old has no split loyalties in the National League Central rivalry, and he'll be more than happy to get to Wrigley Field wearing a visiting St. Louis uniform.
"That's the goal," said the Cardinals' No. 10 prospect.
St. Louis is backlogged with promising outfield candidates, but Tilson distinguished himself in the Class A Advanced Florida State League as a player to keep an eye on. The speedy Illinois native hit .309 in 88 games with Palm Beach and led the league with eight triples, earning a promotion to Double-A Springfield on July 22. The left-handed hitter and thrower profiles as a leadoff man, and he has flourished during his first season in that role.
"I feel comfortable there and I take pride in it," said Tilson, who had a .356 on-base percentage and 53 runs scored in the FSL. "You get a chance to make things happen. I think it fits me."
Tilson seemed committed to the University of Illinois, but the Cardinals offered him $1.275 million at the signing deadline and he took it.
"It was a crazy time," he said. "I was in limbo for a while. But a decided I couldn't pass up an opportunity with a team like the Cardinals."
Before he could play his first season, though, things were put on hold. Tilson tore the labrum in his right shoulder diving for a ball in 2012 and missed the year after surgery.
"It was hard," he said. "You're ready to get going and then you can't."
But Tilson bounced back to hit .303 in 100 games with Peoria of the Class A Midwest League last year and made it to Palm Beach for four games at the end of the season. He hit .305 in the first-half this year, making the Florida State League All-Star Game, and batted .325 in the second half through 29 games.
"The pitching in [the FSL] is strong, especially in the bullpens, and the ballparks are big," he said. "But I've been able to make adjustments. I've been working to free up my hands, and that is paying off."
With Tilson at the top of the order and getting on base, Palm Beach got off to a 21-9 start in the second half and took over first place in the South Division.
"It's been fun," Tilson said before his promotion to the Texas League.
Advancing to Springfield was a short-term goal. His long-range one is to make it home to the Chicago area with the Cardinals and torment his Cubs-loving buddies.
In brief
Still red-hot: Daytona catcher Kyle Schwarber, the No. 4 overall pick in the 2014 Draft by the Cubs out of Indiana University, continues to punish pitchers as he moves up the Minor League ladder. He belted four homers in five games for Boise in the short-season Northwest League, then batted .361 in 23 games for Kane County of the Class A Midwest League before being promoted to the Class A Advanced Florida State League. In his first six games for Daytona, the left-handed hitter was 8-for-24 with a homer and four RBIs.
Missing: With the promotion of outfielder Josh Bell from Bradenton to Double-A Altoona, none of the top five qualified hitters in the batting race were still in the Florida State League entering action Wednesday. St. Lucie's T.J. Rivera, promoted to Double-A Binghamton at the end of June, led with .341 average, while Bell was second at .335. Palm Beach's Breyvic Valera (.333), St. Lucie's Brandon Nimmo (.322) and Dunedin's Dalton Pompey (.319) are also now in Double-A. Bell, Pittsburgh's No. 5 prospect, had nine homers and 53 RBIs in 84 games for Bradenton before being promoted.
Back in action: Tampa third baseman Eric Jagielo, the Yankees' No. 4 prospect, returned after spending nearly two months on the disabled list with an oblique strain and hit his 11th homer in his fifth game back on July 20. The first-round pick in 2013 was tied for fifth in the Florida State League home run race despite his long absence. The return of the former Notre Dame standout came at a good time, because Tampa lost right-hander Luis Severino, the Yankees' No. 9 prospect, and center fielder Jake Cave, both promoted to Double-A Trenton.
Moving up: Left-hander Josh Turley, second in the FSL with a 1.85 ERA, was moved up from Lakeland to Double-A Erie by the Detroit Tigers along with right-hander Jake Thompson. Turley, who started the season in the bullpen, departed Lakeland with a 7-1 record after winning his first seven decisions. Thompson, Detroit's No. 3 prospect, was 6-4 with a 3.14 ERA. The second-round pick in the 2012 Draft pitched in the All-Star Futures Game before the promotion.
Guy Curtright is a contributor to MiLB.com. This story was not subject to the approval of the National Association of Professional Baseball Leagues or its clubs.
View More