Hammerheads' Poteet flirts with no-no
Marlins right-hander retires 18 straight in seven one-hit innings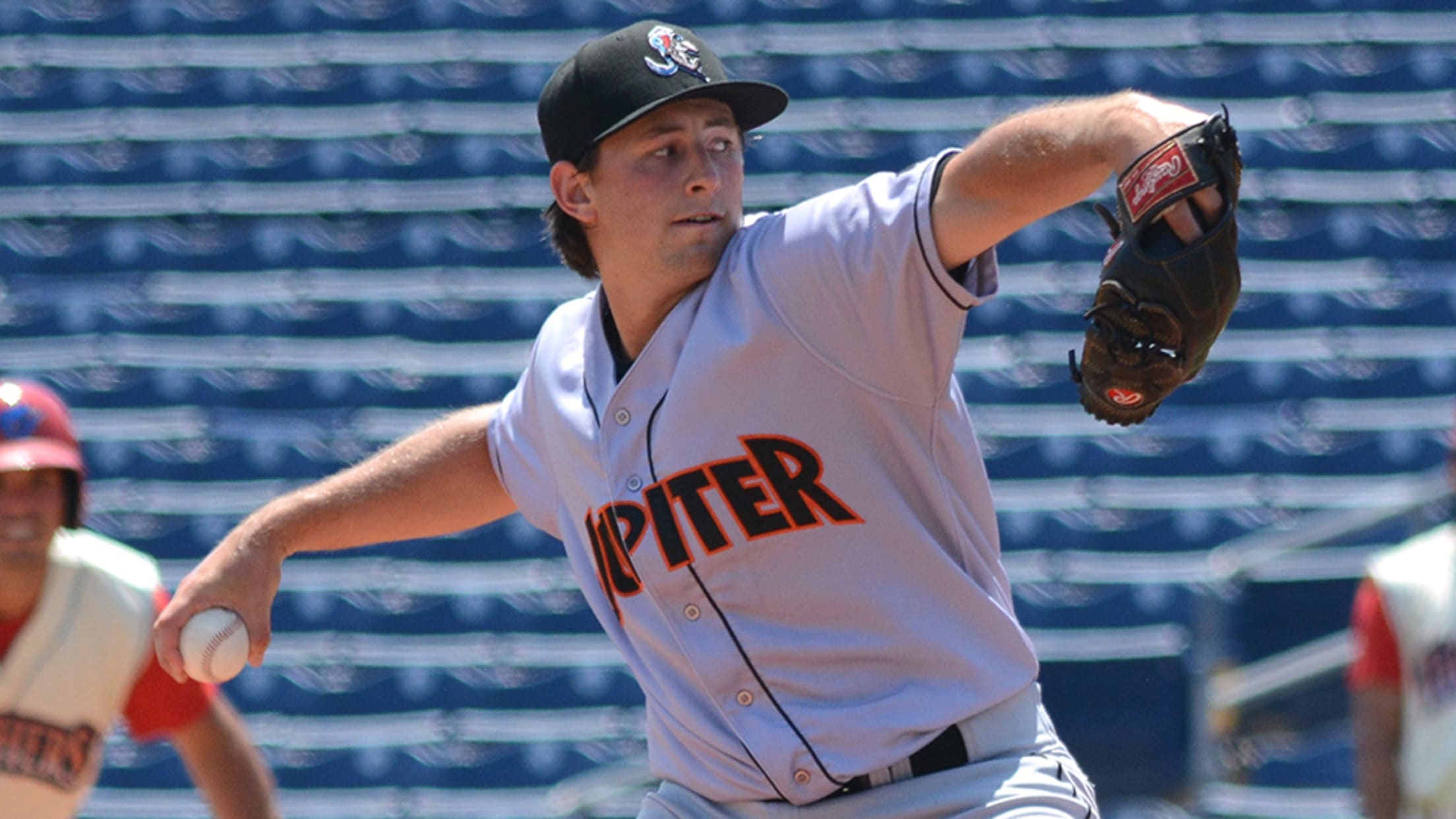 Cody Poteet was 0-10 with a 7.38 ERA over his previous 12 starts. (Buck Davidson/MiLB.com)
In a difficult season for Cody Poteet, Tuesday showed redemption is always one start away.The Miami right-hander retired 18 consecutive batters and took a no-hitter into the seventh inning as Class A Advanced Jupiter held on for a 4-3 victory over Bradenton at LECOM Park. It marked the second scoreless
In a difficult season for Cody Poteet, Tuesday showed redemption is always one start away.
The Miami right-hander retired 18 consecutive batters and took a no-hitter into the seventh inning as Class A Advanced Jupiter held on for a 4-3 victory over Bradenton at LECOM Park. It marked the second scoreless outing in 18 starts for Poteet, who snapped a personal 10-game losing streak that dated to April 28.
The 23-year-old allowed one hit and one walk over seven innings, striking out seven in his third Florida State League start since returning from Double-A Jacksonville on July 4.
"It was just me and [catcher B.J. López] tonight," Poteet said. "B.J. did a great job calling the game. I don't think I did much shaking off. It made it simple for me and allowed me to execute. I made a point of challenging myself to see how many pitches I could execute and it worked out. I focused pitch to pitch and if I didn't make one, I went on to the next."
Gameday box score
Poteet (1-2) entered the start with a 6.02 ERA, 1.63 WHIP and .300 opponents' batting average with the Jumbo Shrimp and Hammerheads. The right-hander issued a two-out walk in the first inning to Bligh Madris, who was caught stealing to end the frame. He set down the next 18 Marauders and took the mound in the seventh having held them hitless.
Pirates No. 30 prospectJared Oliva fell behind in the count, 0-2, and fouled off three straight pitches before ending the no-no bid with a double to center.
Poteet rebounded by getting a pair of groundouts before ending the scoreless start by fanning Hunter Owen with his 97th pitch. The seven innings matched a season high for the San Diego native, who has done so twice but not since May 21 with Jacksonville.
"I was aware of the no-hitter," Poteet said. "I had looked at the scoreboard, but it didn't alter my pitching in any way. The key is to not get caught up in things you can't control, regardless of what goes on. That's not to say I'm able to do that all the time, but tonight I did. If I keep that mind-set going forward, I'll have a much better chance of success."
The 2015 fourth-round Draft pick posted a 3.82 ERA in his first six Southern League starts, then surrendered five runs -- four earned -- over 2 2/3 innings on May 10 to begin a stretch in which he was winless in nine starts while posting a 9.62 ERA. He allowed 10 runs -- eight earned -- over 11 innings in his first two starts since returning to Jupiter.
"I don't want to say [the reassignment] was a negative," the UCLA product said. "I learned some things [in Double-A]. No one wants to be sent down, but at end of day, I'm playing baseball and that's a blessing.
"I've been working on a few adjustments here with [Hammerheads pitching coach Bruce Walton]. I've been able to take the positives and the negatives and progress in the right direction while keeping a positive mind-set. It's just how this year has gone, but the way I look at it is, I'll have a nice story to tell one day when I'm pitching in the big leagues."
Esmerling De La Rosa allowed two runs in the eighth and Chad Smith surrendered one in the ninth before closing the door for his eighth save.
Anfernee Seymour homered and fell a triple shy of the cycle for Jupiter. He also stole his 18th base of the season. Marlins No. 9 prospectJames Nelson doubled, singled and drove in a run for the Hammerheads.
Lucas Tancas stroked a two-run double in the eighth to get Bradenton on the board.