Lewis makes instant impact with Miracle
Top Twins prospect collects four hits in second FSL contest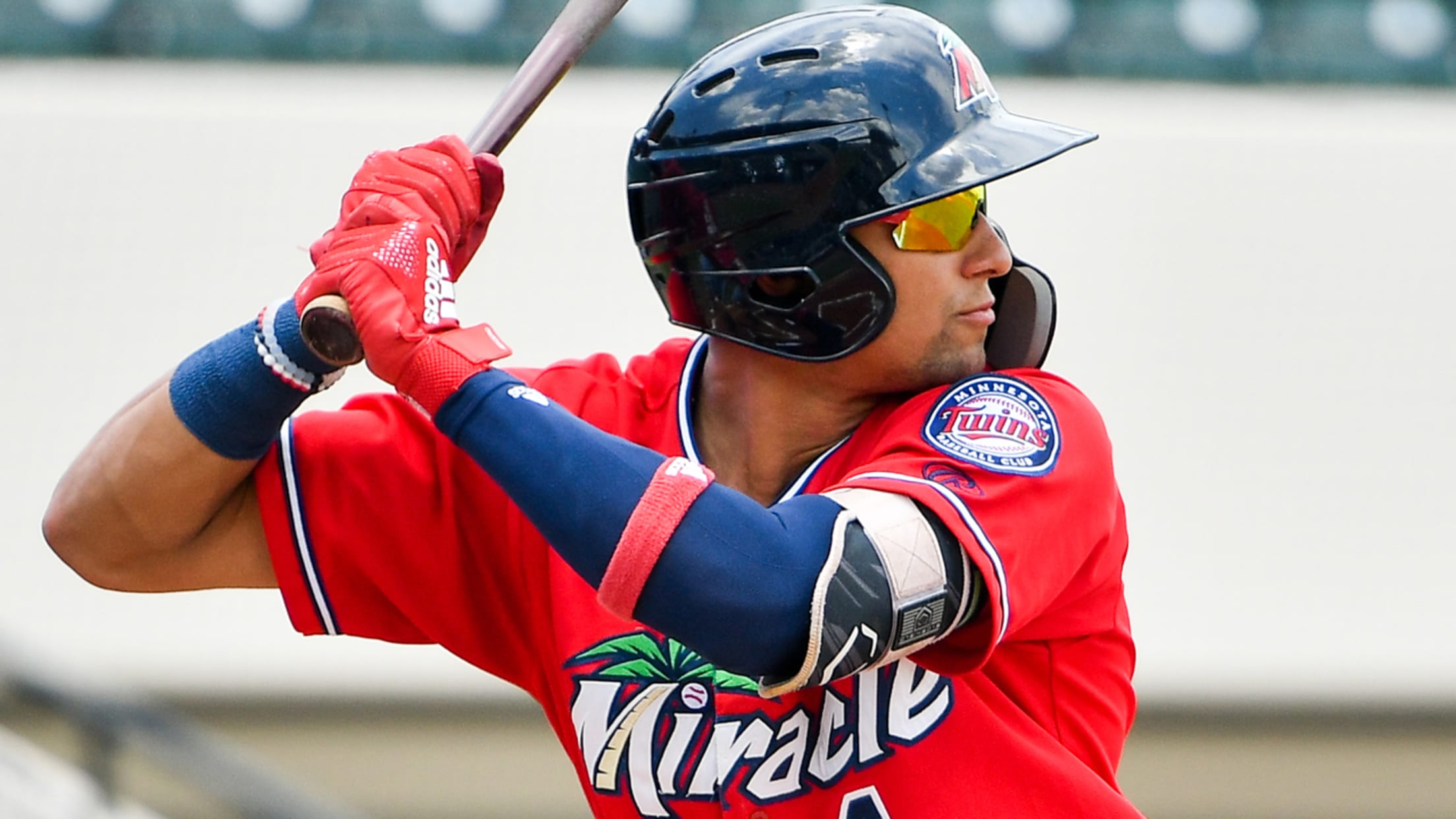 Royce Lewis has a .320/.373/.485 slash line with 22 stolen bases across two levels this season. (Tom Hagerty/MiLB.com)
In just a couple of days since his promotion to the Florida State League, Royce Lewis already has seen a noticeable difference from what he experienced in the Midwest League. Even so, his stat line on Sunday looked a lot like what he's been doing all year long.MLB.com's No. 11 overall
In just a couple of days since his promotion to the Florida State League, Royce Lewis already has seen a noticeable difference from what he experienced in the Midwest League. Even so, his stat line on Sunday looked a lot like what he's been doing all year long.
MLB.com's No. 11 overall prospect lashed four singles and scored a run in his second game at a new level as Class A Advanced Fort Myers fell to Lakeland, 5-4, at Joker Marchant Stadium.
Gameday box score
"I wish we could've gotten a win out of it, but for sure, it's always cool when you feel comfortable at the plate," Lewis said. "Days like this happen every once in a while, so you've just got to keep playing and have fun."
Lewis went hitless in his Fort Myers debut on Saturday, walking once and striking out once, but he started quickly in the Sunday matinee. He singled to center field leading off in the first inning and reached on an infield hit to open the third.
"It's just a quicker game," the Twins' top prospect said. "Each level you go up, it just gets a little quicker, not necessarily the speed. It's not the velocity of the pitchers. It's more just the tempo, the rhythm. Everyone plays at a different pace. Right now, I'm just a step behind and, obviously, it takes a couple days to get used to, but I'm glad I'm a little bit used to it now."
After a one-out single to right in the fifth, the shortstop helped spark a rally. With the Miracle trailing in the ninth, 4-1, and he followed Mark Contreras' leadoff walk with a single to left that wrapped up his second four-hit game of the season -- he went 4-for-4 on April 21 for Class A Cedar Rapids. That helped ignite a three-run inning that tied it up.
"I got a fastball, a changeup, a slider and then another fastball," he said. "I'm just playing the game of baseball. A pitcher throws pitches, he's trying to get you out with the best of whatever he's got. I'm trying to get a hit with the best of whatever I've got and today I won four times. But it's a game of failure, so I've just got to keep pushing. During those times of failure, I've just got to keep working and work harder and try to get more success like today."
"It was electric. We were playing our game, battling, had some real good, competitive at-bats up there. We made the pitchers work and kept making them go deeper and deeper in the bullpen. We finally got to them in the eighth and ninth, and it was fun."
Lewis hit second on Saturday, his primary position in the order with Cedar Rapids through his first 75 games of the year. He was in the leadoff spot on Sunday, signaling staff belief in the 19-year-old.
"It's awesome to know that they trust me," he said. "Having that communication with the organization of that trust level, I feel like they trust me as a player and a person to do the right things on and off the field now. Going out there and being able to play the game freely, it's a game I love, so of course I'm going to have fun and do well and compete at the highest level. Each day, you just keep working as hard as you can, and days like today are always great for yourself confidence-wise to keep it going."
Top Tigers prospectFranklin Perez went 2 2/3 scoreless innings in his fifth outing back from a strained lat muscle he suffered during Spring Training. The right-hander allowed four hits and three walks while striking out four and throwing 63 pitches.
The Flying Tigers walked off with the win when Cole Peterson singled home Zac Shepherd with two outs in the bottom of the ninth.
Tyler Maun is a contributor to MiLB.com. Follow him on Twitter @TylerMaun.