Tarpons' Stephan shining in first full season
Yankees No. 15 prospect twirls six scoreless innings ... again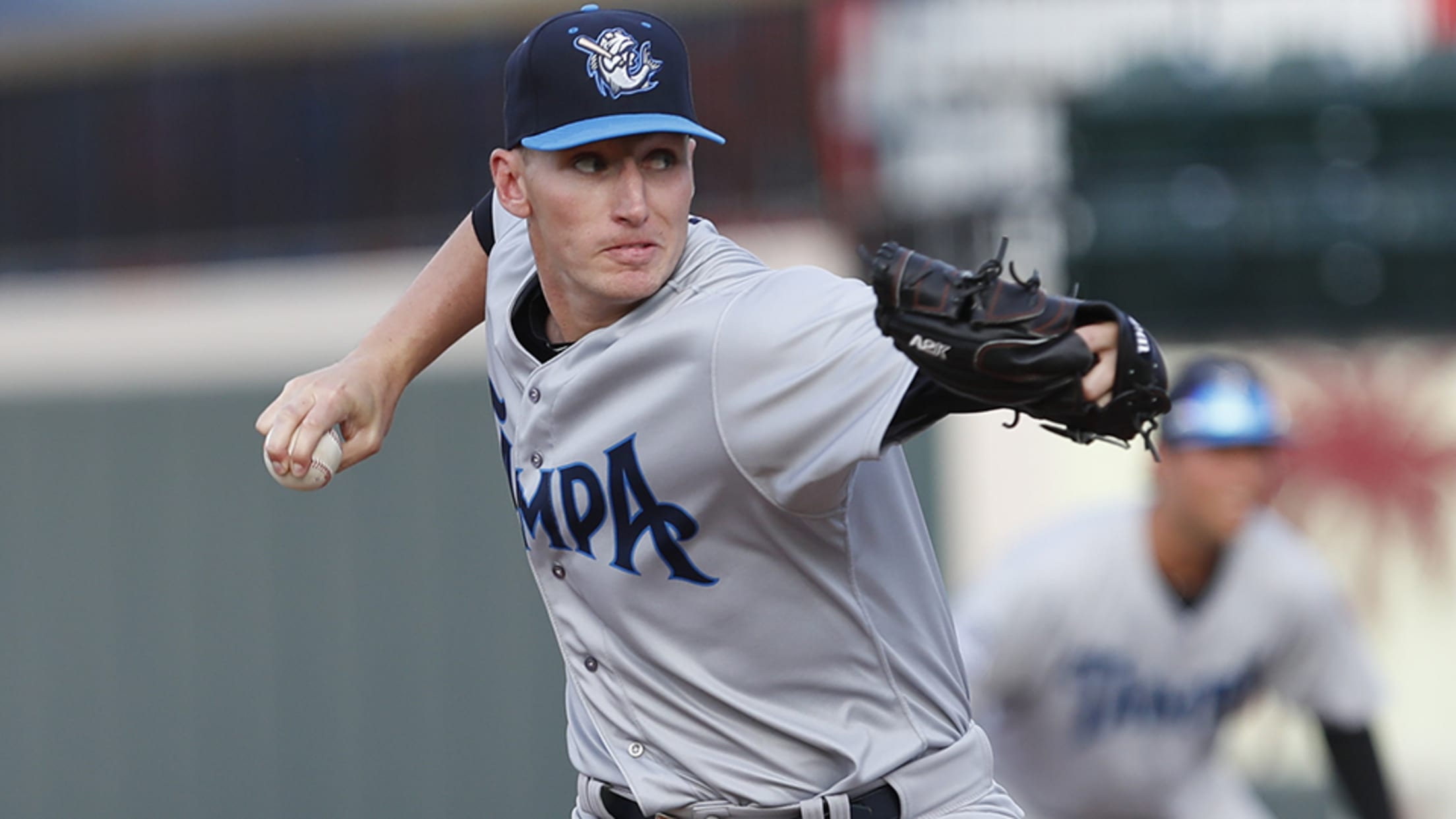 Trevor Stephan leads the Florida State League with 22 strikeouts and ranks fourth with a 0.69 WHIP. (Mark LoMoglio/Tampa Tarpons)
Trevor Stephan didn't have much of a pulse on where he was heading to start the 2018 season. He was optimistic for an assignment to Class A Advanced Tampa, but knew heading to the South Atlantic League was a possibility. The Yankees thought Stephan was ready, sending him to the Tarpons
Trevor Stephan didn't have much of a pulse on where he was heading to start the 2018 season. He was optimistic for an assignment to Class A Advanced Tampa, but knew heading to the South Atlantic League was a possibility.
The Yankees thought Stephan was ready, sending him to the Tarpons and skipping Class A Charleston in his first full season of professional baseball. And so far, the 22-year-old right-hander has proved that was an astute choice.
Gameday box score
Stephan posted his second consecutive outing with six scoreless innings, allowing two hits and striking out eight as Class A Advanced Tampa rolled to a 12-0 win over Daytona on Wednesday at George M. Steinbrenner Field. New York's No. 15 prospect issued a pair of walks and threw 57 of his 88 pitches for strikes.
"It was nice to hear that they expected me to be able to pitch right away at this level," he said.
Stephan (1-0) lowered his ERA to 1.13 and has averaged 12.4 strikeouts per nine innings in his first three Florida State League starts. He compiled a 1.39 ERA in 10 appearances, including nine starts, for Class A Short Season Staten Island in his professional debut last summer.
Tarpons manager Pat Osborn said Stephan's success in the New York-Penn League justified his assignment to Tampa.
"We all try and put these kids in spots that will not only challenge them, but set them up for success," Osborn said. "I think this is the right spot for him at the moment.
"It is an aggressive move. This league is tough, especially for a kid right out of college. But I think he's proved he can handle it and it will only make him better."
The University of Arkansas product allowed one baserunner to advance into scoring position against the Tortugas with Dilson Herrera reaching on a single and stealing second with two outs in the opening inning. Stephan's fastball command was his main weapon Wednesday.
To go along with his 93- to 95-mph fastball, Stephan utilizes a late-moving slider and a changeup, which he introduced to his arsenal recently. The development of that third pitch will be key to his progression through the Yankees system as a starter.
"It's still developing, but it's shown signs of being a plus-pitch for him," Osborn said. "You're talking about a guy that needs to get through the lineup two or three times. Having that third pitch is huge in order to do that and be able to get both left-handed and right-handed hitters out. His fastball and his slider are his plus-pitches, and if that third pitch does develop, you're talking about a guy that's going to be a big league starter here soon."
The 6-foot-5, 225-pound righty is still fairly new to pitching. He primarily played the infield corners for West High School in Magnolia before converting to the mound in junior college. Stephan throws exclusively out of the stretch and wields an unorthodox short-arm delivery to create deception, especially to right-handed batters.
"The ball really jumps on the hitters," Osborn said. "There's not a lot of comfortable swings on him."
Stephan prepared the same way for his first season in Class A Advanced the same way he's prepared the past four year: Executing a throwing program developed by renowned pitching coach Tom House.
"It's incredible," Stephan said of his work with the former Major Leaguer. "He's such a good mentor and he's honestly one of the smartest people in the whole game. Any time you can get in front of him in person and soak in as much information in as possible, I think you're in good hands."
There had been a chance one of the Yankees' most promising pitching prospects could have been playing for their arch rival. Stephan, who spent two seasons at Hill College in Texas before transferring to Arkansas, was taken by the Red Sox in the 18th round of the 2016 Draft but elected to join the Razorbacks instead. It paid off when the Yankees drafted him in the third round last year.
"It was pretty 50-50," Stephan said on his decision in 2016. "But I think it all worked out pretty well."
Thairo Estrada went 3-for-5 with a double and an RBI in his season debut for the Tarpons. The Yankees' 10th-ranked prospect was on the disabled list after being shot in the right hip in February during a bungled robbery attempt in his native Venezuela.
The 21-year-old has already made an impact on the club.
"I wish we could keep him here," Osburn said of Estrada, who will likely be assigned to Triple-A Scranton/Wilkes Barre after his rehab assignment. "I've had the pleasure of coaching him two of the last three years ... and he's a heck of a baseball player. He's well on his way to be a Major League player. He's a great kid and having him around this team, although he's still young and these kids are around the same age, he's a leader and he can help these young kids out that are trying to get to where he's going.
"It's a pleasure having him and he can stay as long as he wants."
Isiah Gilliam hit a two-run homer and doubled for Tampa, giving him RBIs in eight consecutive contests.
Josh Horton is a contributor to MiLB.com. Follow him on Twitter @joshhortonMiLB