Swaggerty collects career-high four hits
Pirates No. 3 prospect batting .333 since FSL All-Star break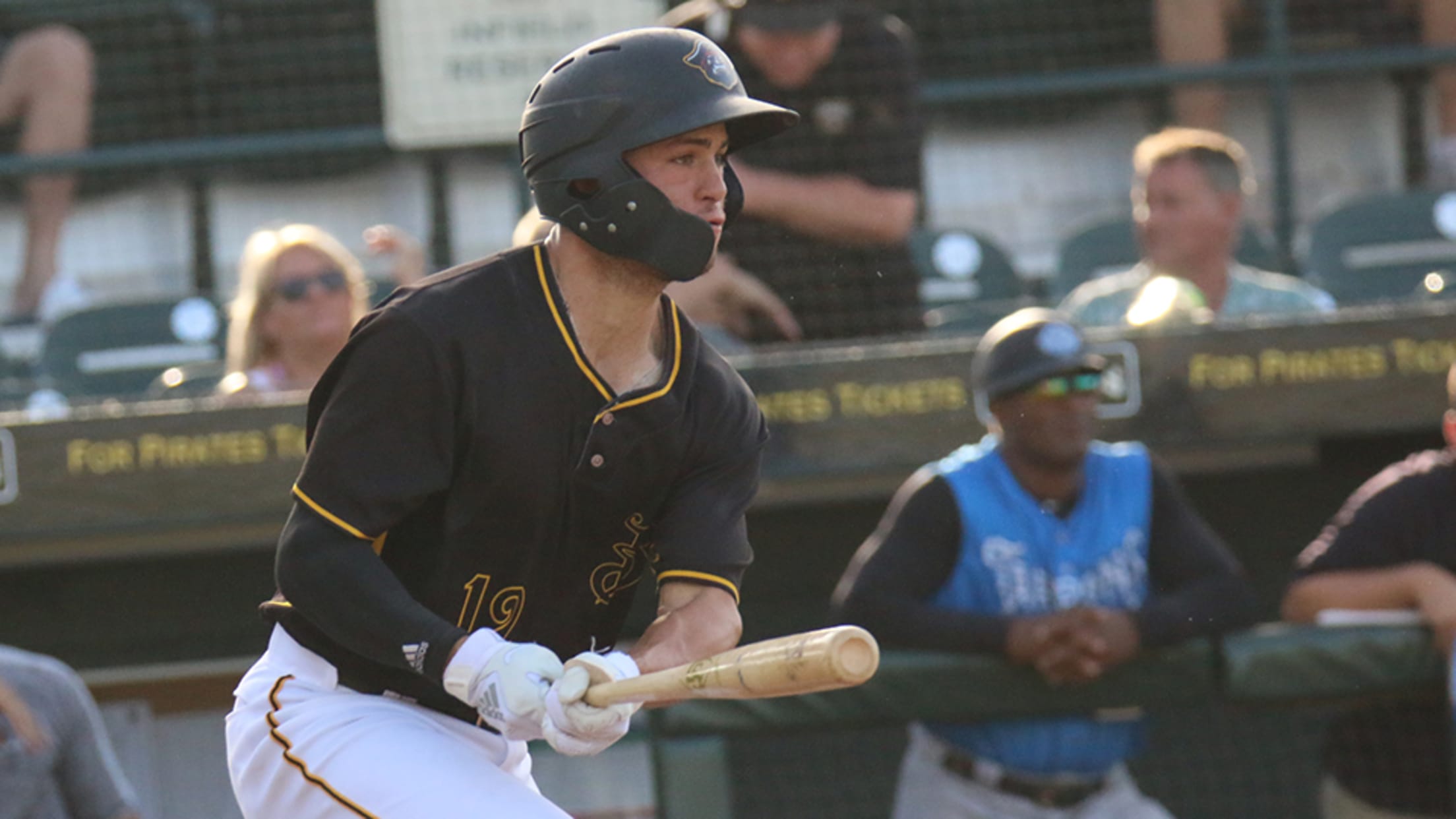 Travis Swaggerty is 16-for-33 (.485) during an eight-game hitting streak. (Joshua Tjiong/MiLB.com)
All-Star games don't mean anything. They don't grant a representative's team any competitive advantage. They don't contribute to his stats. They are fun. That's it.Yet, Travis Swaggerty got everything out of his home run in the Florida State League's midsummer classic three weeks ago, and Class A Advanced Bradenton is
All-Star games don't mean anything. They don't grant a representative's team any competitive advantage. They don't contribute to his stats. They are fun. That's it.
Yet, Travis Swaggerty got everything out of his home run in the Florida State League's midsummer classic three weeks ago, and Class A Advanced Bradenton is still reaping the rewards of that transaction just about every day.
The Pirates' No. 3 prospect collected a career-high four hits Friday to extend his hitting streak to eight games and help the Marauders to a 5-3 win over Florida at LECOM Park.
"I don't want to say that I needed to do that, but I kind of did," the outfielder said of his solo shot in the circuit's annual exhibition. "I kind of needed to just find a barrel, hit something really hard."
Why? Because Swaggerty started the year strongly, batting .272 with 16 strikeouts in 81 April at-bats. But he cooled off as May unfolded, logging one multi-hit game between May 18 and the mid-June break. That month, he compiled a .172/.252/.237 slash line with 34 punchouts.
As his average dipped and the gaps between hits widened, Swaggerty lost the sense of fun that has to come with playing a game for a living. He did not enjoy going to work. At the plate, he relied on sheer ability -- which, as a first-round pick last year and MLB.com's No. 64 overall prospect, he surely has -- and neglected to make adjustments.
He was not seeing the ball. He was swinging at pitches in the dirt. He was underperforming and he knew it. He just didn't know how to change it.
"My swing was good," the 21-year-old said. "My swing has been good the whole time. But the thought process was wrong. There was a lot of mental work that had to be done for me to get going."
A conversation with the Marauders' coaching staff got Swaggerty to realize as much. They sat him down and told him what he now accepts was a message he needed to hear: to continue to do what he was doing and expect something to change was, by definition, insane.
Gameday box score
So when he traveled to Jupiter, Florida, for the All-Star Game, Swaggerty implemented a new mind-set. He stopped thinking. He stopped worrying. He shared a few meals with top prospects from other organizations. The South All-Stars played mini golf with a group of kids with illness or disabilities. He watched the Home Run Derby, then signed some autographs.
And with the pressure off in a game that didn't matter, he rediscovered some joy with one swing. His was the only homer in a 2-0 win. That was fun.
"I was loose," Swaggerty said. "I feel like when I'm going really good, I can't even feel my arms. ... I think doing that in the All-Star Game, I kind of reflected on it afterward. I was like, 'Man, I didn't feel anything there. How can I do that when it matters?' That's what I've tried to do. Even in the cage, I don't want to feel anything."
To attempt to keep that feeling, Swaggerty has altered his cage routine. He doesn't use a tee as much, except to get his hands moving in the beginning. Marauders hitting coach Butch Wynegar throws him a few rounds of batting practice. In early rounds, Swaggerty uses different loads while trying to send the ball in a particular direction. Then Wynegar will throw different pitches -- fastball, curveball, etc. -- to get Swaggerty's eyes recognizing different movements.
"I feel like I wasn't seeing the ball well, and doing that has helped me lock in on the ball more and focus on just the ball," he said. "I think that's helped me a lot. ... I feel like, in the game, I've been able to hit the ball where I want to hit it."
Swaggerty is batting .333 in 16 games since the All-Star break. That number climbs to .485 during his current eight-game hitting streak. He's fanned once in his last four games.
All of his knocks on Friday were singles. He came around to score in the third inning when fourth-ranked Bucs prospect Oneil Cruz homered off rehabbing Braves right-hander Kevin Gausman.
His production helped support Marauders starter Brad Case (2-1). The right-hander did not allow a hit until the fourth and ended up yielding the lone single and three walks while striking out five over six scoreless frames.
The Fire Frogs drew three bases-loaded walks against right-hander Logan Stoelke in the seventh, but righty Samuel Reyes tossed 2 1/3 hitless innings to earn his second save.
Gausman (0-1) was making his first Minor League appearance while working back from plantar fasciitis in his right foot. He surrendered three runs on five hits over five innings, striking out six and walking one.
Joe Bloss is a contributor to MiLB.com. Follow him on Twitter @jtbloss.